Student employment in the McGill Library benefits the entire McGill community. At 100+ strong this academic year, McGill Library student workers gain valuable work experience while engaging in academic pursuits. Student navigators, curatorial interns, special project assistants and student researchers bring an immeasurable amount to the life and culture of the Library. Over the next few weeks, Library Matters will share testimonials from library student workers, many of whom come to us through programs like McGill's Work Study Program and are supported by students societies and associations like the SSMU Library Improvement Fund (LIF), the Arts Undergraduate Society (AUS), the McGill Music Undergraduate Student Association (MUSA) and Post Graduate Students' Society (PGSS). Thank you to all our student workers – your hard work and dedication mean the world to the Library and McGill!
---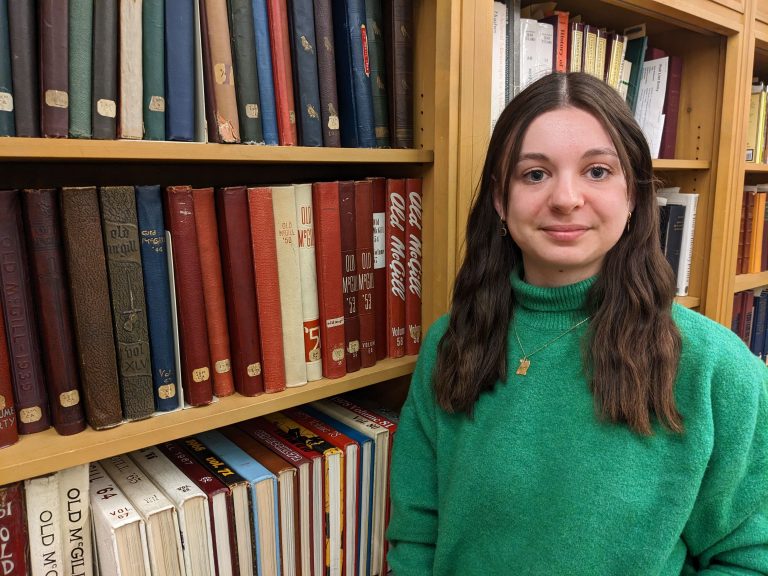 Maëlys Lemonnier is a U1 Arts student at McGill, double majoring in Political Science and History who works in the McGill University Archives.
Library Matters (LM): What made you want to apply to work for the library?
Maëlys Lemonnier (ML): I was looking for a position that would allow me to find a balance between my university program and my job, thus I thought that working for one of McGill's dependent bodies such as the Library might be just perfect for that.
LM: What kind of work have you been doing? Has it been virtual / onsite / hybrid?
ML: I've been doing hybrid work, alternating between days at McLennan working on the computers and days onsite, in the archives.
LM: What do you like about working at the Library?
ML: I think what I like the most about working at the Library is that the project managers are very accommodating and understanding of the workload we may have outside of the job, thus allowing us to determine our own work schedules and modify them as needed.
LM: What surprised you the most about working at the Library?
ML: I think that while working at the library I was most surprised to discover the hidden side of the library, which we don't normally have access to as students.
LM: Any "Aha!" moments or takeaways from the experience?
ML: Once I had to work in some place in the basement known as "the Vault", I really felt like in a bad American horror movie!