Student employment in the McGill Library benefits the entire McGill community. At 100+ strong this academic year, McGill Library student workers gain valuable work experience while engaging in academic pursuits. Student navigators, curatorial interns, special project assistants and student researchers bring an immeasurable amount to the life and culture of the Library. Over the next few weeks, Library Matters will share testimonials from library student workers, many of whom come to us through programs like McGill's Work Study Program and are supported by students societies and associations like the SSMU Library Improvement Fund (LIF), the Arts Undergraduate Society (AUS), the McGill Music Undergraduate Student Association (MUSA) and Post Graduate Students' Society (PGSS). Thank you to all our student workers – your hard work and dedication mean the world to the Library and McGill!
---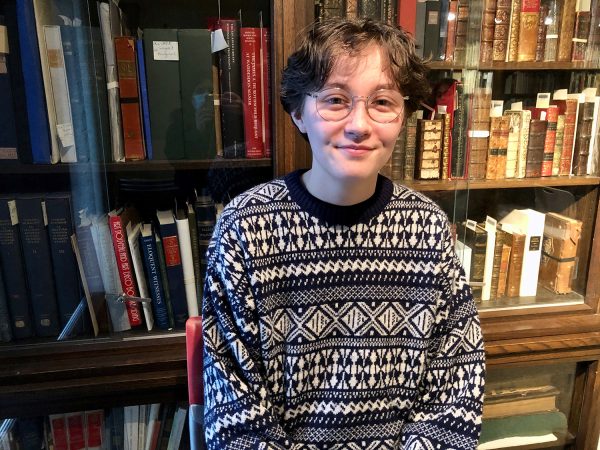 Katie Carleton is a U0 Faculty of Arts student and works in the McGill University Archives.
Library Matters (LM): What made you want to apply to work for the library?
Katie Carleton (KC): I was interested in working in the library due to the environment. It's always calm and focused in McLennan, and as a lover of books, I really enjoy being surrounded by them. I also was interested in working in the archives specifically because I am considering becoming an archivist as a future career choice, and I was very excited to do some work in a field I plan to pursue.
LM: What kind of work have you been doing?
KC: I have been working with several other students in the archives to complete a barcode project. This means scanning barcodes into the system and placing the barcodes on their corresponding boxes. We have been working all around the library as well as downstairs in the archives and even in various archival storage areas at the Currie gym.
LM: What do you like about working at the Library?
KC: I love the calm and studious atmosphere that the library is committed to.
LM: Coolest, oddest, most interesting things you have come across/experienced?
KC: I love the experience of being in the archives in both McLennan and Currie. It's so cool to be surrounded by the history of my school and have a hand in the preservation of that history.