Student employment in the McGill Library benefits the entire McGill community. At 100+ strong this academic year, McGill Library student workers gain valuable work experience while engaging in academic pursuits. Student navigators, curatorial interns, special project assistants and student researchers bring an immeasurable amount to the life and culture of the Library. Over the next few weeks, Library Matters will share testimonials from library student workers, many of whom come to us through programs like McGill's Work Study Program and are supported by students societies and associations like the SSMU Library Improvement Fund (LIF), the Arts Undergraduate Society (AUS), the McGill Music Undergraduate Student Association (MUSA) and Post Graduate Students' Society (PGSS). Thank you to all our student workers – your hard work and dedication mean the world to the Library and McGill!
---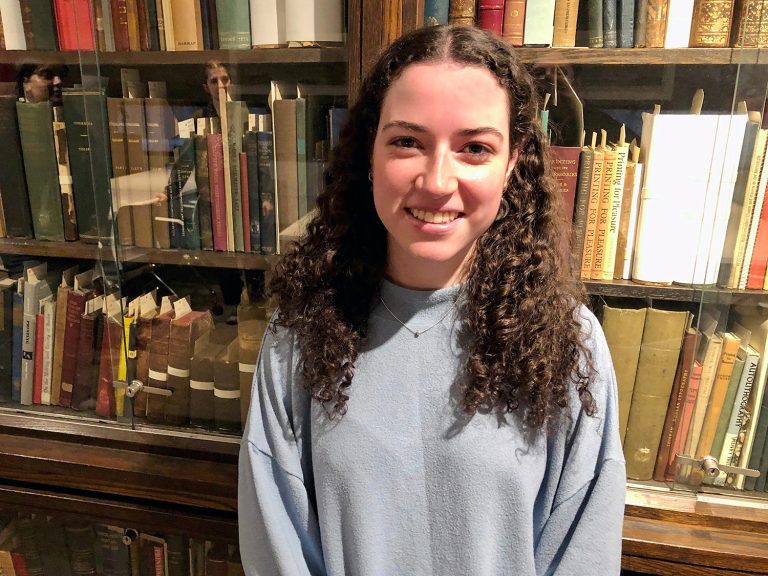 Olivia Dalton is in the 3rd year of the International Development program and works in the McGill University Archives.
Library Matters (LM): What made you want to apply to work for the library?
Olivia Dalton (OD): I was looking for work that would allow me to be involved on campus and still have the flexibility to focus on my classes. Working at the Library has given me work experience while still prioritizing school.
LM: What kind of work have you been doing? Has it been virtual / onsite / hybrid?
OD: I have been working in the University Archives, assigning barcodes to boxes so that they will be easier to find in the future. We scan the barcodes and then later label them in the archives. It has been fully in-person, both at the McLennan Library and at Currie Gym.
LM: What do you like about working at the Library?
OD: Everyone I work with has been very kind and helpful with all aspects of the job. Everyone is very understanding that we are students, while also ensuring that we gain important job experience. I like the convenience of working on campus but also the experience that I have gained.
LM: What surprised you the most about working at the Library?
OD: There are a lot of parts of the Library that students don't get to see everyday, so I was surprised to see how extensive the archives are.
LM: Any "Aha!" moments or takeaways from the experience?
OD: Most of the boxes have older codes or identifications on them, so when we were barcoding the boxes, it made me realize how old some of the boxes are and all the work that the Archives does to keep their records up to date.
LM: Coolest, oddest, most interesting things you have come across/experienced?
OD: I've seen some cool trophies and awards that have been given to McGill over the years. There are also some impressive student projects that have been kept, which were interesting to look at.