Student employment in the McGill Library benefits the entire McGill community. At 100+ strong this academic year, McGill Library student workers gain valuable work experience while engaging in academic pursuits.  Student navigators, curatorial interns, special project assistants and student researchers bring an immeasurable amount to the life and culture of the Library. Over the next few weeks, Library Matters will share testimonials from library student workers, many of whom come to us through programs like McGill's Work Study Program and are supported by students societies and associations like the SSMU Library Improvement Fund (LIF), the Arts Undergraduate Society, the McGill Music Undergraduate Student Association (MUSA) and Post Graduate Students' Society (PGSS). Thank you to all our student workers – your hard work and dedication mean the world to the Library and McGill!
---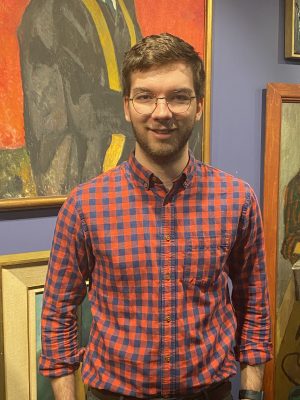 Alexis Janssen is a third-year undergraduate student majoring in art history. Alexis is the museum database assistant at McGill's Visual Arts Collection (VAC).
Library Matters (LM): What made you want to apply to work for the Visual Arts Collection (VAC)?
Alexis Janssen (AJ): I was looking for a potential supervisor for an ARIA project I had in mind. I went through the listed faculty on the art history website and that didn't amount to much. I then found the VAC website and it listed past ARIA interns that had worked with the VAC's Director, Gwendolyn Owens. I sent out an email to Wendy and we ended up collaborating on a project during the summer of 2022. Afterwards, I applied to work part-time during the semester and I started as a Museum Database Assistant in the fall of 2022.
LM: What kind of work have you been doing? Has it been virtual / onsite / hybrid?
AJ: I have been doing a variety of tasks, all of which are extremely stimulating. I help document the VAC's procedures in a museum grade Collection Management System, catalogue the University's growing art collection of nearly 3500 artworks,  conduct art surveys in McGill buildings, and gain valuable first-hand experience working directly with fine art, as well as giving tours. I also take part in curatorial projects, art installation planning, research, writing, and outreach. This has all been onsite work, which allows me to visit many places on the campuses.
LM: What do you like about working at the VAC?
AJ: I love the variety of tasks that I do. This means I never get bored and I can always put something to the side when I'm tired of working on it and do something else. There's always something to do. Of course, being surrounded by beautiful works of art is also a joy. Finally, the rest of the team at the VAC are the highlight of my work experience so far. Everyone is amazingly good at their jobs and it's motivating to work in an environment with such passionate and nice scholars and professionals.
LM: What surprised you the most about working at the VAC?
AJ: What surprised me the most is how big and varied the collection is! With 3500 works in the collection (ranging from textiles to painting and sculpture), spread over four campuses, it really is one the best assets the University has.
LM: Any "Aha!" moments or takeaways from the experience?
AJ: Not so much an "Aha!" moment as a "Aaaaah" moment: Before working for the Collection, I wasn't too keen on curatorial work and I was moving away from that as a possible career option. Since working at the Collection, however, I have reconsidered the possibility and I can definitely see myself possibly working in a museum.
LM: Coolest, oddest, most interesting things you have come across/experienced?
AJ: One of the great parts about working at the Collection is having access to all spaces on the campuses. I've been able to explore the Faculty Club, the old mansions on Peel, and the little cottages at Mac Campus. It's fun to be able to see these places that students very rarely have access to.