by Katherine Lewis, graduate student, McGill School of Information Studies
Since the outbreak of the coronavirus pandemic, there has been a rapid pivot to the delivery of online services in the library community that would have been unimaginable just over a year ago. The transition of outreach activities and events to a virtual environment has been a remarkable accomplishment involving the efforts of many everyday heroes. The sense of continuity and resilience they offer during these difficult times is invaluable and truly heartening.
As a remote practicum student at ROAAr and the McGill University Library over the Winter term, I immersed myself in the vanguard of virtual outreach, helping out behind the scenes with events and conducting an environmental scan. I had a front row seat to the marvelous line-up being hosted by ROAAr and gained insight into how to execute a first-rate virtual event. Throughout the scan I combed through the literature, attended numerous events, talked to librarians on the ground, and created an online questionnaire asking peer organizations to share experience about their transition to digital programming.
The online questionnaire consisted of fifteen questions devised collaboratively with folks at ROAAr, the assessment librarian, and input from a professional association helping to distribute it. It was disseminated via Listserv into the inboxes of representatives of numerous GLAM organizations (galleries, libraries, archives, museums), and, after three weeks in circulation received a total of 85 responses from all over North America. It was gratifying to receive interest in the study, and as a thank you to all who participated I prepared a summary of the results.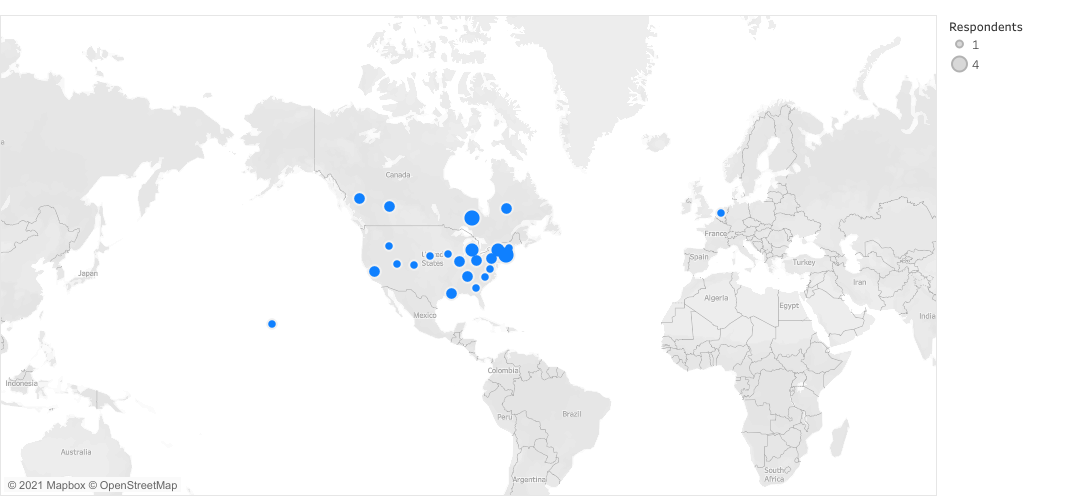 Most respondents sharing knowledge represented academic libraries (43%) and museums (29%) followed by public libraries (8%), galleries (8%), archives (4%), community organizations (1%), or other (13%). A majority reported that the frequency of their programming has decreased (51%) in the wake of COVID-19, while 27% reported an increase and 22% reported no change. The types of events being offered by organizations were by and large workshops or webinars with invited guest speakers (76%). Respondents were also hosting exhibitions (49%), pre-recorded content (42%), book clubs and film or video screenings (31%), symposia (24%), concerts or performances and receptions (15%). Zoom was the most used platform by organizations to host events (96%). Some respondents were also offering events on Facebook Live (28%), YouTube Live (21%), Microsoft Teams (18%), Instagram Live (14%), and Cisco Webex (5%), and 14% indicated they are using other platforms to host events including Twitch and Discord. Most respondents reported that their audience has increased (53%) during this time, while 23% reported a decrease, and the remainder reported no change (5%) or did not know (19%). The populations served prior to and during COVID-19 did not vary significantly, except geographically, with marked increases in national (38%) and international (31%) populations. Notably, a majority of 92% of respondents reported that their organization will pursue a hybrid model of virtual and on-site programming beyond the pandemic. However, many respondents indicated that their organization would need additional resources to continue virtual programming, including digital tools (66%), equipment (53%), human resources (50%), software subscriptions (55%), or other (11%).
Some of the impacts of the rapid shift can be felt through the words offered by respondents to describe the tone of their organization's programming. Descriptors like "scaled back", "breathless pace" and "ramshackle" communicate how challenging it has been for many organizations to adapt. Other responses focused on "service continuity" and conveyed content as "educational" and "instructional". A third category emphasized the vital role of virtual outreach, "providing connection for patrons" and noted the transformative aspects of the shift with adjectives like "rethinking", "dynamic" and "hopeful".

Some of the most interesting knowledge shared appeared in the additional feedback form, where respondents offered their reflections on the transition to virtual outreach. Concerns emerged around expenditure of resources, screen fatigue, user privacy, and the digital divide. Some feedback proposed a need to re-evaluate and re-establish the metrics used to gauge success in a virtual environment. Among the positive takeaways, respondents expressed appreciation for audience growth and increased accessibility of events, the expansion of virtual offerings, new skills acquired, and increased opportunities for collaboration as a result of the shift. Overall, there was a marked commitment by organizations to offering virtual services and programming going forward as it corresponds to the needs of their communities.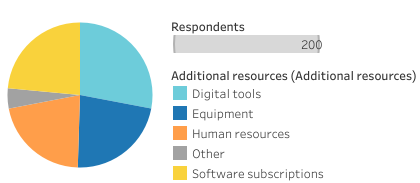 It's been very motivating to see how diverse organizations are adapting services online and I hope this survey will generate further conversation, collaboration and learning as we forge ahead into a hybrid environment.