Since mid-March 2020, though we have not always physically been in Library spaces, we have still been there. We have been there for McGill's hardworking and adaptable students, for teaching faculty getting used to a new remote reality, and for Library advocates across the community.
Just some of the ways that we have adapted to the new normal are a virtual reference service, HathiTrust Emergency Temporary Access Service, Library Pickup Service, and Study Hubs where students can safely study in a Library setting.
Below are a few of the Library's many everyday (super)heroes who helped make these new services possible. Hear their experiences in their own words. Alyanna Jamal, Mary Tramdack, Sandy Hervieux and Kristen Howard have each had a profound impact, helping McGillians access spaces, materials, and information to discover new knowledge, even from afar.
Wednesday, March 10, 2021 is the sixth instalment of McGill24, the University's day of giving. Each Library gift that day, no matter the size, will go towards unlocking $113K in challenge funds to help meet the changing needs of the McGill community, ensuring that students and scholars have the Library collections, services, and spaces to excel, even in unprecedented times. 
Learn more about giving to the Library here.
---
Alyanna Jamal, Library Study Hub Student Navigator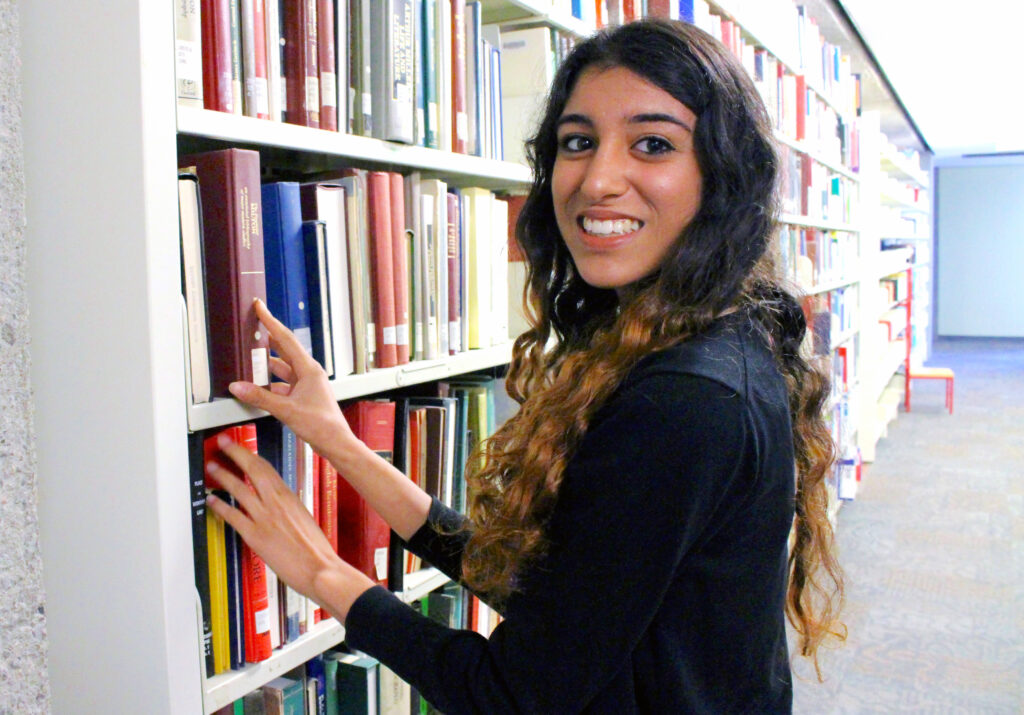 What's your role within the Library Study Hubs?
My role as a Student Navigator is to ensure that the safety of students using the Study Hubs and the quality of study spaces provided are preserved during the COVID-19 pandemic.
There are several roles for Student Navigators. This includes working at the check-in desk, where we check students in by verifying their ID cards and provide a reminder of the rules of the Hub. We maintain order and increase safety measures by ensuring that students are following the capacity limits in all areas of the Library.
We also perform rounds where we check all floors every 15 minutes to ensure that all students follow the rules set in place for everyone's safety.
What has been your overall experience working with the Study Hubs?
It has been a great experience. The team of students and supervisors I work with have all been very kind and always make sure that we, as student employees, feel safe in the environment in which we work.
It has also been an eye-opening experience seeing how adjustments can be made with the pandemic to provide a safe space for all students, which has been effective thus far.
Do you have a sense of how students have been receiving the Hubs?
In general, the students who use the Study Hubs have been understanding of the situation and changes that have been made to adapt to the ongoing changing conditions with COVID-19.
Many of the students thank us when leaving the Library which creates a very welcoming and appreciative environment for us as student employees. When I was working at the Study Hub in December, many students had come up to us and expressed their gratitude and appreciation for the study space provided to them and thanked us for our work as well, ensuring the space is safe for everyone.
Many students are living in a variety of conditions which may make it difficult for them to study to their best capabilities in this environment. The Study Hubs provide them with an environment that enables them to thrive amidst a very difficult time for all.
I am surprised at how normal the process has become and how understanding students are of the current situation. Working at the Study Hub in September vs. now has shown me how adaptable we are as a community. It really does show you what we can achieve when we come together and work together as a community.
---
Mary Tramdack, Senior Library Clerk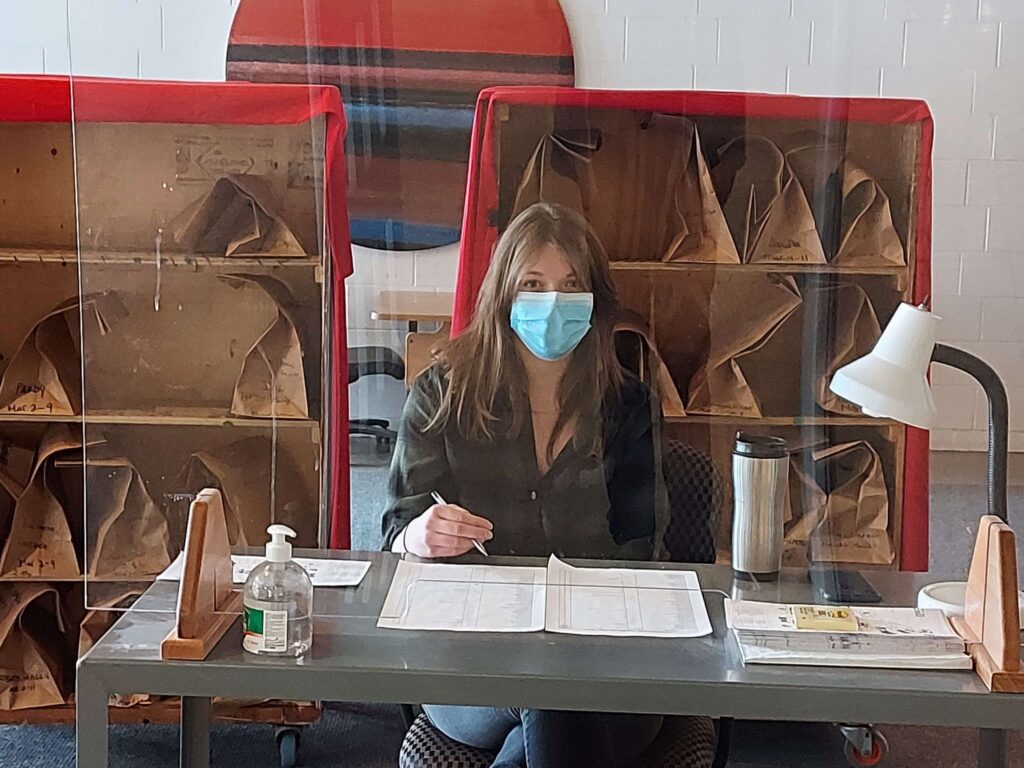 What's your role at McGill and with the Library Pickup service?
I'm a Senior Library Clerk at the Humanities and Social Sciences Library. When a student or faculty member requests a print book that's not available as part of the library's e-resources, me and my coworkers will pull the book from the shelves, check it out to the patron, and put it in a paper bag with their name on it, which we then quarantine for at least 24 hours.
On Tuesdays and Thursdays from 11:00 to 2:00, we bring rolling shelves full of everyone's paper-bagged books into the library lobby and one of us will man the desk and help everyone find their books for contactless pickup.
Since we introduced the Library Pickup Service in July, the library has processed almost 9,000 book requests.
What has been your overall experience working with the service?
I'm happy I get to do some of the face-to-face part of my job even during a pandemic. Usually I would be working at the circulation desk and answering questions for a few hours a day, and I didn't realize how much I would miss this until I couldn't do it anymore!
I also appreciate having a reason to come in to the library and work with physical books, which has brought some much-appreciated structure to my weeks. Never in my life did I think I would be this grateful to remember what day it is.
Do you have a sense of how students have been receiving the Pickup Service? How it has helped them feel connected?
The comment I hear the most from students and faculty coming to pick up their books is "I miss the library!"
McGill has done a great job of moving library services online and making the most of our access to really fantastic digital collections. But in a time when all of our activities are so limited, I think patrons appreciate coming to campus to borrow a physical book more than ever.
Something as small as picking up a book and seeing a familiar face behind the desk can be a comforting connection to the library and to the pre-pandemic routines we're all hoping to get back to.
Do you have any Pickup Service anecdotes or points to add?
When we first started the Pickup Service, there was one time a student saw our shelves full of paper bags in the lobby and asked, "Is that food?" And our setup does look really similar to a restaurant packaging delivery and pickup orders! We're basically doing Uber Books or Skip the Pages.
---
Sandy Hervieux, Librarian, Virtual Reference Coordinator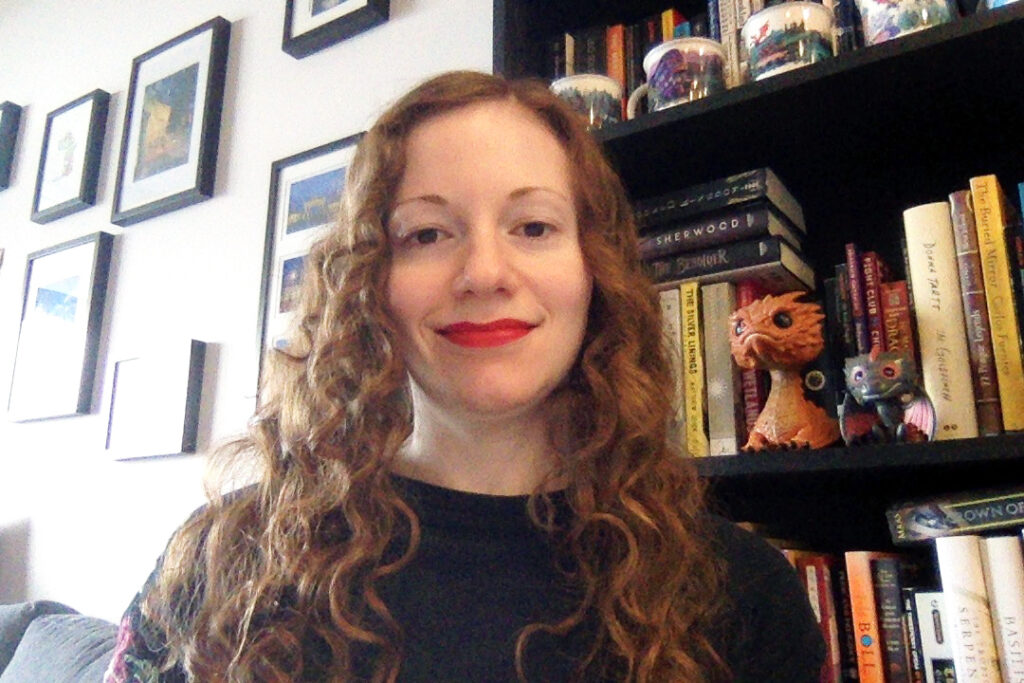 What's your role with the Library's virtual reference service?
I'm the Virtual Reference Coordinator which means that I'm responsible for the operation of the Virtual Reference Service. This includes creating the schedule so the service is staffed by librarians, ensuring that the platform is working properly, and sharing information relevant updates to the service. I also answer chat and email questions with the other librarians who offer the service.
What major differences did you notice between on-site reference services vs. virtual?
On-site we usually receive some directional questions, meaning that students will ask us where a certain space is. Now that reference is only offered online, these types of questions occur a lot less.
Pre-pandemic, we would typically receive more advanced research questions at the in-person reference desk than by email or chat but we're now receiving more advanced research queries virtually than ever before.
Did the nature of the questions and interactions change during the pandemic?
The nature of the questions changed, particularly at the beginning of the pandemic. At that time, we received a lot of questions about the library services available. A lot of the questions coincided with the new measures announced by the government.
We still receive a lot more service questions than we normally do, specifically about the Pickup Service and Study Hubs, but as the semester progresses, we are also receiving a lot of questions about finding resources for assignments.
Overall, the number of questions we receive over virtual reference has doubled since the pandemic.
How do you feel the virtual service has helped students feel connected to McGill and the Library?
I think it has enabled students to get help when they needed it. The service is offered 7 days a week now and is staffed by librarians. We do not use bots to answer questions, so it's a more personal interaction.
The Library has a lot of online resources and electronic books but it's not always easy for students to access them, hopefully we've made it easier for them to access readings for their courses and assignments.
Any other features of Virtual Reference that you'd like to share?
Our chat service enables screen sharing! If you would like to see a live demonstration of the steps to follow, the librarian can provide that for you.
---
Kristen Howard, Master of Information Studies grad student and ROAAr virtual event presenter
What's your affiliation to McGill and the Library?
I am a Master of Information Studies student at McGill's School of Information Studies, focusing on library and archival studies, and I'm also a grad student representative on the Humanities & Social Sciences Library Advisory Committee.
Can you briefly describe your experience of the Library during the pandemic?
I've used many of the library's services this year! I've attended a wide variety of library workshops ranging from EndNote Essentials to APA Citation Style to How to Start a Podcast. For my classes and research I've made use of library Subject Guides (I have one open right now), asked my liaison librarian questions, and checked out books with Terrace Pickup Service. I also use the OverDrive app to borrow e-Books for pleasure reading, which I think is an underutilized library service!
You have had the unique experience of both studying remotely as well as delivering the very well-received and well-attended virtual Library event, Rare Stitches: Knitting Inspired by Illuminated Manuscripts. How did that come about and what was the experience like?
'Rare Stitches' was some of the most fun I've had while studying remotely! Before coming to McGill, I studied medieval and early modern history and conducted archival research with sixteenth-century manuscripts, and I'm also an avid knitter. I've been eager to bring my previous training and passion for knitting together, and the project was born out of conversations with Library staff like Jacquelyn Sundberg who are also knitters.
McGill has a wonderful collection of medieval Horae (Books of Hours) and manuscripts, some of which have been entirely digitized. At Jacquelyn's suggestion, I browsed McGill's digital holdings and found some real inspiration.
From there I developed a knitting pattern, the Manuscript Cowl, which has now been downloaded over 1,000 times by knitters from all over the world. It's been absolutely amazing to bring so many people to McGill's unique collections who likely would never have come to the Rare Books & Special Collections Reading Room — definitely my pandemic silver lining.
Overall, what has helped you to feel connected to the Library and collections over the course of the closures?
I actually find that following the library on social media — like the McGill Library Twitter account, and ROAAR's Twitter and Instagram — has helped me feel connected to the library when we can't go in person. I've also loved playing the library-developed online games "Raising Spirits: A Timely Diversion" and "Raising Spirits: Part II", which give a real sense of the campus and library spaces along with a dash of mystery and fun.
---
A huge thank you to Alyanna, Mary, Sandy, and Kristen for sharing their experiences.
And boundless gratitude to the entire McGill community for your patience, encouragement, adaptability, innovative spirit, kindness, and smiles behind those masks. We've seen them and appreciated them – those smiles made our days!