by Vanja Lugonjic
Looking to do some armchair traveling this summer? Broaden your reading list horizons by playing #McGillBookBingo!
To play, simply check out the bingo card below and get reading. Whether you complete a line, a blackout, or an X – the most important part of this game is to embrace the pleasure of reading. This is no competition, but like many things in life, the more the merrier! Invite your friends, family, book club or neighbours to join you in discovering books you might not have thought about reading before.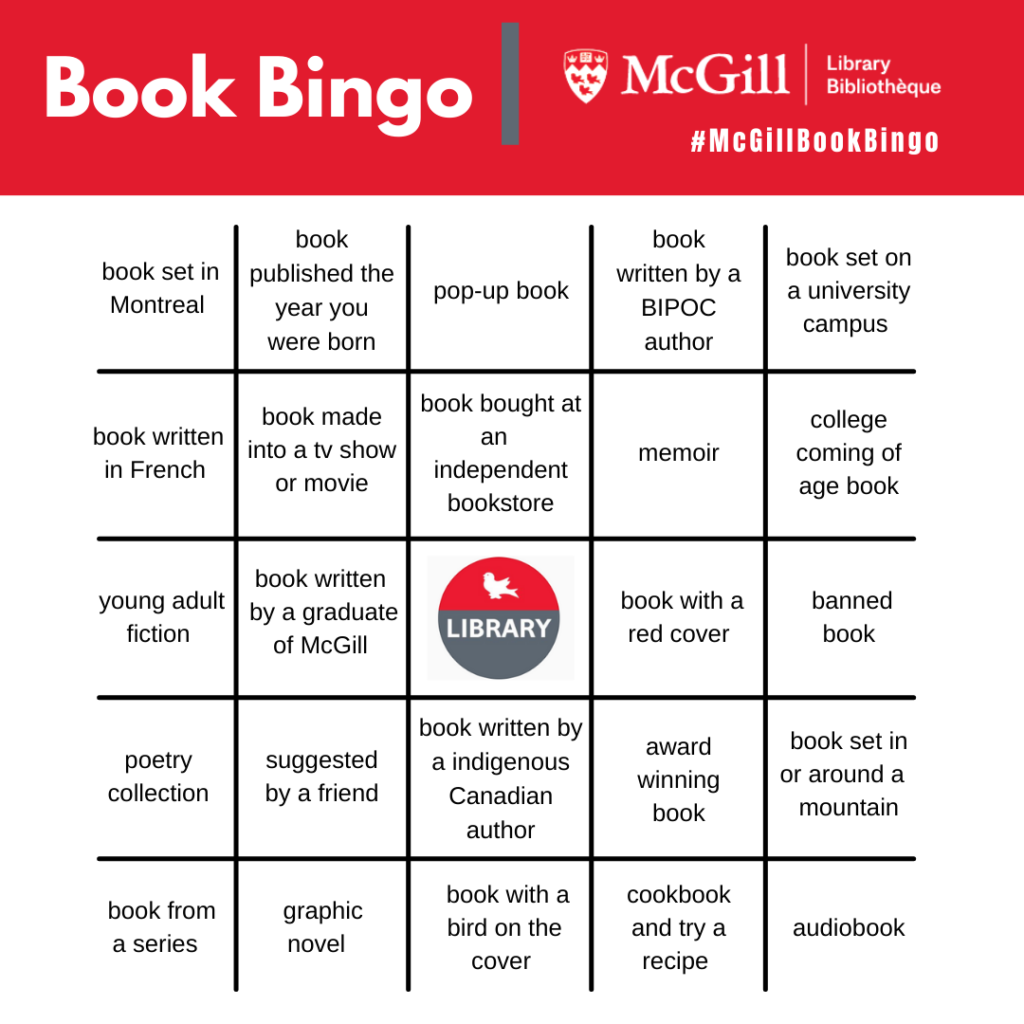 Post your winning card and accompanying books on social media and tag or send us a DM on Facebook, Twitter or Instagram using #McGillBookBingo.
To get you started, the Bull and Bear just came out with a sweet summer reading list or check out the Library's summer 2019 reading list. Additionally, Redpath Book Displays offer a fun way to explore different themes. We also have tons of e-books and audiobooks in our collection. You can access it all in the catalogue and search by keyword.
If you can't view the card above, here are twelve combinations for this year's summer bingo plus some links to more recommendations and resources. Happy reading!
---
Row 1 Across
A book published the year you were born
A book written by a BIPOC author
Row 2 Across
Book written in French
A book made into a tv show or movie
Book bought at an independent bookstore
A memoir
A college coming of age book
Row 3 Across
Young adult fiction
[free space]
A book with a red cover
A banned book
Row 4 Across
Poetry collection
Suggested by a friend
Book written by an indigenous Canadian author
Award-winning book
Book set in or around a mountain
Row 5 Across
Book from a series
Graphic novel
Book with a bird on the cover
A cookbook (+ try a recipe)
Column 1 Down
Book written in French
Young adult fiction
Poetry collection
Book from a series
Column 2 Down
A book published the year you were born
A book made into a tv show or movie
Suggested by a friend
Graphic novel
Column 3 Down
Book bought at an independent bookstore
[free space]
Book written by an indigenous Canadian author
Book with a bird on the cover
Column 4 Down
A book written by a BIPOC author
A memoir
A book with a red cover
Award-winning book
A cookbook and try a recipe
Column 5 Down
A college coming of age book
A banned book
A book set in or around a mountain
Audiobook
Diagonal 1
A book made into a tv show or movie
[free space]
Award-winning book
Diagonal 2
A memoir
[free space]
Suggested by a friend
Book from a series