by the Friends of the McGill Library
John Gomery was a true friend of the Friends of the McGill Library.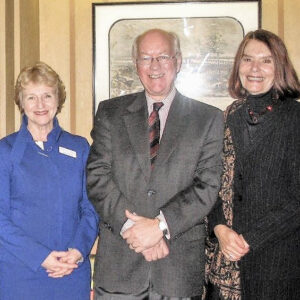 A former Chair of the Friends Board, John was a strong supporter of Fiat Lux, the transformational re-envisioning of the MacLennan-Redpath Library Complex, the recipient of our 2007 Friend of the Year Award and supported, with his wife the Honourable Pierrete Rayle, of the F.R. Scott Lecture for a number of years. A faithful attendee at Board meetings, his thoughtful, and often jovial, contributions were greatly appreciated. Frances Groen, Janine Schmidt, and Colleen Cook, three directors/deans of the McGill Library, were fortunate to have known John and to benefit from his wisdom.
John had a most distinguished legal career. After graduating from Montreal West High School, he obtained his law degree from McGill University and then, in 1957, joined the legal firm of Walker, Chauvin, Walker (later Faskin Martineau Walker) where he worked until 1982, when he was appointed to the Quebec Superior Court. In 1999, he was named Chair of the Canadian Copyright Board.
In 2004, he was appointed head of the Royal Commission into the Sponsorship Program and Advertising Activities, more commonly known as the Gomery Commission. In 2007, he received the Ramon Hnatyshyn Award for Law. He later served as president of the Quebec Press Council.
Not only did he excel at the Law, but he loved music, art and books. He also enjoyed and supported Quebec institutions including the Montreal Symphony Orchestra, the Montreal Children's Hospital and the Musée des Beaux-arts. He thoroughly enjoyed life on his Havelock, QC, farm where he raised cattle and chickens and maintained magnificent vegetable and flower gardens – he even had a white peony named after him – the Osiris John Gomery.
John was indeed fortunate to also have a most adoring family – four children (Geoffrey, Cymry, Sally and Elizabeth), eight grandchildren, and a loving and supportive wife of 48 years, Pierrette Rayle – with whom he jointly received the FR Scott Award for Distinguished Service from McGill University's Faculty of Law .
It has been noted that among his many fine qualities were his intelligence, humour, loyalty, work ethic, eloquence and charisma.
A life well lived.
The Friends of the McGill Library salute and cherish the memory of a dear Friend, John Howard Gomery.