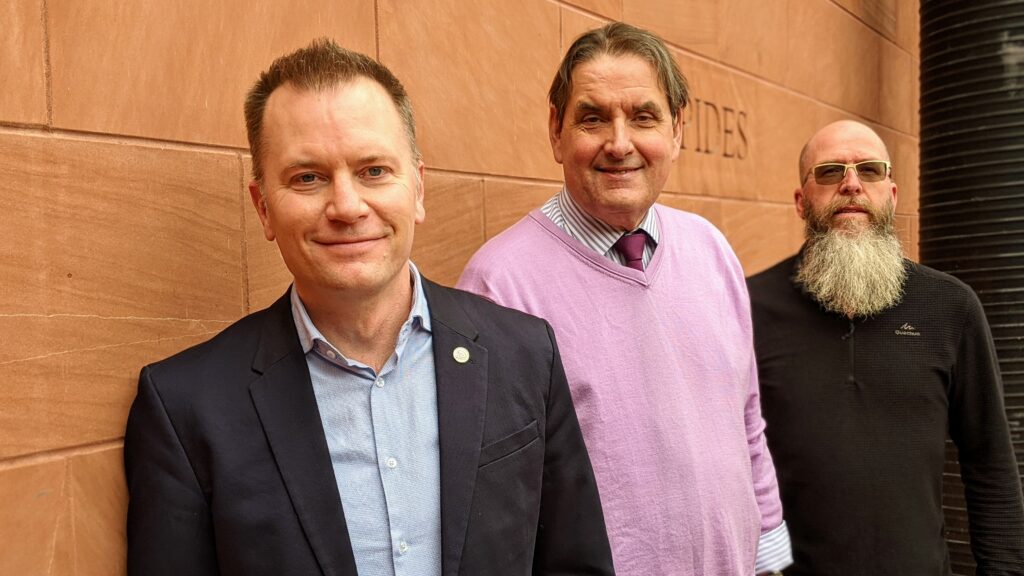 Congratulations to our colleagues Mtre Daniel Boyer, Joseph Hafner and Louis Houle who were recently promoted to full librarian. In accordance with McGill's Regulations Relating to the Employment of Librarian Staff, promotion to full librarian is awarded for the "staff member's performance of her or his academic duties as defined [by]…a record of excellence in the performance of position responsibilities and significant contributions in other academic duties."
"McGill is truly fortunate to have such incredibly gifted and dedicated librarians working in our midst. Daniel, Joseph and Louis have achieved national and international recognition in their disciplines. Their commitment and engagement in furthering the university's mission is inspiring. Please join me in congratulating Daniel, Joseph and Louis on this significant professional achievement," said Colleen Cook, Trenholme Dean of Libraries.
Mtre Daniel Boyer, Ad. E., is the Wainwright Librarian and Head of the Nahum Gelber Law Library. Over the past twenty-two years, Mtre Daniel Boyer has dedicated himself to sharing his knowledge and understanding of legal literature within McGill University as well as with the legal communities in Quebec, Canada, and abroad. Daniel's position responsibilities, professional activities, and other contributions to scholarly and legal communities reflects a deep seated and longstanding commitment to building an outstanding collection of Comparative Legal materials and ensuring access and service to them. In addition, Daniel's contribution to Governance within the Library and the University has been instrumental in moving forward Copyright Compliance, the tenure process, and internal judicial committees. Daniel has been a long-standing jury member of the Walter Owen Book Prize of the Canadian Bar Association. Before McGill, Daniel enjoyed twelve years of professional service as a Law Librarian at UQAM (1986-1992), Université de Sherbrooke (1992-1997) and Université de Montréal (1997-1998). Holding degrees in History, Law and Library Science, Daniel participates in a wide range of professional and academic activities. In addition to his publications and conference presentations on Comparative Law, he has acted as a consultant for Law Libraries, notably in Switzerland and Vietnam. He received the Advocatus Emeritus (Ad. E.) title from the Barreau du Québec in 2018.
Joseph Hafner is the Associate Dean, Collection Services. Joseph Hafner has worked in several different roles since the start of his career in 1989 and arrival at McGill in 2004. During his career, Hafner has held leadership positions at McGill University and Indianapolis-Marion County Public Library. At McGill, Joseph's work has centered on managing and providing access to the Library's collections for academic teaching, learning, research, and community needs. As a member of HathiTrust Program Steering Committee and a liaison to the HathiTrust Community Metadata Strategy Task Force, Joseph has helped open up a global collection of millions of titles digitized from libraries around the world. Hafner currently chairs the International Federation of Library Association's (IFLA) Linked Data Technical Subcommittee (LIDATEC) and co-chairs the Canadian Linked Data Initiative, which brings together Canadian colleagues to coordinate efforts on publishing structured data on the web. He is pleased to return to the OCLC Global Council, where he served for two terms on the Americas Regional Council when it is was first launched. Previously he was Chair of the International Federation of Library Association's (IFLA) Acquisition and Collection Development Committee, and is a founding member of the IFLA LGBTQ Special Interest Group, serving now as a social media coordinator. He has contributed presentations and has published several articles, as well as co-editing with Diane Koen the book "Space and collections earning their keep: transformation, technologies and retooling" published by De Gruyter in 2016. In 2011-12, Hafner was an Association of Research Library (ARL) Leadership Fellow.
Louis Houle is the Director of Collections at McGill Library. Since 2013, Louis leads and manages the operations of the Collection Development and the InterLibrary Loan/Document Delivery units. Louis Houle was recently appointed a member of Center for Research Libraries Collections and Services Policy Committee. The CSPC is a Board-level committee charged with advising the Board on issues pertaining to the Center's collections and related services, and developing policies relating to the same. The committee plays an ever-greater role this year in engaging members to help shape CRL's strategic vision and accelerate CRL's partnerships. Prior to this, he held the position, for six years, as the Associate Director, Client Services, Sciences, Health, and Engineering while being the Director for ten years of the Science and Engineering Library at McGill. Houle joined the McGill Library in 1990 and has taken a major role in the negotiation of licenses for purchases of e-resources at the institutional level, at the provincial level, and including work across Canada through different cooperative agreements.