Congratulations to the recipients of the 2022 Library Excellence Awards. The awards honour the extraordinary service, important efforts, and achievements of librarian and administrative & support staff members at the McGill Library.
The last two years have been an exceptional time in the history of the Library and its people. This year's nominees are talented, agile, and dedicated staff members who were hard at work behind-the-scenes and on campus serving users in different ways during some very trying times. Selecting just one winner for each category was a difficult choice for the award selection committees to make. Seeing that that no awards were presented in 2021 due to COVID, a decision was made to award two winners in each category. Thank you to all staff members who took the time to nominate a colleague for the Staff or Librarian Excellence Award.
This year Carlo Della Motta, Lending and Access Supervisor at the Humanities and Social Sciences Library and Jennifer Innes, Repository Supervisor in the Digital Initiatives unit were awarded the Library Staff Excellence Award.
Librarians Megan Chellew, Coordinator, Cataloguing and Metadata in the Collection Services unit and Lonnie Weatherby, Associate Librarian in the Humanities and Social Sciences Library received the Librarian Excellence Award.
The awards were presented at a Library ceremony on May 18 and both recipients of the Librarian Excellence Awards will be honoured at the Arts convocation "B" ceremony on Monday, May 30 at 3PM.
Congratulations Megan, Lonnie, Jennifer, and Carlo!
---
Carlo Della Motta, Lending and Access Supervisor at the Humanities and Social Sciences Library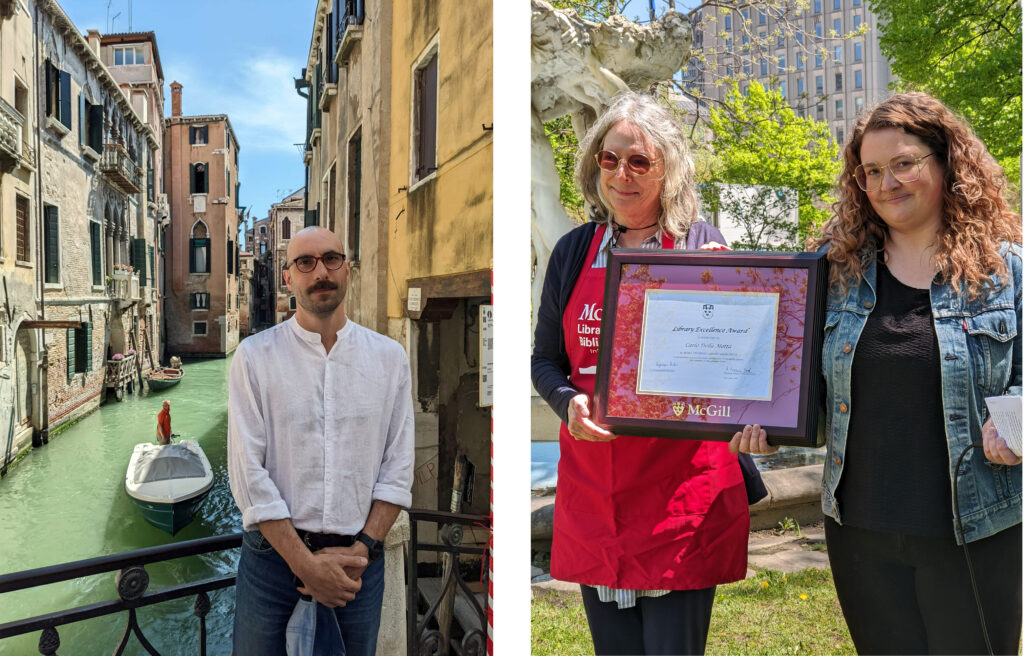 Carlo Della Motta was nominated for the McGill Library Staff Excellence Award by his co-workers in recognition of the resilience and resourcefulness he has shown in helping the Library and its users adjust to the COVID-19 pandemic.
As a Lending and Access Services Supervisor at the Humanities and Social Sciences Library, the organization's largest branch, Carlo plays an integral role in the daily functioning of the Library. Seamlessly merging behind-the-scenes work with a user-centered approach, he is the go-to resource person not only for his own staff, but also for many librarians and staff from other departments.
Carlo always ensures the delivery of high-quality service, going above and beyond expectations to support his team, students, and faculty members. On a personal level, it is clear that Carlo cares deeply about his colleagues. He is always ready with a listening ear, open to alternatives, and ready to accommodate as best he can. He has an open door policy and has time for everyone. Carlo works tirelessly, well beyond the normal work week. He demonstrates an extraordinary commitment to the Library, his colleagues, and the university community.
Carlo was essential in establishing and maintaining pandemic services such as curbside pickup, the management of safe study spaces, and in ensuring that staff had projects to work on from home. He is also involved in many committees and special projects: he was instrumental in establishing the Library Sustainability Group, is currently a member of the Advisory Committee in the search for a new Trenholme Dean of Libraries, and is involved in Fiat Lux planning meetings. This level of participation demonstrates his holistic approach to his role at the Library and his commitment to McGill's principles.
Carlo is integral in making his team feel cohesive, despite many changes and transitions. He is a constant source of support, information, and levity and has an enormous yet quiet impact in his role. Carlo truly embodies the organizational values and mission of the Library and of McGill.
---
Jennifer Innes, Repository Supervisor, Digital Initiatives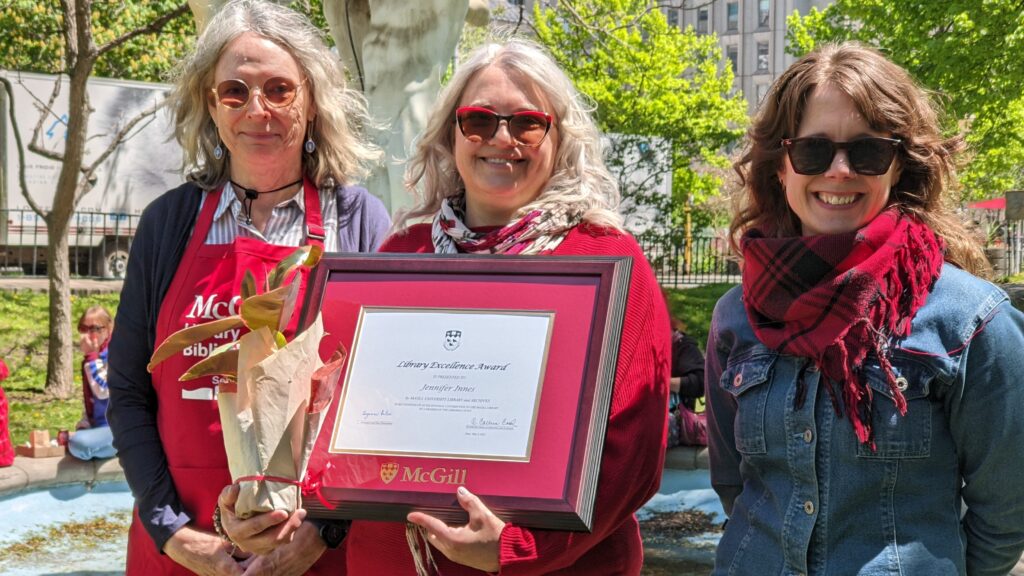 When COVID-19 boosted the power of open access and shook up the world of scholarly publishing, repository supervisor Jennifer Innes was able to meet the pressing demands of scholars who were keen to deposit and share their research with the world.
Jennifer and her team of students deposited three times the number of articles compared to four years ago. To meet this new influx of activity, Jennifer displayed great initiative in streamlining the work processes of the student casual workers she supervised. She designed and created targeted training videos for her team. This initiative was particularly important as student workers transitioned to 100% remote work during this period. With the ongoing increase in deposits, Jennifer also co-designed statistics methodology to track deposit statistics and adopted innovative tools such as OA.Works and Crossref's metadata search to improve the efficiency of the eScholarship service.
Digital Initiatives and the Library staff members benefit from Jennifer's positive energy, team spirit and deep knowledge of eScholarship and the workings of the Library as whole. Her three decades of service to McGill and its Library has allowed Jennifer to develop a great rapport with several faculty members, working closely with them to review their CVs and update their files in eScholarship. Part of eScholarship's success is directly attributed to Jennifer's strong service ethic.
Over the last two years, Jennifer also showed leadership when interacting with scholars whose journals are hosted on the Library's Open Journal System (OJS). Each year Jennifer onboards and trains 2-3 editorial teams on the OJS publishing software. Journal editors benefit from Jennifer's tailored, friendly, and instructive training. Last year, she proactively created and distributed a survey to training session participants. She received valuable feedback that improved her training and the Library's publishing services.
Dr. Philip Gooding, an associate editor with the Journal of Indian Ocean World Studies recognizes the impact of her work: "Jennifer has been integral to the success and growth of the Journal of Indian Ocean World Studies (JIOWS). She frequently goes above and beyond her station to help the JIOWS editorial team in a timely and informative manner…Whenever the editorial team has sought to expand the JlOWS' scope and impact, through e.g. indexing or the addition of new sections, Jennifer has always provided essential information and guidance. The success of the JlOWS in the last 5 years owes a lot to Jennifer's ongoing role."
---
Megan Chellew, Coordinator, Cataloguing and Metadata, Collection Services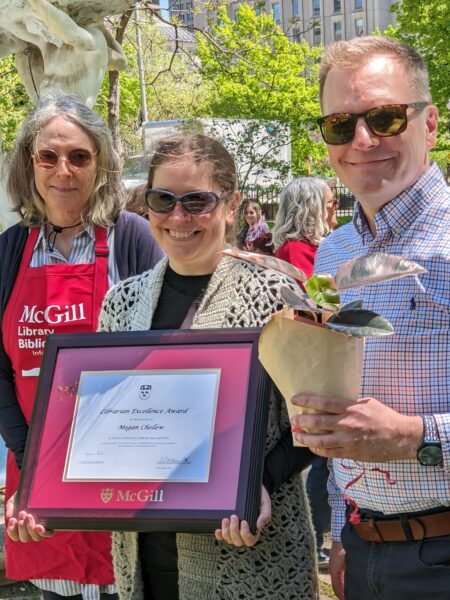 Megan Chellew is an outstanding librarian and a gracious colleague known for her initiative, resourcefulness, and creative approach. She joined the Library in 2006 as a cataloguer and began managing teams in Collection Services in 2008. Since 2014, she has held the role of Coordinator: Cataloguing and Metadata, leading a team of four librarians and four Library Assistants.
Megan and her team are responsible for indispensable behind-the-scenes work such as original and copy cataloguing, metadata descriptions, archival support, and so much more. While this work is always integral to McGill students, faculty and researchers, Megan deserves special mention for her leadership throughout the COVID-19 pandemic. Her team made the transition to virtual delivery of services without reducing output, service, or creativity. During this time, cataloguing rare, archival, and new materials from home meant coming up with alternative approaches. Megan rose to the occasion, testing various methods until ultimately landing upon revised workflows. As a result of these changes, many staff are now cataloguing more titles than they were previously.
This ingenuity has been a mainstay of Megan's work over the years. When Collection Services moved to an open concept facility in 2019, she was a positive force in easing her team's transition to the new space, helping develop alternative ways of working, which included changing workflows, reducing material on-site and streamlining cataloguing processes. A similar approach was taken with regards to Collection Services' participation in McGill's New Model of Work pilot project, in which new ways of working are being explored.
Megan is a valuable member of the management team and works regularly with colleagues across the Library system, from ROAAr (Rare & Special Collections, Osler, Art, and Archives) and Digital Initiatives to User Services, and beyond. She was an active member of the Library Tenure Committee for four years and Chair from 2016 to 2017. Her calm leadership and her mentoring of new members was always appreciated.
Megan is currently a member of the University Tenure Committee and UTC Alternate Chair (2021-2022). She also contributes globally to librarianship through her work on the Editorial Board of the CAML Review, the official publication of the Canadian Association of Music Libraries, Archives, and Documentation Centres.
Megan is an absolute joy to work with and a key member of the McGill Library team for 16 years and counting.
---
Lonnie Weatherby, Associate Librarian in the Humanities and Social Sciences Library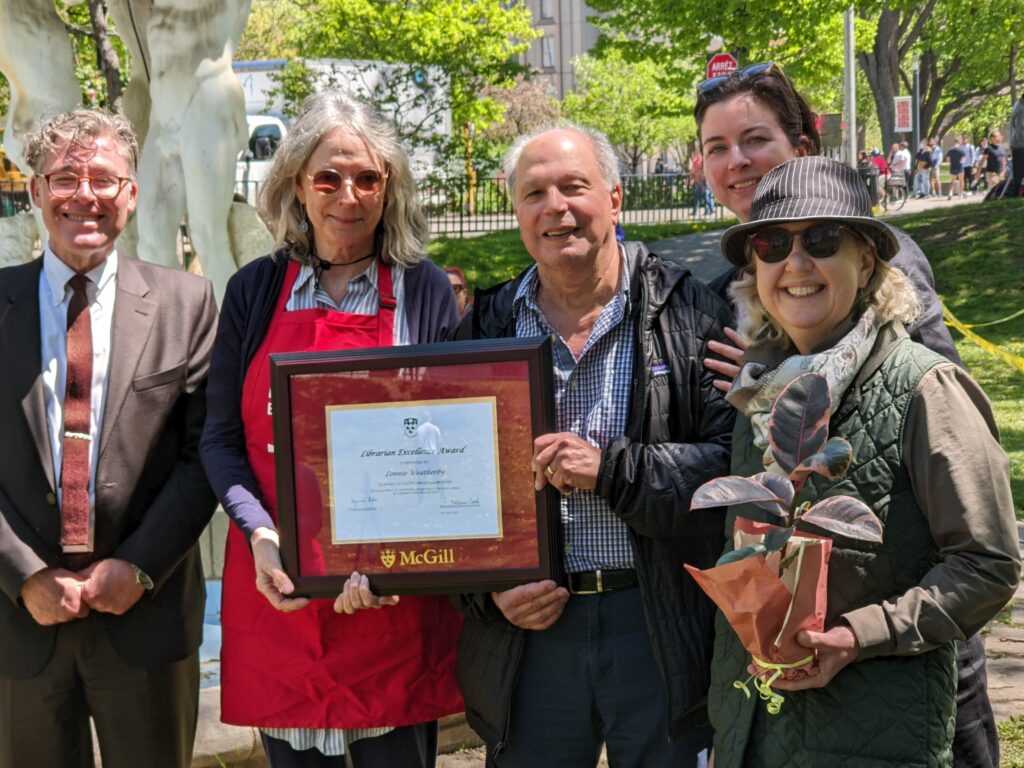 Lonnie Weatherby began his career as a librarian at the Humanities and Social Science Library at McGill University in 1975. As the liaison librarian for Canadian Studies, Comparative Literature & Translations, English Language & Literature, Film Studies, and Italian Language & Literature, Lonnie embodies the best of librarianship in this contemporary moment when faculty members are navigating the sea change in methods of information availability and retrieval. Lonnie's proficiency in collection development and management is unmatched.
A colleague once remarked that: "McGill can boast world class collections in Canadiana, English literature and film is thanks in large part to him. He's molded and refined those collections, worried about their future as if they were his own children. [Lonnie] Weatherby is the type of collection expert we all aspire to be."
Lonnie is indispensable to faculty members in his areas of responsibility, who rely heavily on him to support their research and teaching. Many have benefitted more than once from receiving timely aid, at any time of day, as publication deadlines loom and that one citation proves elusive.
One faculty member had this to say: "When something related to my areas of expertise show up, Lonnie sends me an email to herald its arrival. He manages to keep track of countless professors' areas of research and expertise. His knowledge of the humanities is magisterial, both in terms of current trends in the field and historical scope."
For over four decades, Lonnie Weatherby has also taught and mentored many students from McGill's School of Information Studies. For the librarians who have begun their professional careers at McGill, Lonnie has been an indispensable resource, always taking time to help new colleagues navigate the Library's collection, share his annotated copy of the Times Literary Supplement, or tell a McLennan tale. 
Lonnie has also contributed service and scholarship to the profession. He was the Associate Editor for the Fontanus Journal from 1995-2002. He indexed several journals for the print and online versions of ABELL (Annual Bibliography of English language & literature) from 1999 to 2015 and has been an active book reviewer for the Library Journal for many years.
Lonnie's astute research skills, resourcefulness, collegiality, unfailing generosity, and quality of engagement with and responsiveness to users make him an exemplary librarian. The English Graduate Students' Association website has the standard message: "Get to know the Liaison Librarian dedicated to your field for subject-specific guidance." Appropriately enough, someone at EGSA has added the words "For us, that's the excellent Lonnie Weatherby!"
---
Snapshots from the awards announcement BBQ