By Steven Spodek, Development and Alumni Relations Officer, McGill Library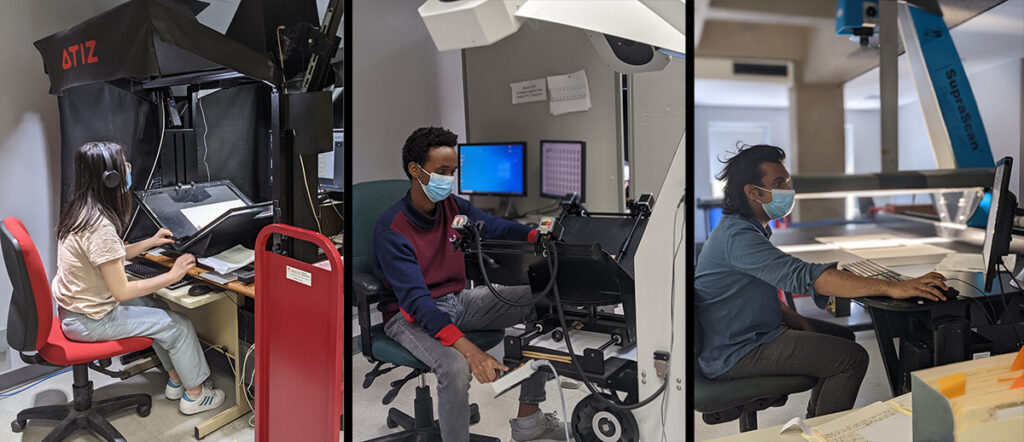 Student employees are actively involved in the McGill Library. From digitizing cultural heritage materials, organizing archival collections, and researching artwork to writing news stories and social media posts, and acting as information assistants. Student hires are a vital part of the McGill Library. The uniqueness of this work provides learning opportunities for student employees to develop a wide range of skills to use after graduation.
This summer, there are a number of students working in the Library and two splendid examples include the groups working in the Visual Arts Collection (VAC) and in Digital Initiatives.
In the Visual Arts Collection, summer interns are working on several projects. Catherine Galbraith, VAC Curatorial Intern for Indigenous Art is researching Indigenous art collections, selecting objects for display in the McLennan Library Building and writing labels that explain the materials selected. Leighetta Kim, Museum Database Assistant, is expanding information about the VAC's collection on its database and writing texts on works of art for the VAC website. Sarah Kingston, the VAC's ARIA Intern, is focusing on videos about the history of McGill's contribution to arts and culture and is doing research to develop approaches, writing texts, and sourcing images.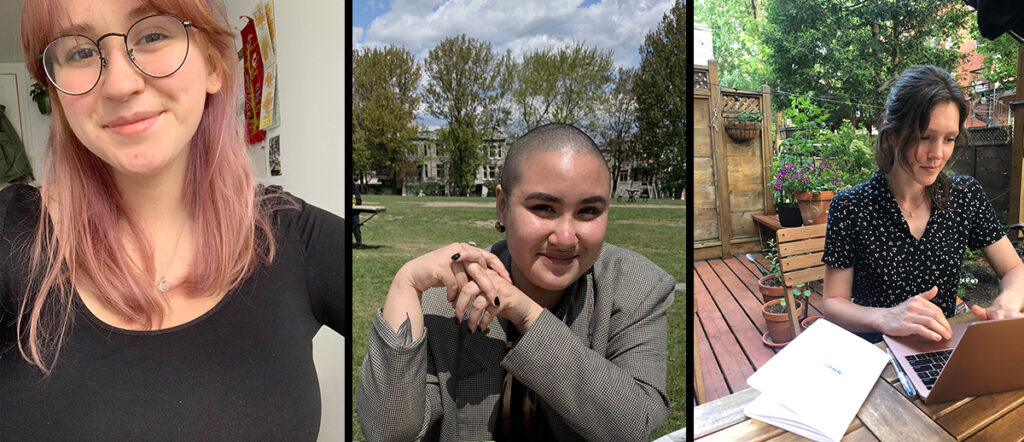 All three VAC interns are also assisting with the very popular online De-Stress and Sketch events and writing texts for the Library blog. They meet weekly with VAC staff and discuss their work as a team and issues that may affect the collection and its use and display, including political issues.
In Digital Initiatives, several digitization projects of important collections are underway such as:
Dawson-Harrington Families Fonds and George Mercer Dawson Fonds. This project is being funded through a recent and generous gift from Bob Wares, BSc'79, DSc'12. The Dawson- Harrington families and McGill University have a long and storied connection. The family's fonds gives a fascinating glimpse into the life of a family and a group of extraordinary geologists, explorers, scientists, authors, educators, and leaders of McGill University.
Osler Islamic Manuscripts. The Osler Library houses a large collection of Islamic manuscripts and lithographs written mainly in Arabic and Persian, with some in Turkish and Urdu languages. The vast majority of these works were donated to the library by ophthalmologist Casey Wood.
Students Helen Qin, Abdirahman Abdi and Arnab Chakraborty have been trained to work on specialized digitization equipment that is being used to capture both loose manuscript pages and bound notebooks, diaries, and images that are present in these collections. Students are preparing master files at high-resolution preservation quality that are being archived for the future, and web-friendly versions of the scans are being created for open access to everyone.
These student positions were made possible thanks to generous funding from the family of Rosalind Goodman, the SSMU, the AUS ASEF program, and the BC History Digitization Program at the the University of British Columbia. We thank them for their support and for creating these incredible learning opportunities for McGill students.
Engaging student library employees through workplace experiential learning in the McGill Library connects them to people and purpose, fostering skill development and a service mindset for their library roles and future careers.
Read past profiles on student Library employees here.