When it comes to studying for exams or polishing off final assignments, McGill's diverse students need different spaces to meet their own preferred atmospheres and habits. Study Space Spotlight highlights some of the unique study areas the Library branches have to offer, whether it be for solo work or in groups, silent study or in quiet conversation.
---
Few other McGill study spaces offer as much technology and flexibility as the Cyberthèque, located on the basement level of the Redpath Library Building. Renovated in 2008, the Cyberthèque offers a diverse blend of technologically-enhanced group study areas and individual work desks and computer stations to cater to the varying needs of McGill's world-class students.
At the center of the Cyberthèque sit the room's signature study spaces: a quartet of glass-enclosed study pods, perfect for groups of 6-8 students. Each bookable pods features an internet-enabled computer hooked up to a large-screen display, ideal for group study sessions or working on team assignments. If you need a quick break or a bit more inspiration, take a few minutes to read some of the enlightening quotes from great minds across human history that have been inscribed on the glass walls.
If you're looking for a more cozy for communal study, check out the row of banquettes on the southwest wall. Each booth comfortably sits 4-6 students and offers an power outlet and a computer screen that can be hooked up to a laptop or tablet for communal work.
For those working in solitude, the Cyberthèque offers hundreds of individual study spots to accommodate varying needs. Need to access the internet? 130 internet-enabled computers are set up throughout the floor for use by McGill students and faculty or even guests. Brought your own laptop? All tables are equipped with electrical outlets to keep your devices humming. Using pen and paper? Choose a seat at one of the desks bathed in sunlight pouring in from the adjacent lower green.
No matter how you like to study, the Cyberthèque has a space for you!
Studying type: Solo or group
Sound: Moderate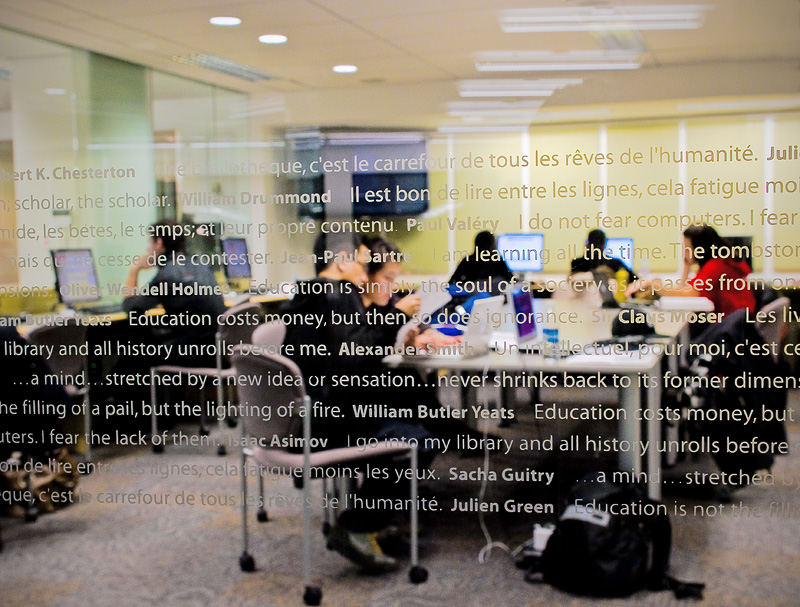 Cyberthèque, Basement Level, Redpath Library Building

3459 McTavish Street

Opening Hours:

Jan. 4 to Feb. 20

Sunday-Friday: 8:00 a.m. to midnight
Saturday: 8:00 a.m. to 10:00 p.m.

Feb. 20 to Apr. 10

Monday-Thursday: 24 hours a day
Friday: Open until midnight
Saturday: 8:00 a.m. to midnight
Sunday: Opens at 8:00 a.m.

Apr. 11 to Apr. 29

Every day: 24 hours a day