Student employment in the McGill Library benefits the entire McGill community. At almost 100 strong this academic year, McGill Library student workers gain valuable work experience while engaging in academic pursuits.  Student navigators, curatorial interns, special project assistants and student researchers bring an immeasurable amount to the life and culture of the Library. Over the next few weeks, Library Matters will share testimonials from library student workers, many of whom come to us through programs like McGill's Work Study Program and are supported by students societies and associations like the SSMU Library Improvement Fund (LIF), the Arts Undergraduate Society, the McGill Music Undergraduate Student Association (MUSA) and Post Graduate Students' Society (PGSS). Thank you to all our student workers – your hard work and dedication mean the world to the Library and McGill!
---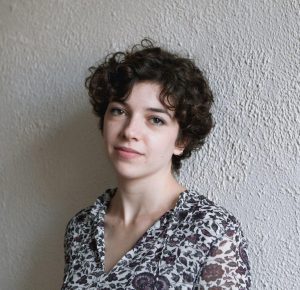 Sofia Gadbois (B.Mus '21) has been working as a special project assistant in the Audiovisual Archives at the Marvin Duchow Music Library since the summer of 2018. Her position is supported by the SSMU. Sofia is doing a double major in Jazz Voice and Psychology, with a minor in Music Entrepreneurship.
Q: What made you want to apply to work for MDML?
Sofia Gadbois (SG): I applied to work at the Marvin Duchow Music Library because I love being surrounded by music materials!
Q: What kind of work have you been doing at MDML?
SG: In addition to helping patrons at the service desk, I have been working in the Audiovisual Archives as a special project assistant. Over the past year I've learned how to digitize audio materials and process CDs and LPs for circulation and preservation. I have also helped organize personal collections that have been donated to the Library.
Q: What do you like about working at the MDML?
SG: I like having the opportunity to work closely with different music materials. While working here, I've been able to explore the Library's extensive collection of vinyl records, reel-to-reel tapes, cassettes, and CDs.
Q: What surprised you the most about working at MDML?
SG: How much stuff we have. We have about 19,000 catalogued LPs, but also many additional uncatalogued LPs shelved in the public area and stored in the Archives. The library also provides online resources such as eBooks, Naxos Music Library, medici.tv and Met Opera on Demand. While many of these resources have been helpful for school, I enjoy using the streaming services for casual listening and for watching operas from the Met!
Q: Coolest, oddest, most interesting things you have come across/experienced?
SG: In the Archives, I found a reel-to-reel tape entitled "Spaghetti Dinner", documenting someone's dinner conversation. In our public collection, I found a record of Peter and the Wolf narrated by David Bowie. It has some pretty awesome album art.