Student employment in the McGill Library benefits the entire McGill community. At 100+ strong this academic year, McGill Library student workers gain valuable work experience while engaging in academic pursuits.  Student navigators, curatorial interns, special project assistants and student researchers bring an immeasurable amount to the life and culture of the Library. Over the next few weeks, Library Matters will share testimonials from library student workers, many of whom come to us through programs like McGill's Work Study Program and are supported by students societies and associations like the SSMU Library Improvement Fund (LIF), the Arts Undergraduate Society (AUS), the McGill Music Undergraduate Student Association (MUSA) and Post Graduate Students' Society (PGSS). Thank you to all our student workers – your hard work and dedication mean the world to the Library and McGill!
---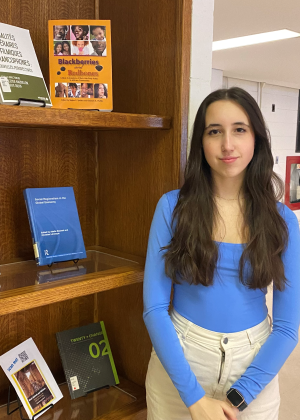 Olivia Melanson is a first-year undergraduate student in the Faculty of Arts who is planning on majoring in Political Science and minoring in Indigenous Studies and Economics.
Library Matters (LM): What made you want to apply to work for the library?
Olivia Melanson (OM): Having worked through all of high school, I got used to a busy schedule, and I now realize that this kept me motivated. After my first semester at McGill, I realized I was missing this balance. When I saw that the library was hiring, I applied right away! This would be an opportunity for me to develop new skills while also contributing to the McGill community.
LM: What kind of work have you been doing? Has it been virtual / onsite / hybrid?
OM: As an Outreach Assistant, my work so far has been hybrid. This job entails a lot of different tasks, allowing me always to keep busy. In person, I have weekly meetings with the amazing Outreach team, attend the various events we plan for students, and help with other office tasks. Most of my work, however, is done online; I write blog posts for the McLennan Post, create the Redpath Virtual Book displays and other promotional material.
LM: What do you like about working at the Library?
OM: My favourite part about working at the Library has definitely been how welcoming and kind everyone has been. I knew going into the job that my main task would be to create a welcoming and community-oriented space for students, but I did not realize that there would also be a great sense of belonging behind the scenes. I receive constant support from the Library staff, whether work or school related.
LM: What surprised you the most about working at the Library?
OM: I was most surprised by the number of positions and people needed to make a library work. Beforehand, I had always seen the Library as just a place to study, and therefore there were only librarians working. However, ever since I started working at the HSSL and have seen the behind-the-scenes of everything, I've come to understand that much more goes into it. For example, I had never considered that my current position working for Outreach would be an option in a Library. It was really interesting to see this diversity in the mechanics of the Library system!
LM: Any "Aha!" moments or takeaways from the experience?
OM: Even though I have not been working for the Library for long, I feel like I've already learned a few valuable things regarding the Library and myself. As I've previously mentioned, many positions are needed to operate this welcoming environment for students properly; I now have a much greater appreciation for the Library staff and everything they do for the community. I have also figured out a work method and schedule that works for me, something I had never been able to do previously; I am given enough autonomy to grow as a person while still having the support of my coworkers.