Student employment in the McGill Library benefits the entire McGill community. At 100+ strong this academic year, McGill Library student workers gain valuable work experience while engaging in academic pursuits. Student navigators, curatorial interns, special project assistants and student researchers bring an immeasurable amount to the life and culture of the Library. Over the next few weeks, Library Matters will share testimonials from library student workers, many of whom come to us through programs like McGill's Work Study Program and are supported by students societies and associations like the SSMU Library Improvement Fund (LIF), the Arts Undergraduate Society (AUS), the McGill Music Undergraduate Student Association (MUSA) and Post Graduate Students' Society (PGSS). Thank you to all our student workers – your hard work and dedication mean the world to the Library and McGill!
---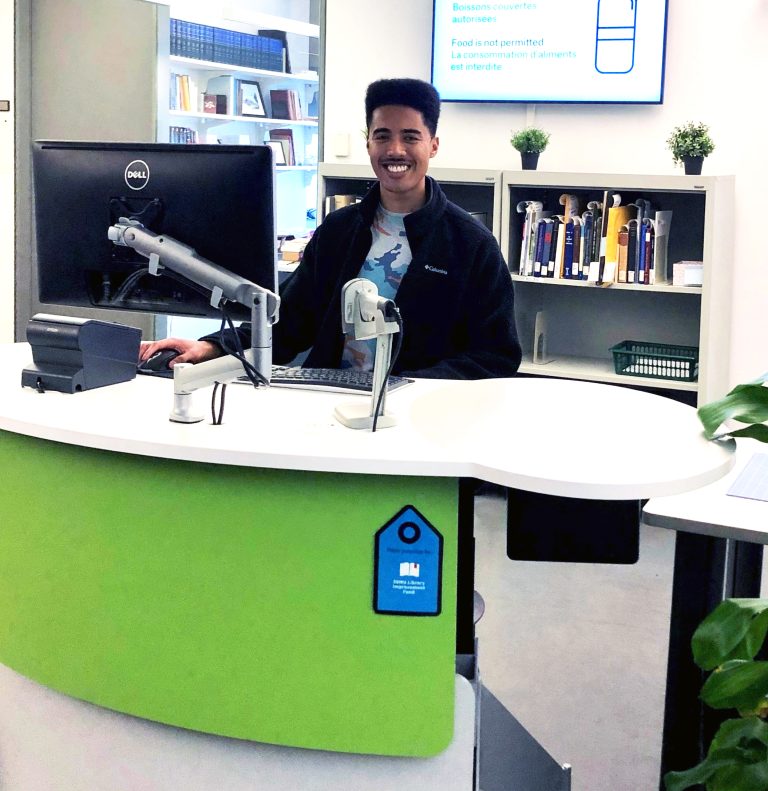 Alexander Norton III is in the 2nd year of a MMus degree in Opera and Voice and works at the Marvin Duchow Music Library.
Library Matters (LM): What made you want to apply to work for the library?
Alexander Norton III (AN): I wanted to work on-campus and to have flexible hours so I could rehearse for Opera McGill productions and voice recitals.
LM: What kind of work have you been doing? Has it been virtual / onsite / hybrid?
AN: My work has been onsite since September 2021, and I have provided customer service to library patrons. This service entailed searching through Sofia Discovery to find specific texts and recordings. I have also managed the loans of thousands of books, scores, CDs, DVDs, and video/audio recording equipment.
LM: What do you like about working at the Library?
AN: I enjoy the calm work environment and the information which I can learn during each shift. For example, I learned how the Music Library lends audio recorders which allow a student to tape an audition; the student gets high quality sound yet he or she saves time and energy by avoiding the "traditional" set-up of a microphone, microphone stand, XLR cable, and audio interface. Instead, the student simply places the audio recorder several feet ahead and clicks "Record."
LM: What surprised you the most about working at the Library?
AN: I was surprised at the detail with which people worked. For instance, my supervisor outlined every step a two-person team would take to close the library. This ranged from the most general (close the front doors) to the most minute (ensuring each stapler works and if not, e-mailing a team member the specific model and the error). Many people claim that they and their workplaces are "detail-oriented," but the Marvin Duchow Music Library truly incorporates this value.
LM: Any "Aha!" moments or takeaways from the experience?
AN: I discovered the many pieces of sound and video-recording equipment people can borrow from the Music Library. This taught me how to help myself and other musicians record audition tapes.