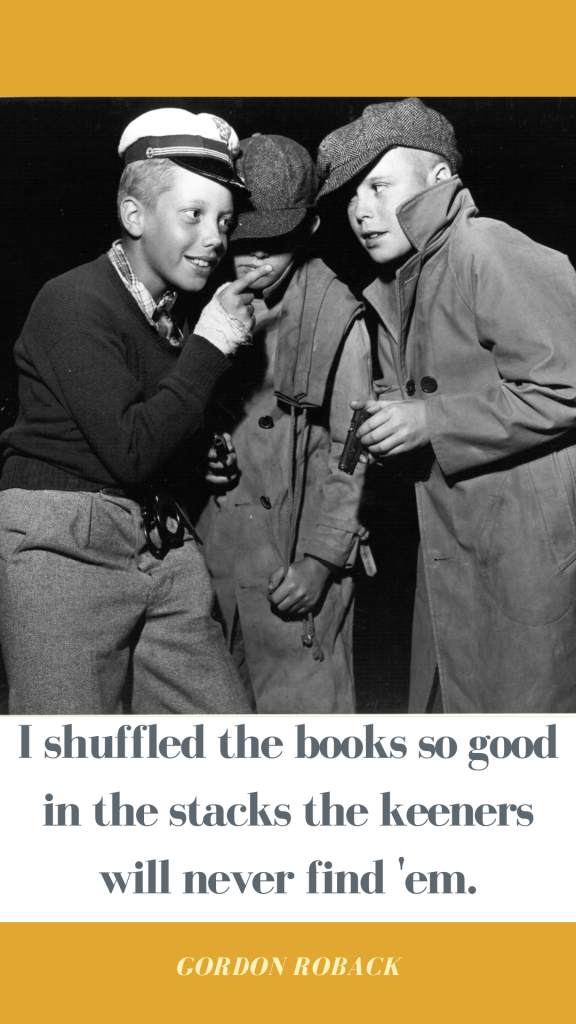 We had a clear winner for this month's Caption this photo. Thanks to Gordon Roback for a spot-on bit of library mischief.
Our monthly Caption This post invites fun, invites interaction, and invites engagement. It is of course a completely serious competition with a rigorous assessment process. This month I exercised my power of veto to choose our winner. So, in the name of transparent decision-making, I will explain that our decisions of winners and runners-up each month are highly influenced by our library perspective.
Before my role as Outreach librarian here at ROAAr, I worked at the children's department at the Westmount Public Library on Sherbrooke street. A regular task at closing every day was to reset the books to the edge of the shelf, because these three, or their kindred, had been at the stacks – shuffling and rearranging to their own delight. This caption for this trio perfectly captures that book sprite spirit!
Gordon Roback provided a bit more context on his caption:
The caption is not a work of fiction. When I was in Honours English [at McGill] the keeners who wanted to go to Oxford, Cambridge and the US ivy league universities would remove the cards from the card catelogue and shuffle the books in the stacks.  If you missed a class no one would lend you their notes. 

Gordon Roback
These days the only place you still see card catalogues is here, on the 4th floor! Thanks Gordon, for capturing the moment with a perfect phrase.
See the slide show below for our runner's up.