By Catie Galbraith, Indigenous Studies and Community Engagement Initiative (ISCEI) Research Assistant
Pudlo Pudlat was born on Qikiqtaaluk (Baffin Island) in 1916. He lived in this region of Nunavut for much of his life, leading a semi-nomadic lifestyle. Pudlat did not begin his artistic career until he was in his 40s, after relocating to Kinngait (Cape Dorset) and receiving encouragement from members of the Kinngait Co-operative. He began drawing after an arm injury prevented him from carving.[1] His early drawings feature simple outlines and sketches made with pencil, and his later works use colored pencil and colored pens. Pudlat gained public recognition in 1972, after one of his prints was selected to be a UNICEF greeting card. By the time of his passing in 1992, he had produced a massive body of work, with over 4000 drawings and 200 prints.[2] Pagniq Sniffs the Wind is one of two pieces by Pudlat in McGill's Visual Arts Collection.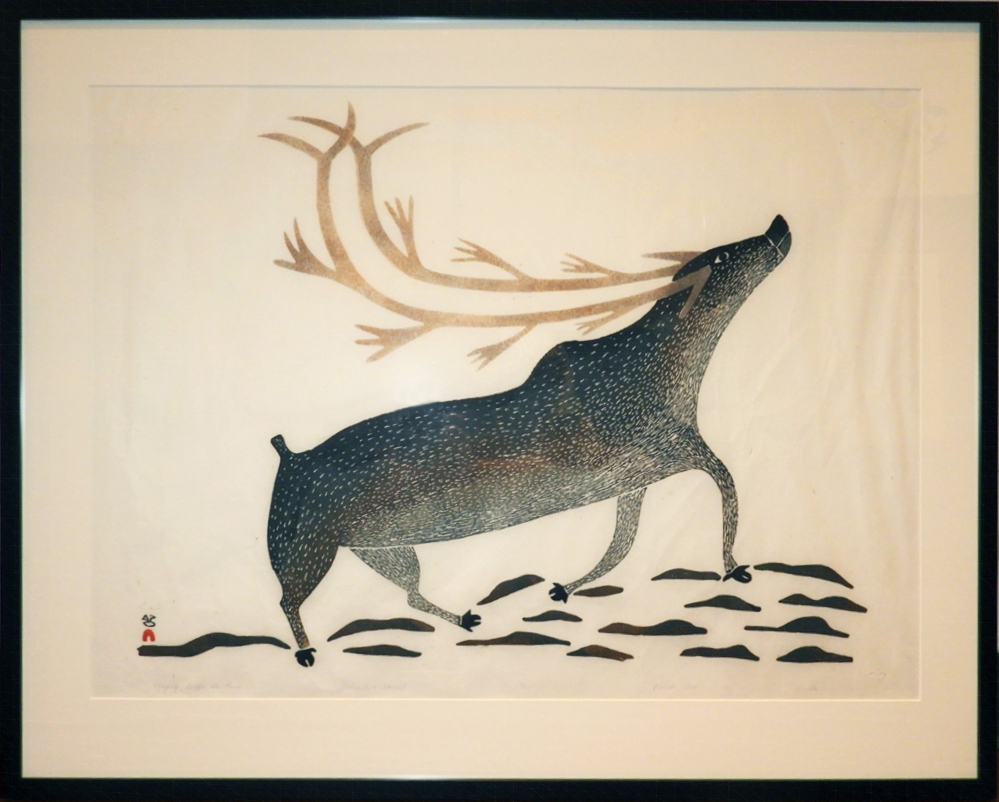 Pudlat's work is characterized by his sense of humor and deep relationship with the land. His works often featured scenes of his daily life on the land, the plant and animal life that surrounded him, and the changing technologies he saw in his community. He was particularly fascinated by airplanes, a common motif in his works. Pagniq Sniffs the Wind is a 1984 lithograph of a caribou on the tundra, with his nose up to the wind. Pudlat uses flowing lines and neutral colors, reflecting the landscapes of his home in the Arctic. This simple scene demonstrates a deep knowledge of the mannerisms of a caribou. He depicts the caribou as he observed them on the land.
The period in which Pudlat worked was one of great tragedy in Northern communities. The Canadian government implemented a number of forced migration policies, severing connection to the land for many Inuit peoples. Notably, the High Arctic Relocation of the 1950s forcibly moved Inuit families from their traditional territories in Northern Quebec to far harsher, more Northern regions.[3] The rationale was that families were being relocated due to resource scarcity in Arctic Quebec. However, the High Arctic Relocation also served as a Canadian attempt to assert sovereignty in the Arctic. Alongside relocation, federal and provincial police departments systematically slaughtered sled dogs during the 50s and 60s.[4] This was another way of severing ties to the land, as well as limiting transport options for Inuit families and stunting traditional land-based economies.
In the face of this, Pudlat choses to depict vibrant, joyful scenes of daily Inuit life. During a period of major change and displacement in the North, Pudlat roots himself in his relationship with the land. Discourses surrounding Indigeneity are so often rooted in tragedy. Pudlat subverts that narrative, choosing not to focus on the colonial violence being inflicted on his people but on land-based learning and community ties. He focuses his attention on the joy that comes from the land. Professor and scholar Heather Igloliorte describes this deep living knowledge of and relationship with the landscape depicted in Inuit art as Inuit Qaujimajatuqangit. In "Curating Inuit Qaujimajatuqangit: Inuit Knowledge in the Qallunaat Art Museum", Igloliorte discusses the way in which lived experiences and traditional knowledge of the land are depicted in Inuit art. She states that seemingly "fanciful depictions can reveal intimate, lived knowledge of the Arctic. Some knowledge about polar bears can only be gained by patient observation and time on the land, such as knowing how the vertebrae in a bear's neck will elongate when it dives underwater, or how a bear will sniff the air when it catches the scent of prey far across the ice."[5] Pagniq Sniffs the Wind demonstrates this type of land based learning in its depiction of the caribou. Pudlat's work highlights his knowledge of the land and the happiness it brings him, not the sadness that so often dominates Indigenous narratives.
---
[1] "Pudlo Pudlat." Feheley Fine Arts. https://feheleyfinearts.com/artists/pudlo-pudlat/
[2] "Pudlo Pudlat," National Gallery of Canada. https://www.gallery.ca/collection/artist/pudlo-pudlat
[3] Sarah Bonesteel, "Canada's Relationship with Inuit: A History of Policy and Program Development," Indigenous and Northern Affairs Canada, June 2006. https://www.aadnc-aandc.gc.ca/eng/1100100016900/1100100016908
[4] Bonesteel, "Canada's Relationship with Inuit: A History of Policy and Program Development".
[5] Heather Igloliorte, "Curating Inuit Qaujimajatuqangit: Inuit Knowledge in the Qallunaat Art Museum," Art Journal 76, no. 2 (2017): 108.