New at McGill Library, the Witold Rybczynski Fonds – book manuscripts and proofs, research materials, reviews, correspondence, teaching materials, slides, and digital files – represent a career as author and educator.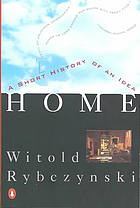 Witold Rybczynski is a critically acclaimed and award-winning Canadian-American author in the field of architecture and urbanism. His professional body of work in contemporary architecture and urbanism fits perfectly within the collecting areas of the John Bland Canadian Architecture Collection (CAC), which seeks to document the work of architects who have studied and/or taught at the McGill University School of Architecture or the School of Urban Planning. With Rybczynski's strong emphasis on publication and pedagogy, we see links in the CAC to the work of Percy Nobbs, Peter Collins, Moshe Safdie, and Harold Spence-Sales, and to complementary material in the 20th century housing book holdings in the Blackader-Lauterman Collection of Architecture and Art, Rare Books and Special Collections.
Rybczynski was born in Edinburgh, Scotland, to Polish parents. As a child his family moved to Canada, where he studied architecture at McGill University, graduating with a B.Arch in 1966, M.Arch. in 1972, and S.D. in 2002. He was a faculty member at the McGill School of Architecture from 1973 and 1993 and is currently Emeritus Professor of Architecture at the University of Pennsylvania. His book "Home: A Short History of an Idea" was, notably, nominated for the 1986 Governor General's Award. It is one of hundreds of publications Rybczynski has authored on architecture and technology, including many for non-academic audiences.
Processing is ongoing. Please contact the CAC for further information.