Dr. Maia Isabelle Woolner curated the exhibition Cure Yourself by Electricity! Personal Electrotherapeutic Devices in Canada and Beyond c. 1880s-1930s. On display in the ground floor lobby of the McLennan Library building, the exhibit is a shockingly fascinating tour through the history of electrotherapeutic devices.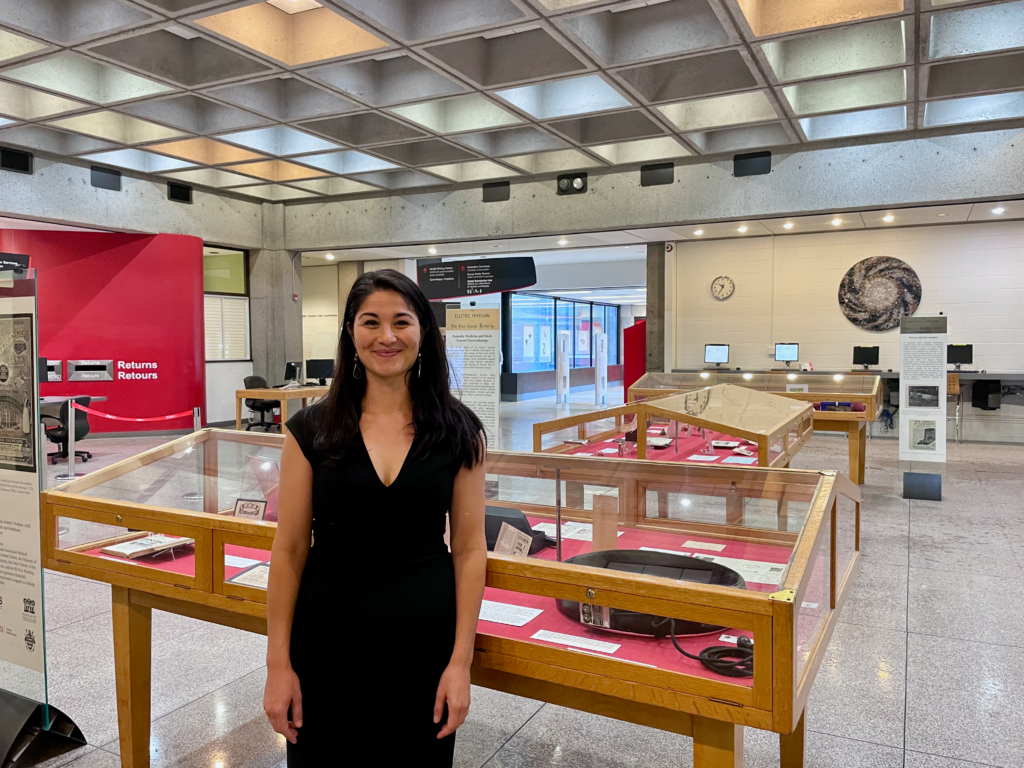 Q.1 – Tell us a bit about yourself.
I'm a historian of modern science, technology, and medicine. I really enjoy working on projects that allow for different ways to narrate history so I was excited by the opportunity to curate an exhibit of medical objects and ephemera at McGill. I can't wait to put together my next show.
Q.2 – What was the "spark" for this exhibition?
I found a few advertising pamphlets for Dr. Sanden's electric belt in the archives in Paris when I was there doing research for a different project. The box was just labeled as "electricity ephemera" so I had no idea what I would find.
Q.3 – What was your guiding question when choosing material for this exhibition?
I tried to focus on telling a story through a variety of objects, images, and texts. I also asked myself how each of the materials could speak to different themes like gendered advertising and satirical representation.
Q.4 – Tell us more about one item that surprised you in each case.
Well, I am very intrigued by the electric belt from the Osler, which is in the first display case. It's kind of a mystery – while it is dated to the 1940s, I'm fairly certain that it's actually from the late 19th century. We don't have a lot of information about it, so we can only speculate, but it really sparks the imagination.
In display case no. 2, I love the little bottle of "eclectric oil." Initially I kept on calling it electric oil, but its name is actually a blending of "electric" and "eclectic." The popularity of electricity was so widespread that all different kinds of products tried to capitalize on it through association.
In the final display case, the size of the therapeutic solenoid is astounding! Initially, when I saw the image on the online catalog of the Museum of Healthcare at Kingston, I wasn't expecting something so large. It really was a surprise when I unwrapped the object for the first time.
Q. 5 – There are objects and items from more than one collection on display, can you tell us more about how these collections complement each other?
I was really fortunate that the Museum of Healthcare at Kingston was so keen to lend me objects for this exhibition. They have a great collection there – so much interesting stuff! And many of the objects they hold are complemented by textual and visual sources in the Osler Library, so it worked out really well. It was a lot of fun to piece all the different sources together.
---
The exhibit is free for all during McLennan Library opening Hours.