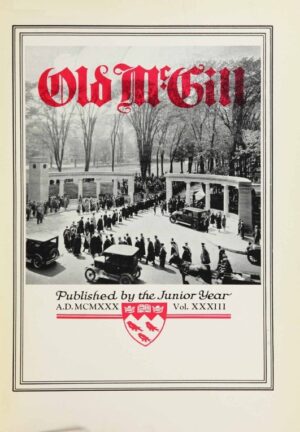 This year, for the first time in McGill's almost 200-year history, convocation ceremonies will be held virtually, with a second convocation, an in-person academic procession and ceremony, in 2021. Until then, to celebrate this exceptional Class of 2020, we thought of offering you this virtual tour of a collection also close to the graduation tradition: the McGill University Yearbooks.
Old McGill has been published since 1898. Almost the full run, from the very first year up to 2000, can be searched online, one of the most consulted of the McGill Library Digital Collections.
If you're missing campus and feeling a little nostalgic and want to explore yearbooks and beyond, browse the Library's Student Publications Collection or add a Library Zoom background to your next virtual meeting. From our stacks to your selfies, we've also created a special Facebook frame just for all you graduates out there using images from the Old McGill Yearbook. We hope you enjoy this special time and we hope you come back to visit in different ways!
The first school yearbooks appeared in the 1600s, and at the time, before the invention of photography, they were simply a scrapbook: a personal object you kept with you to collect your classmates' signatures and messages. Without photos, these books were filled with notes, articles, flowers, and even hair clippings. College yearbooks in North America started at the beginning of the 19th century, with Yale University leading the way in 1806. In the 1830s, technology made mass production possible and gave these publications a great push. Yearbooks became a flourishing part of the new printing industry.
The content of yearbooks hasn't changed much through the years. The 1898 Old McGill Editorial Board describes it in a way that could still apply today: "The aim of this work is to supply a want long recognized in collegiate circles. It contains all available information in regard to the University, its equipment, societies, athletics, etc., with other matter interesting alike to alumni and students. We wish it to be an invaluable work of reference in regard to McGill affairs, past and present, and have spared no pains to make it such." (Old McGill, 1898, p. 12).
The said board obviously worked really hard to find the financial resources to publish the yearbook: "… we consider it, financially, impracticable to publish 'Old McGill' every year." (Old McGill, 1898, p. 12) Luckily for us, the advice was regarded lightly, because the Old McGill was published non-stop until 2016, even through the World Wars.
Flipping through the early years of Old McGill is great fun! They include so much more than your grandparents' graduation photos: it's a great way to discover campus life and North American society throughout the years. Some things have changed a great deal, and some are still part of the McGill experience.
The photos of the campus' most advanced technological features help us realize how much McGill grounds have developed over the years. In this 1898 image, we can see the new, state-of-the-art switching board. The 1911 photo below shows the new Medical Building.
Clubs and fraternities always were an important part of McGill extracurricular life, but not all them have stood the test of time: who knew that McGill once had a Masonic Club (founded in 1923), let alone an Order of the Knights of the Round Table? Glee and Banjo Clubs flourished everywhere at the beginning of the 1900s, and McGill followed the trend. These highly organized clubs provided not only occasion to meet fellow students enrolled in different programs, but also student exchange opportunities: both Princeton and Yale Banjo and Glee Clubs were invited in to perform at McGill as early as 1898.
Yearbooks provide ways to learn about so many aspects of social evolution. While women were finally admitted at McGill in 1884, they didn't mix with men in the classrooms for a long time. They were granted their own college, the Royal Victoria College, sponsored by Donald A. Smith (later Lord Strathcona). In honour of Smith, McGill's female students were known for decades as "Donaldas." More on women at McGill here.
Lighter aspects of Montreal's life can also be found within these pages: one can study the change in fashion—these hats!
Not to mention sports fashion: it's certainly a good surprise to find women's sports teams very early on, but another kind of surprise lies in these members of women's athletic teams' outfits! Comfort and practicality had little place in women's sportswear.
Even the publicity pages are very informative and speak of evolution in public interest: who could imagine a student's publication today advertising for coal, cigarettes, or private power companies? Not to mention arc incandescent lighting or 5$ phonographs…
Publication of Old McGill stopped in 2016. The idea of an online version has been discussed, but nothing has come to fruition yet. Meanwhile, we heard through the grapevine* that as a tribute to this tradition, and just in time for McGill's bicentennial, the SSMU will incorporate a lot of Old McGill images into this year's version of the students' handbook. This homage to the legacy of the yearbook tells us that they're dearly missed, and certainly remain a great witness to the university experience.
Congratulations to all the 2020 graduates and happy virtual celebrations!
Click here for more images of McGill convocation through the years and here for more tools for exploring academic and extracurricular life at McGill.
*Thanks to the Students' Society of McGill University for their hint about the handbook design.
By Geneviève Beaudry, Archivist, Rare Books and Special Collections