It is finally apple season! This time of year, Québec apples are at their best and many of us make the pilgrimage to the orchards of the Eastern Townships for a taste of crisp, fresh from the branch Macintosh apples. Home with the literal fruits of your labours and looking for inspiration for what to do with your abundance of apples? Look no further! Here is a selection of recipes from our Cookbook Collection to give you some homegrown, Québécois recipes for your Quebecois apples. 
"Les meilleures au monde"
Pour commencer, nous vous offfrons une sélection d'un dépliant de la Ministère de l'agriculture de la Province de Québec des années 1950s. Un pain Pain aux Pommes, légèrement sucrée, qui a l'air appétissant. Inspiration locale pour tes pommes locales.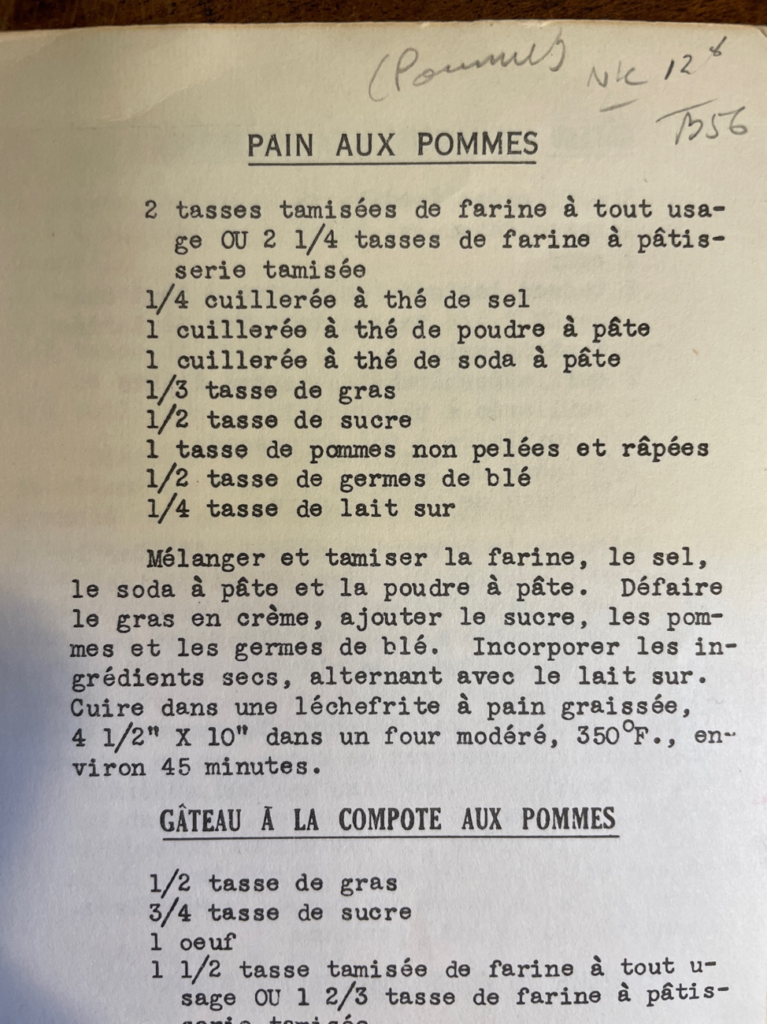 PAIN AUX POMMES
2 tasses tamisées de farine à tout usage
OU2 1/4 tasses de farine à pâtisserie
tamisée
1/4 cuillerée à thé de sel
l cuillerée à thé de poudre à pâte
1 cuillerée à thé de soda à pâte
1/3 tasse de gras
1/2 tasse de sucre
1 tasse de pommes non pelées et râpées
1/2 tasse de germes de blé
1/4 tasse de lait sur
Mélanger et tamiser la farine, le sel, le soda à pâte et la poudre à pâte. Défaire le gras en crème, ajouter le sucre, les pommes et les germes de blé. Incorporer les ingrédients secs, alternant avec le lait sur.
Cuire dans une léchefrite à pain graissée, 4 1/2″ X 10″ dans un four modéré, 350°F., environ 45 minutes.
Delight in every bite
This 1926 publication celebrates Canadian apples. Published by the comically appropriate "Fruit Branch" of the Canadian Department of Agriculture, it include two recipes we suggest trying out!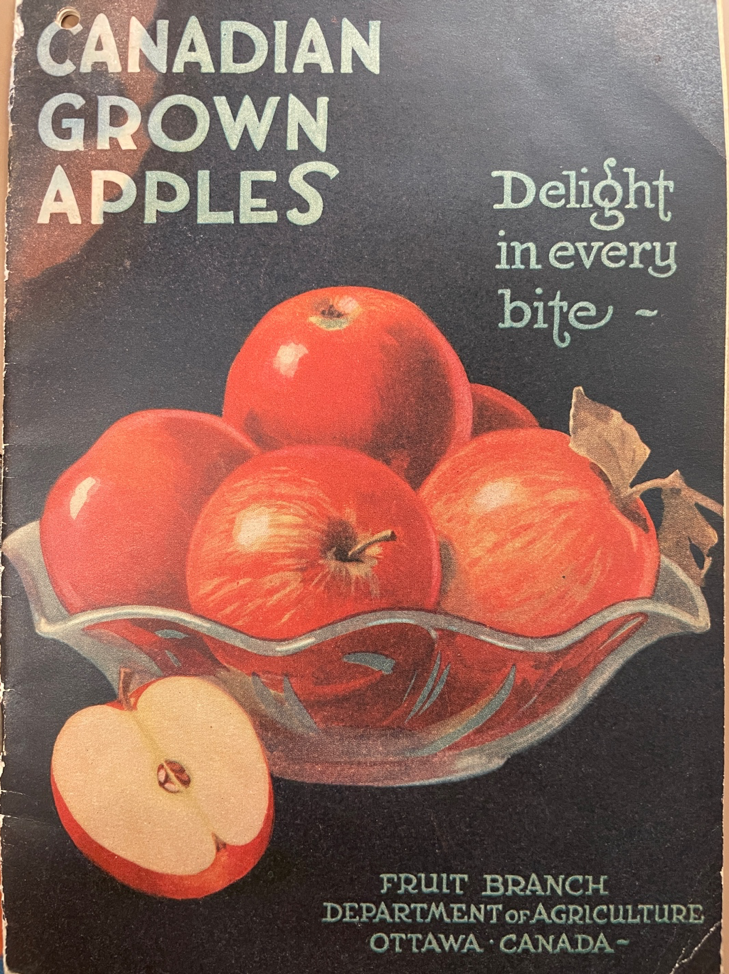 CODDLED APPLES
2 cups boiling water.
1 to 2 cups sugar.
8 apples.
Make a syrup by boiling sugar and boiling, water five minutes. Core and pare Canadian-grown apples; cook slowly in syrup; cover closely and watch carefully.
When tender, lift out apples, add a little lemon juice to syrup and pour
over apples. The cavities may be filled with jelly or raisins.
APPLE PORCUPINE
Stick coddled apples with pieces of almonds blanched and cut lengthwise in spikes.
If you decide to try any of these recipes, feel free to send us a review by email at roar.library@mcgill.ca. From all of us here at ROAAr, we wish you all a happy and cozy fall!