by Michelle Macleod, Assistant Curator, Visual Arts Collection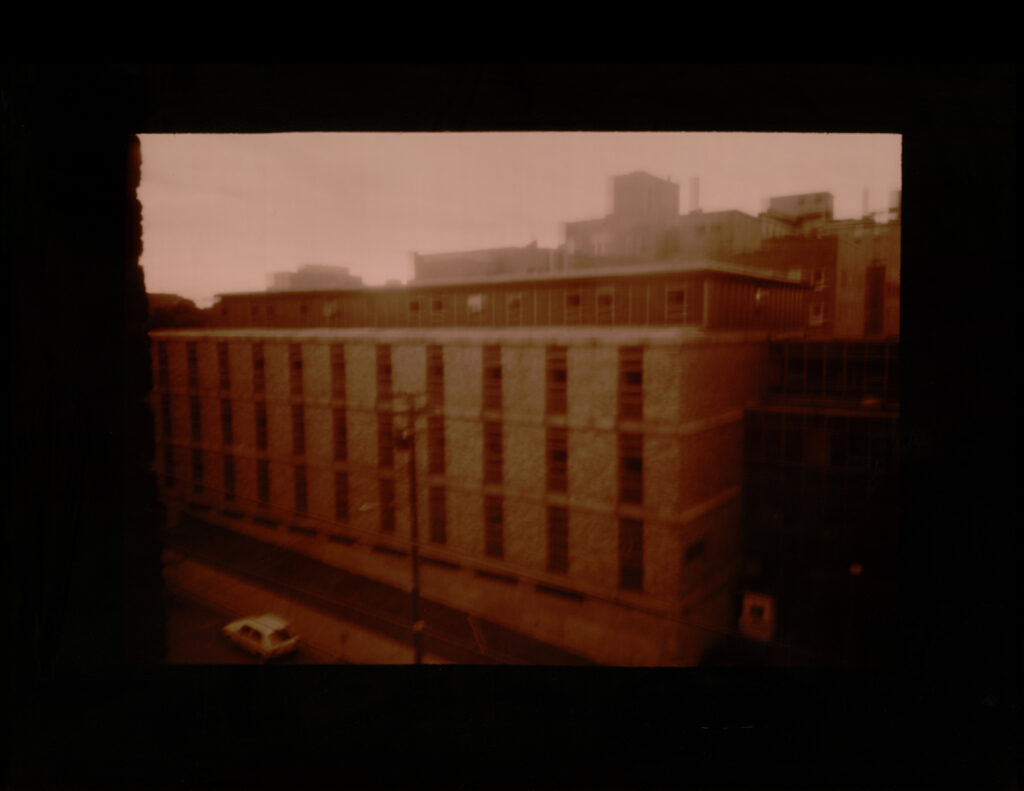 Artist Angela Grauerholz presents us with a seemingly conventional subject in this photograph; a diagonal, high angle view of a concrete, five-storey building. The boxy design of a parked car below helps to date this otherwise non-descript image to the 1980s. The rest of the image is rather timeless, and so ordinary it almost seems familiar. This is the artist's intention. It invites a double-take. Have I seen this building before?
Every aspect of the photograph's form – its process, colour, and size – are intentionally designed to elicit this reaction to its subject. This photograph is about memory, or rather the truthfulness of memory and the role of photography in constructing it.
Most noticeably, the image is blurry. A slippage in this static scene is achieved through the layering of multiple exposures. A faint ghost of the car shifts up towards the right corner of the composition. A soft doubling effect is also seen where the buildings meet the skyline, with a shift to the left. This multi-directional blur furthers our disorientation. It seems to tremble in place.
The image's overall colour is a rosy sepia, a hue that connotes the past, with connections to historical photographic processes. Since Grauerholz's subject is memory, this colour choice is deliberate. Interestingly, this print is itself a historical photographic process. It is a Cibachrome print, which has a polyester support (rather than paper). This material was discontinued by Ilford in 2012 as sales declined with the shift to digital printing.
As we search for a recognizable element in the photograph, perhaps we roll back the tape in our mind's eye. A common cinematic trope for this kind of recall is to switch to sepia and blur the scene. Cue the flashback. Grauerholz constructs a mise-en-scene in the same manner. In fact, the print's thick black borders, which are purposefully not the usual white photo mats, allude to the black space of the cinema.
The artist purposefully controls the viewer's experience with the scale of this photographic print too. It measures 121 by 183 cm. When standing in front of the artwork, it fills your gaze, and demands your attention. A photograph this big of something must mean it is important, should I know this building?
The photograph's immense dimensions are indicative of a trend in the 1980s that saw photographers taking up a scale that was previously reserved for paintings in the art museum and market(think history paintings and abstract expressionism). Grauerholz was at the forefront of this important development in photography's technology, conception, and reception.
Finally, a last attempt to resolve our search for recognition is usually to consult the artwork's title. Grauerholz resists this with a vague title, Hospital (1987). Other photographs in her 1980s series have equally elusive titles: Window, Crowd, Hotel, and Alley. They function in the same way. Curator Helaine Posner describes this experience as, "The initial familiarity of her imagery slowly fades into uncertainty, as the traveller is sent on an evocative journey through an ambiguity of time and space."[1]
Hospital is an early print in Grauerholz's celebrated body of work, which investigates memory, the archive, and the subjectivity of vision. Born in Germany and based in Montreal, she is now one of Canada's most distinguished artists. She has won prestigious awards such as the Prix Paul-Émile Borduas (2006) and Scotiabank Photography Award (2015). Her work is exhibited and collected by renowned national and international institutions. In the 1980s she co-founded ARTEXTE, a vital archive for the study of Canadian art in Montreal. And since 1988, she has been a professor at Université du Québec à Montréals École de Design.
Thanks to the generous donation of Morton Spector, her work is a welcome representation of contemporary Canadian photography in the McGill Visual Arts Collection. We look forward to witnessing many double-takes as this exciting new acquisition is now on display in the Art History and Communication Studies department in the Art Building.
---
[1] Helaine Posner, "Days of Futures Past" in Angela Grauerholz: Recent Photographs (Cambridge, MA: MIT LIST Visual Arts Center, 1993), 10.
---
Retour en arrière avec Angela Grauerholz
Par Michelle MacLeod, conservatrice adjointe, Collection des arts visuels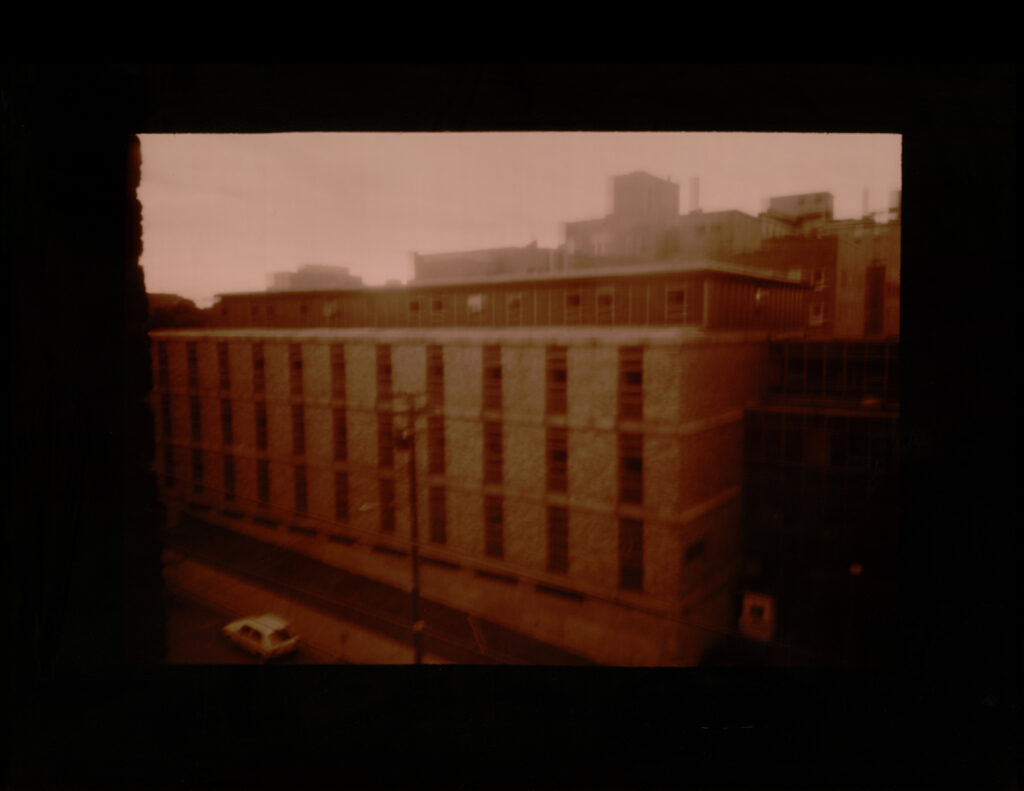 Dans cette photo, l'artiste Angela Grauerholz nous présente un sujet apparemment conventionnel : la vue en diagonale à angle aigu d'un immeuble en béton de cinq étages. L'allure carrée de la voiture stationnée devant nous aide à situer dans les années 1980 cette image par ailleurs quelconque. Le reste de cette image échappe au temps de façon si banale qu'elle semble presque familière. C'est l'intention de l'artiste. L'image suscite un second regard. Où donc aurais-je déjà vu cet immeuble?
Chaque aspect de la photo – processus, taille et couleur – a pour but de susciter cette réaction autour de la mémoire, ou, plutôt, de la fidélité de la mémoire et du rôle du photographe qui la construit.
Ce qui ressort, c'est que l'image est brouillée. Dans cette scène statique, le flou est obtenu par la superposition de nombreuses expositions. Une image ténue de voiture fantomatique nous attire vers le coin droit de la composition. Un faible doublement ressort à la rencontre de l'immeuble et de la ligne d'horizon en léger décalage vers la gauche. Ce brouillage multidirectionnel accentue la désorientation. L'image semble trembler sur place.
Dans l'ensemble, la couleur est sépia rosé, teinte évoquant le passé et associée à d'anciens procédés photographiques. Puisque le sujet est la mémoire, le choix de la couleur est délibéré. Soulignons que l'épreuve elle-même est le résultat d'un tel procédé : le tirage Cibachrome, sur support en polyester (plutôt que sur papier). Ilford a abandonné ce matériau en 2012 en raison du déclin des ventes attribuable au passage à l'impression numérique.
L'observation de cette photo en quête d'un élément reconnaissable peut nous faire remonter dans le temps. La trope, procédé cinématique courant dans les évocations de cette nature, consiste à passer au sépia et à brouiller la scène. Et en avant le retour en arrière. Grauerholz l'applique dans sa mise en scène. Les bordures noires épaisses, qui se démarquent du mat habituel, font allusion aux espaces noirs du cinéma.
L'artiste contrôle à dessein l'expérience du spectateur également par la taille de l'épreuve qui mesure 121 cm sur 183 cm. L'observation de cette pièce remplit le regard et capte l'attention. Une photo de cette taille doit représenter quelque chose d'important. Est-ce que je connais cet immeuble?
La dimension considérable de la photo dénote une tendance des années 1980, alors que des photographes adoptent une échelle auparavant réservée aux peintures dans les musées et sur le marché (songeons aux peintures anciennes et à l'expressionnisme abstrait). Grauerholz était à l'avant-plan de cette évolution importante de la technologie, de la conception de la photographie et de son accueil.
En dernier lieu, afin de résoudre sa quête d'interprétation, l'observateur se tourne généralement vers le titre de l'œuvre. Grauerholz oppose un titre vague, Hospital (hôpital) (1987). D'autres titres tirés de sa série des années 1980 sont également évasifs : Window (fenêtre), Crowd (foule), Hotel (hôtel)et Alley (ruelle). Ils ont la même fonction. La conservatrice Helaine Posner décrit son expérience : « La familiarité initiale que dégage son imagerie se tourne lentement vers l'incertitude, comme si le voyageur était entraîné dans un cheminement évocateur par l'ambiguïté du temps et de l'espace[1]. »
Hospital est un tirage issu des débuts de l'œuvre renommée de la photographe qui explore mémoire, archivage et subjectivité de la vision. Née en Allemagne, elle vit à Montréal et figure maintenant parmi les artistes les plus émérites au Canada. Elle a remporté des récompenses fort prestigieuses, dont le prix Paul-Émile Borduas (2006) et le Prix de photographie Banque Scotia (2015). Des établissements renommés, d'envergure nationale et internationale, exposent et collectionnent ses travaux. Dans les années 1980, elle cofonde ARTEXTE, archives essentielles pour l'étude de l'art canadien à Montréal et, depuis 1988, elle enseigne à l'École de design de l'Université du Québec à Montréal.
Grâce au don généreux de Morton Spector, son œuvre est une représentation bienvenue de la photographie contemporaine canadienne au sein de la Collection d'arts visuels de McGill. Nous espérons voir plus d'un visiteur jeter un second regard à cette nouvelle acquisition captivante est exposée au département d'histoire de l'art et des études de communication dans le bâtiment des Arts.
---
[1] Helaine Posner, "Days of Futures Past", Angela Grauerholz: Recent Photographs (Cambridge, MA: MIT LIST Visual Arts Center, 1993), 10.
---