By Greg Houston, Digitization & New Media Administrator and Elis Ing, Liaison Librarian, Rare Books and Special Collections
While our doors may be closed, we are still hard at work. With such rich collections of unique material, ROAAr staff are stepping up to new challenges in order to share our rare collections with the public during the COVID-19 closure. Here is a peek behind the scenes into our digitization lab.
When the COVID-19 pandemic forced the closure of the campus this spring, the McGill Library implemented several new services that enabled users to continue to access print materials. This included a new curbside/terrace pick-up service for circulating print materials and providing access to the Hathitrust emergency service, an online repository containing over two million items that correspond to McGill's physical print collection.
However, one question became apparent: What if the items in demand are specialized and unique to McGill, but are not yet digitally available? The solution was to launch an on-demand digitization service run by the Library's in-house Digitization Lab, using material managed and processed by ROAAr staff. The goal of the "Digitization-on-Demand" service is a simple one: provide online access to materials for teaching, research, and other purposes. Once a requested item has met the criteria for digitization and is in the public domain, it could be added to the Library's digital repositories and listed in the catalogue for public use. This would not only fulfill the client's request; it would also become accessible to everyone around the world.
Since the start of the Digitization–on-Demand service on August 1st, the service has processed close to 200 requests. These range from entire archival fonds to cover-to-cover monographs. The service has captured many notable items, such as the entire set of Dr. Maude Abbott's wooden printing blocks that were used in the ground-breaking Atlas of Congenital Cardiac Disease and the Grenfell Mission Photograph Collection of over 550 photographs.
However, one particular three-dimensional item stands out, in that it was made to "stand up." The Ballet Dancer is a 1930s string marionette made from papier-mâché and dressed in a delicate net tutu. The ballet dancer needed to be captured in such a way that she appeared to be dancing. In order to achieve a life-like pose, we had to get creative: an ordinary coat rack proved to be the perfect height for the puppet's full extension, and the rack's parallel bars securely held the marionette's wooden hand support. Ties, clothespins, and foam cushions were also employed to ensure the puppet's security. A green felt curtain was used as a backdrop and cube lights were placed on either side. In the photograph, the ballerina appears to be dancing in front of a dark curtain. The photos are quite enchanting and will be included in the forthcoming ROAAr publication, AMAZE: A McGill A-Z Experience.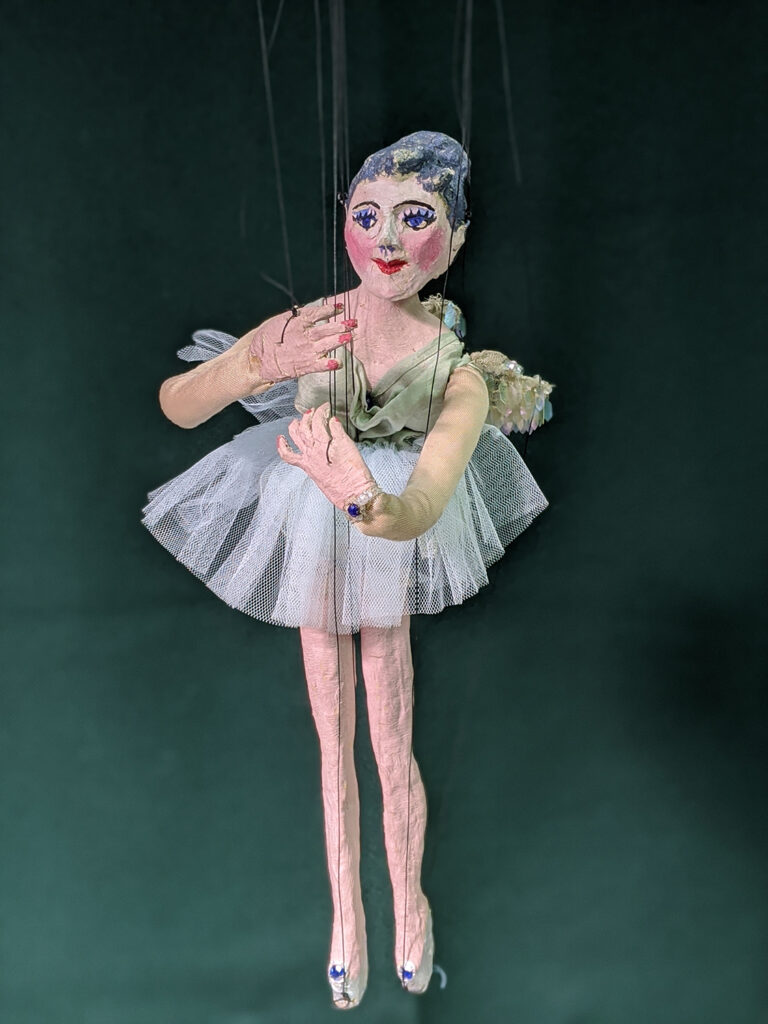 Ballet Dancer, a string puppet. Rosalynde Stearn, circa 1930. Papier-mâché and fabric costume, 40cm.
Donated to the Library by Rosalynde Stearn. P54, Rosalynde Stearn Puppet Collection, McGill Rare Books and Special Collections.
The ballet dancer, one of more than 50 puppets housed in the Rosalynde Stearn Puppet Collection, is far from being the only "highly strung" unique object found at Rare Books and Special Collections that would require a special effort to digitize. The Canadian Architecture Collection is home to several dozen detailed architectural models, replete with tiny trees and roadways to scale. Elsewhere, safely nestled amongst protective tissue paper, drinking glasses and snow globes form a fun if not fragile part of the Expo 67 Collection. And within the Stearn Collection, the ballet dancer is joined not only by other puppets, some more than 250 years old, but also elaborately designed toy theatres, modelled after opulent venues and featuring a host of delicate accessories.
RBSC, and ROAAr as a whole, is incredibly fortunate to be able to continue our mission of creating moments of wonder around objects such as these, thanks in huge part to the expertise and creativity of our colleagues in the Digitization Lab.
---
À l'œuvre dans les coulisses : Numérisation sur demande à la Bibliothèque de McGill
Par Greg Houston, administrateur, Numérisation et nouveaux médias et Elis Ing, bibliothécaire de liaison, Livres rares et collections spécialisées
Si nos portes demeurent fermées, nous avons toujours le cœur à l'ouvrage. Fort d'une collection si riche d'œuvres uniques, le personnel de la Division des livres rares et collections spécialisées (groupe ROAAr) relève de nouveaux défis pour amener nos collections rares au public durant la fermeture en raison de la COVID-19. Jetons un coup d'œil à notre laboratoire de numérisation.
Ce printemps, quand la pandémie de COVID-19 a entraîné la fermeture du campus, la Bibliothèque de McGill a mis en œuvre plusieurs nouveaux services pour que les utilisateurs aient toujours des documents à leur disposition. Au nombre de ces services, mentionnons un nouveau guichet/terrasse de remise pour la circulation des documents et l'accès à Hathitrust, dans les cas urgents, dépôt en ligne de plus de deux millions de reproductions qui correspondent à la collection papier de McGill.
Mais la question suivante s'est posée : que faire si l'article demandé est spécialisé, qu'il est exclusif et qu'il n'est pas encore offert sous forme numérique? La solution résidait dans le lancement d'un service de reproduction sur demande dont la gestion et l'utilisation du matériel sont confiées au personnel au Laboratoire de numérisation de la Bibliothèque. La fonction du service de numérisation sur demande est simple : fournir l'accès en ligne à des documents à des fins d'enseignement, de recherche ou autres. Dès qu'un document demandé répond aux critères de numérisation et qu'il a été versé dans le domaine public, il est admissible aux dépôts numériques de la Bibliothèque et inscrit dans le catalogue de diffusion libre. Ainsi, non seulement la demande du client a-t-elle été comblée, mais le document est devenu accessible dans le monde entier.
Depuis le 1er août, date de la mise en œuvre du service de numérisation sur demande, près de 200 demandes ont été traitées. Ces demandes couvrent l'ensemble du fonds d'archives aux monographies intégrales. Nombre d'articles importants, dont l'ensemble des blocs de bois de Dre. Maude Abbott ayant servi à l'impression de l'Atlas of Congenital Cardiac Disease, ouvrage ayant constitué une véritable percée, et de la collection de plus de 550 photos de la Grenfell Mission.
Et il est un article tridimensionnel unique qui avait été créé pour « s'élever » au-dessus des autres. Œuvre qui date de 1930, The Ballet Dancer est une ballerine de papier mâché revêtue d'un tutu délicat en tulle. Il fallait la numériser de telle manière qu'elle devait sembler danser. La créativité était essentielle pour réussir une pose où elle prend vie : un simple portemanteau avait la hauteur parfaite pour que la marionnette puisse se déployer en entier, et ses barres parallèles ont accueilli solidement le soutien de manipulation en bois. Il a fallu mettre à contribution attaches, épingles à linge et coussin en mousse pour garantir la sécurité de la marionnette. Un rideau de feutre vert a fait office d'arrière-plan et des cubes lumineux ont été installés des deux côtés. La ballerine semble danser en avant d'un rideau sombre. Très charmantes, les photos seront versées dans la publication prochaine de la Bibliothèque intitulée AMAZE : A McGill A-Z Experience.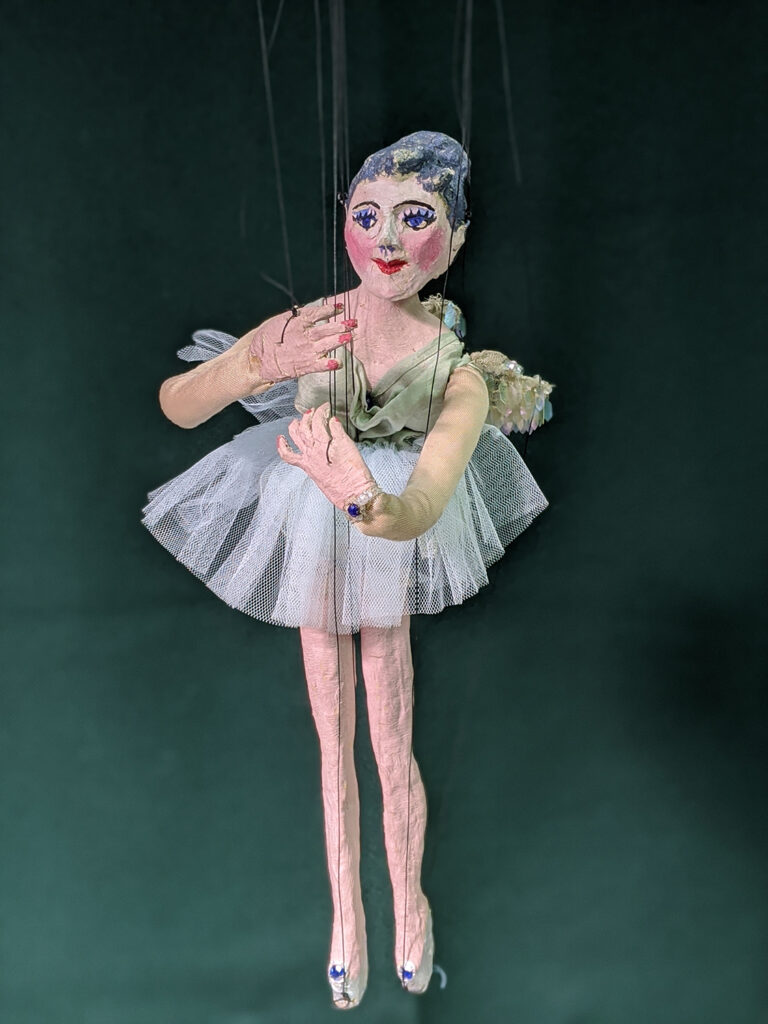 Ballerine, marionnette à fils. Rosalynde Stearn, v. 1930. Papier mâché costume en tissu, 40 cm.
Don de Rosalynde Stearn. P54, Collection de marionnettes Rosalynde Stearn, Livres rares et collections spécialisées.
La marionnette, qui figure parmi plus de 50 autres que constitue la collection de Rosalynde Stearn, est loin d'être le seul objet unique « s'élevant de la mêlée » du groupe ROAAr dont la numérisation exige une attention particulière. La Collection d'architecture canadienne (CAC) comprend plusieurs douzaines de maquettes détaillées ornées d'arbres minuscules et de routes à l'échelle. Ailleurs, niché en toute sécurité dans du papier tissu protecteur, on retrouve des verres et des boules à neige, volet amusant et fragile de la Collection Expo 67. La collection Stearn fournit de la compagnie à la ballerine, dont d'autres marionnettes âgées de plus de 250 ans, et des jouets complexes à vocation théâtrale, inspirées de lieux opulents et chargées d'accessoires délicats.
La division des Livres rares et des collections spécialisées et le groupe ROAAr ont la chance inouïe de poursuivre ensemble notre mission qui consiste à susciter l'émerveillement grâce à des objets tels que ceux-ci et, en grande partie, à l'expertise et à la créativité de nos collègues du Laboratoire de numérisation.