By Michelle Macleod, Assistant Curator, McGill Visual Arts Collection
On June 4th, 2020, McGill Visual Arts Collection published a statement on its website that outlined a commitment to meaningful inclusion and change to the collection. Inspired by the international movement to combat anti-Black racism, the VAC pledged an "incorporation of Black contemporary and historical experience through the collection of artwork and inclusion of Black voices." In response, the VAC set its sights on acquiring artworks by Black artists and artists from other underrepresented communities. Two recent acquisitions in early 2021 by Trinidadian/Canadian artist Denyse Thomasos show how we have been able to put this idea into action.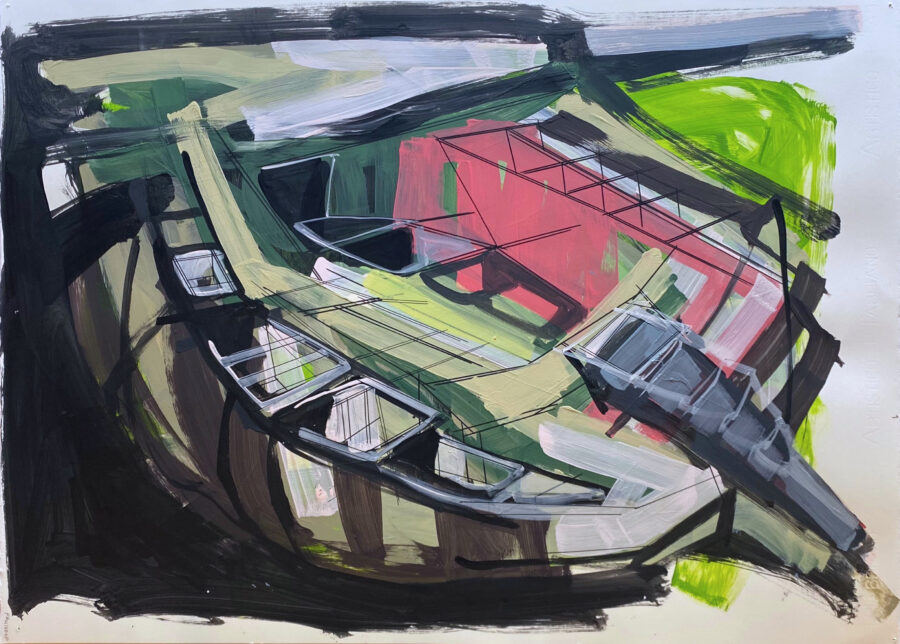 Born in Trinidad and brought up in Ontario, Thomasos (1964-2012), studied at University of Toronto and Yale. She was a teacher at Rutgers University, as well as a widely exhibited artist. Thomasos' practice was inspired by architectural details of Indigenous dwellings and institutional buildings that she had seen while travelling around the world. Addressing her own ancestors' history, she combines references to slave ships, spaces of confinement, and prisons with painting techniques inspired by African weaving, home construction, and the energy of Trinidadian carnivals.
We were fortunate to be able to purchase Sweet Like Cane (1994) and Untitled, Kingdom Come (2011) that exemplify the evolution of the artist's own painting practice. The all-over patterning of the earlier painting references textile designs of Kente cloth and African stripweave, while the title, Sweet Like Cane, calls attention to the transatlantic slave trade. The later work, Kingdom Come, is from a series of preparatory works for a large-scale mural at Sheridan College's Oakville Gallery. Drawing upon her in-depth research process and indicative of her mature style, Thomasos layers forms and lines that are based on architectural spaces of historic and contemporary African diaspora experience.
The VAC will soon welcome Sweet Like Cane to the installation of artworks in its Visible Storage Gallery, located on the 4th Floor of McLennan Library.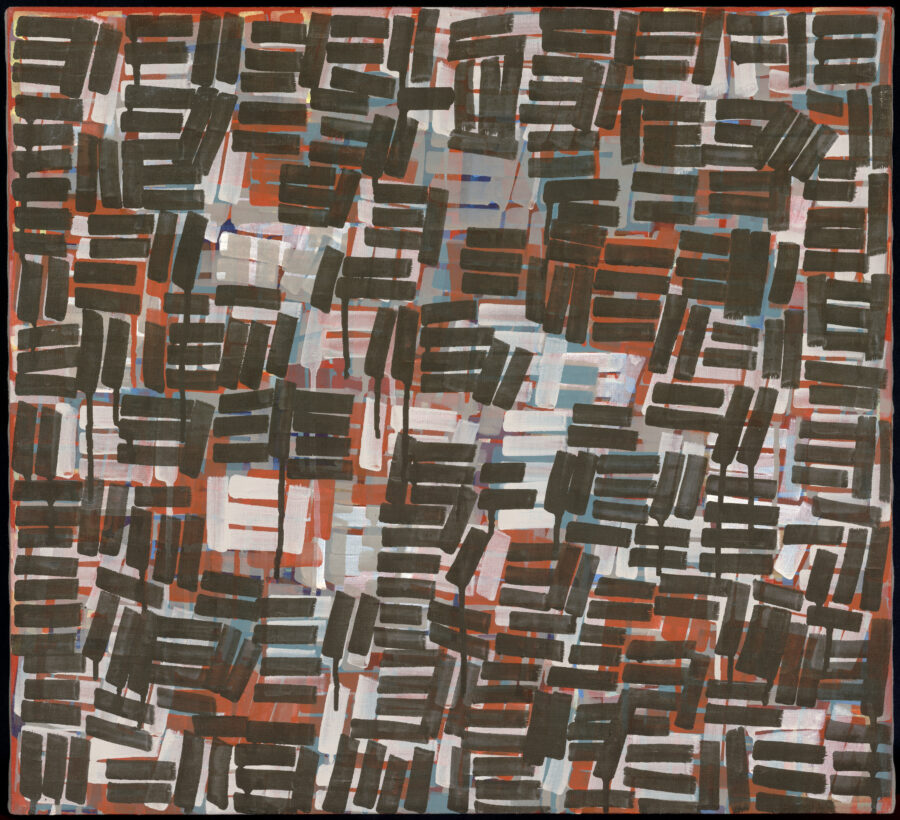 The VAC's statement on inclusive collecting.
https://www.mcgill.ca/vacollection/
---
Art et action : Deux acquisitions récentes de l'artiste canado-trinidadienne Denyse Thomasos
Par Michelle Macleod, curatrice assistante, Collection d'arts visuels de McGill
Le 4 juin 2020, la Collection d'arts visuels (CAV) de McGill a publié un énoncé dans son site Web qui soulignait l'engagement envers une inclusion significative et un changement de contenu. Inspirée par le mouvement antiraciste mondial à l'encontre de la discrimination exercée contre les Noirs, la CAV s'est engagée à « davantage d'inclusion en implantant des changements significatifs de manière à devenir une collection qui reflète l'histoire des Noirs au lieu de l'effacer. Cela se traduit concrètement par l'incorporation d'une expérience contemporaine et historique noire à travers notre collection d'œuvres d'art et par l'inclusion de voix noires dans nos activités. » La CAV a réagi en se tournant vers l'acquisition d'œuvres d'art d'artistes noirs ou de communautés sous-représentées. Au début de 2021, deux acquisitions d'œuvres de l'artiste canado-trinidadienne Denyse Thomasos illustrent à quel point nous sommes passés du concept à l'action.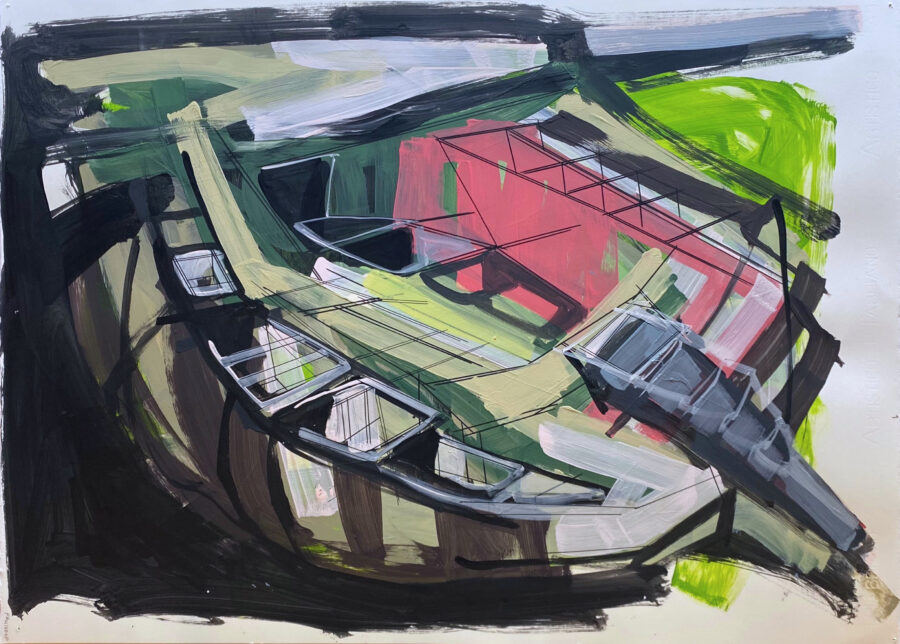 Née à Trinidad, Denyse Thomasos (1964-2012) qui a grandi en Ontario, a fréquenté les universités de Toronto et Yale. Elle a enseigné à l'Université Rutgers tout en exposant largement ses œuvres. Sa pratique s'inspirait de détails architecturaux de logis indigènes et de ceux d'institutions qu'elle avait vus au fil de ses déplacements dans le monde entier. Quand elle traitait de l'histoire de ses ancêtres, elle combinait des références aux navires négriers, aux lieux de confinement et aux prisons en recourant à des techniques picturales d'inspiration africaine issues du tissage, de la construction de maisons et de l'énergie des carnavals trinidadiens.
Nous avons eu la chance d'acquérir Sweet Like Cane (1994) et Untitled, Kingdom Come (2011) qui démontrent l'évolution de la pratique de l'artiste elle-même. Le modèle omniprésent des références à des œuvres plus anciennes, constituées de tissus Kenteet d'autres pans africains, alors que son titre, Sweet Like Cane,attire l'attention sur le commerce transatlantique d'esclaves. Un tableau subséquent, Kingdom Come, est issu d'une série d'études préparatoires à l'exécution d'une murale de grandes dimensions destinée à la galerie Oakvile du collège Sheridan. Misant sur sa recherche poussée, et témoignant de sa maturité, la peintre superpose des formes et des lignes inspirées de lieux architecturaux et des expériences historiques et contemporaines de la diaspora africaine.
La CAV accueillera sous peu Sweet Like Cane au sein de l'installation d'œuvres dans la Réserve visible, sise au 4e étage de la bibliothèque McLennan.