By Ann Marie Holland, Liaison Librarian, Rare Books and Special Collections
The pandemic altered the course of events in innumerable instances. Here in Rare Books, a grand project planned to commemorate the 700th anniversary of Dante's death in 1321 was in limbo.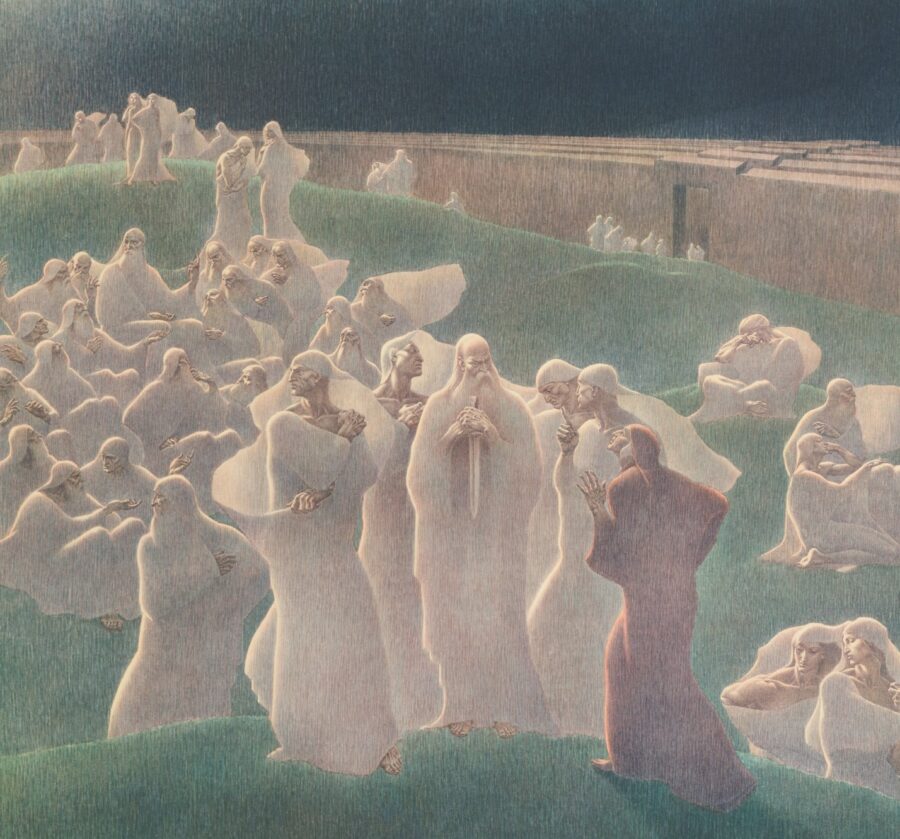 Originally scheduled for the Fall of 2020, a substantial SSHRC partnership grant was awarded to McGill Professor Matteo Soranzo and colleagues at the Centre d'études médiévales of the Université de Montréal, the Italian Cultural Institute of Montreal, and Concordia University. They had envisioned a series of events in conjunction with the seventh centenary of Dante's death. The celebrations were to bring Dante specialists together in Montreal, and were to include a numbers of guest lectures illustrated by robust physical exhibits in two institutional spaces. Wide-ranging editions and medieval manuscripts relating to Dante were to be animated by on-site workshops.
Lectures, exhibitions, and instruction sessions – all were at risk of cancellation. A period of silence held us in its grip as Dante's year was unfolding until finally there was a way to adapt these elements for the "new normal" of distance delivery.
Digital Pivot
In February of 2021, Professor Soranzo contacted us with a change in plans and a newly formed team including: McGill graduate research assistants Cay Rivard and Matteo Ottaviani; and Alessio Marziali Peretti, a doctoral candidate in medieval studies at the Université de Montréal. The project would pivot to a virtual collaborative exhibition, the central element around which tours and lectures could take place online. Given the strength of the McGill Library's incunable printings[1], along with sixteenth-century texts, we were called to showcase these and other exceptional works rarely held elsewhere. In fact, Dante is one of the most prevalent authors held at McGill Rare Books – representing a rich treasure trove of literary works and commentary, notably on Dante's trilogy entitled: The Divine Comedy.
Fortunately, ROAAr's on-demand digitization programme was running during the pandemic and this framework allowed McGill to move forward under the leadership of Greg Houston, Digitization & New Media Administrator, Digital Initiatives (DI). Rare Books swiftly seconded Octavian Sopt, Senior Documentation Technician, to DI to assist with the detailed digitization work. Librarians Jennifer Garland and Ann Marie Holland paired up for Liaison work.
But in a universe of closed consultation rooms, locked-down buildings and a lack of digital presence for these particular works, an interesting challenge was placed in front of us. How could we facilitate selection and conduct effective liaison reference work at a distance once the digital surrogates had been delivered?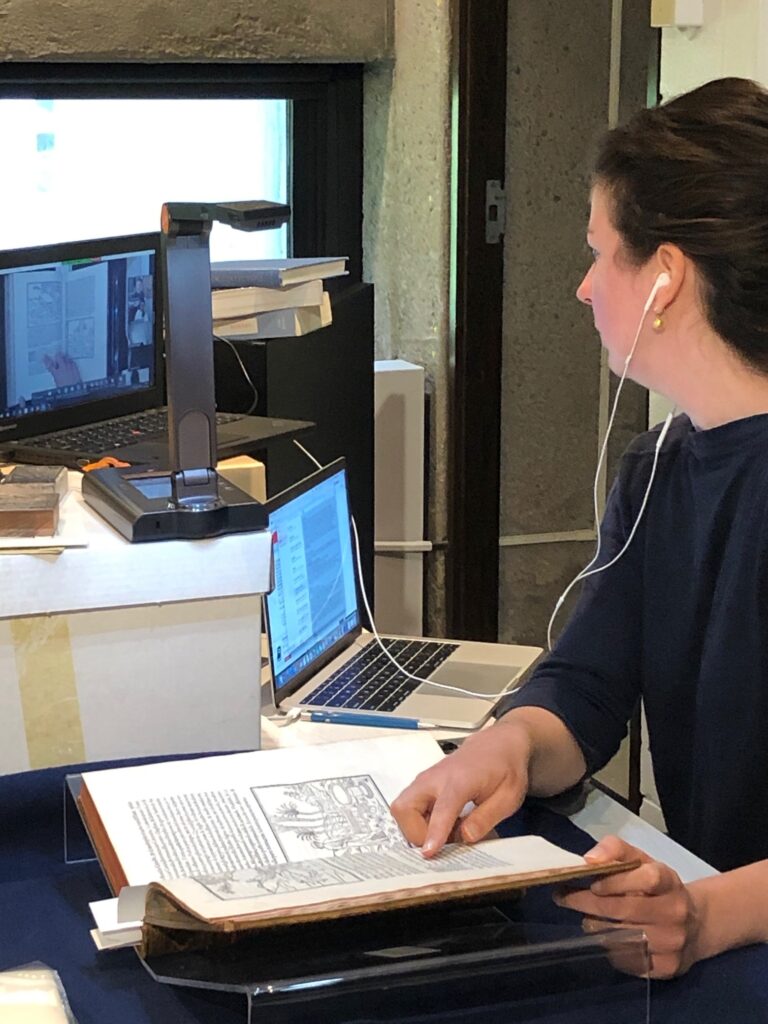 A new modus operandi for curatorship
We were able to allow curators to examine documents remotely thanks to a clever setup of document cameras, combined with a live Zoom session. With ROAAr librarians literally being the hands turning the pages on-site, over a few weeks we had viewed with the four curators more than 50 items on or about Dante. With the camera setup allowing for real-time discussion and decision-making on the proposed items, we settled on 25 works.
The results of these combined efforts and the collaboration of three outstanding libraries from Italy, plus two academic libraries from Montreal are simply dazzling.
We invite you to take a journey through Dante's best-seller, accompanied by spectacular typography and captivating animation starting here: Amor Mi Mosse,… Dante's Divine Comedy 700 years later.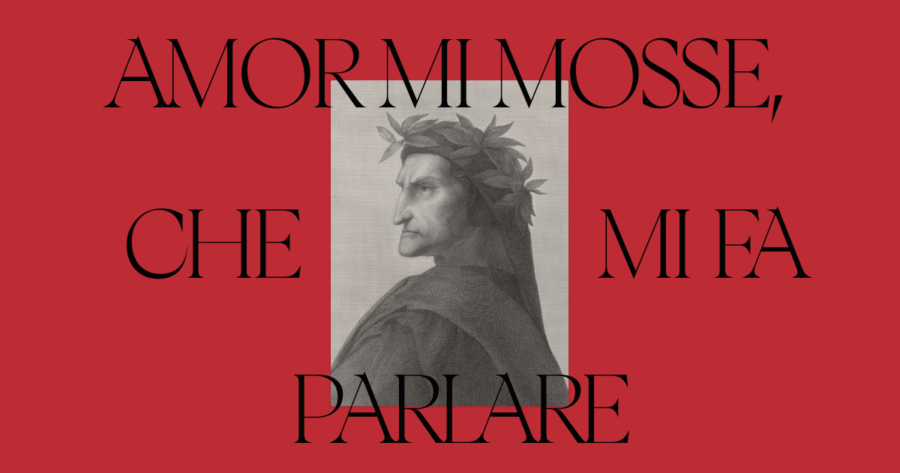 ---
[1] Books produced in the first fifty years following the invention of printing in the Western World (ca. 1450) with moveable pieces of metal type.
---
Le voyage de Dante à l'ère numérique
Par Ann Marie Holland, bibliothécaire de liaison, collections rare et spéciales
La pandémie a changé le cours d'innombrables événements. Ici, à la division des Livres rares et des collections spécialisées, le grand projet planifié pour célébrer le 700e anniversaire du décès de Dante en 1321 battait de l'aile.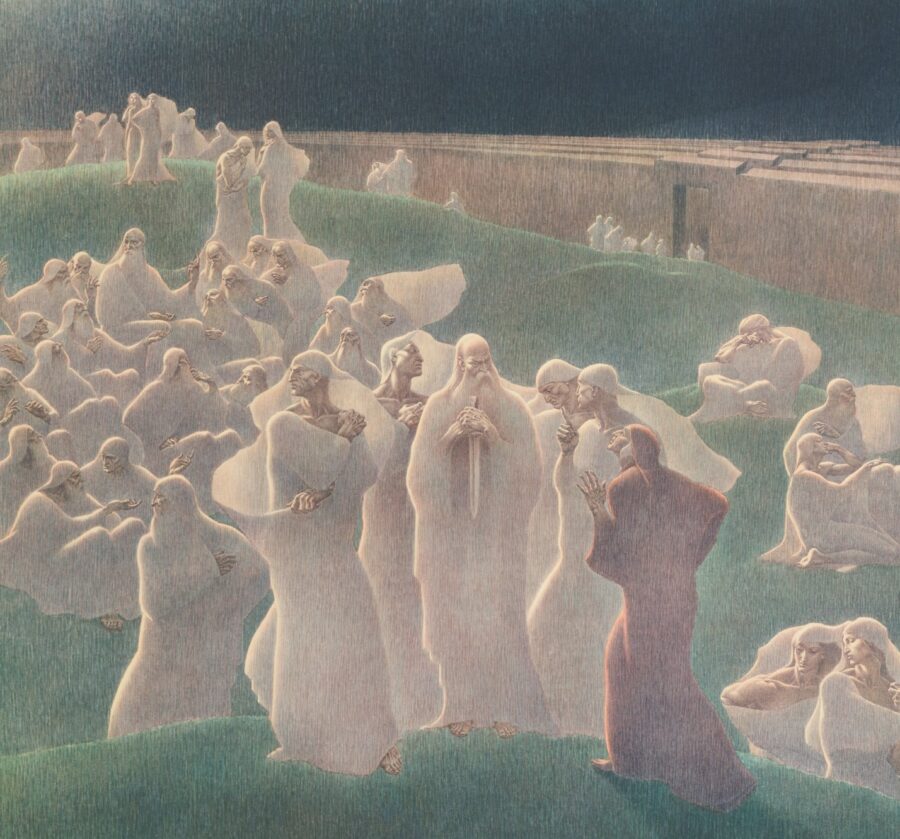 Cet événement, initialement prévue pour l'automne 2020, a bénéficié d'une importante subvention de partenariat du Conseil de recherches en sciences humaines qui a été attribuée au professeur de McGill Matteo Soranzo et à certains de ses collègues du Centre d'études médiévales de l'Université de Montréal, à l'Institut culturel italien de Montréal et à l'Université Concordia. Tous avaient imaginé une série d'événements qui coïncidaient avec le septième centenaire du décès de Dante. Au nombre des célébrations envisagées, mentionnons les conférences d'invités qui auraient réuni des spécialistes de Dante à Montréal, une exposition d'envergure dans les espaces des instituions participantes d'œuvres publiées et de manuscrits médiévaux portant sur Dante et animée sur place par des ateliers.
Les conférences, expositions et séances éducatives risquaient toutes l'annulation. Une période de silence nous a maintenus sous son emprise au cours de l'année Dante jusqu'à ce que, finalement, nous trouvions une solution pour nous adapter à ces éléments dans le contexte de la « nouvelle normalité » et de la présentation à distance.
Pivot numérique
En février 2021, le professeur Soranzo nous a communiqué un changement de plans et la composition d'une équipe nouvellement mise sur pied composée des assistants de recherche mcgillois de cycles supérieurs Cay Rivard et Matteo Ottaviani, de même que d'Alessio Marziali Peretti, candidat au doctorat à l'Université de Montréal. Le projet se transformerait en une exposition collaborative virtuelle, élément central autour duquel des visites et des conférences pourraient avoir lieu en ligne. Compte tenu de la force que recèle la collection des incunables[1] de la Bibliothèque de McGill,et celle des textes du XVIe siècle, on nous a demandé d'exposer ces ouvrages, de même que d'autres travaux exceptionnels, initiative rarement vue ailleurs. Dante est l'un des auteurs les plus présents dans la division des Livres rares et des collections spécialisées de McGill, soit une pléthore de trésors littéraires et de commentaires, notamment la trilogie de Dante intitulée La Divine Comédie.
---
Heureusement, le programme de numérisation sur demande de la Division des livres rares et collections spécialisées était à l'œuvre au cours de la pandémie et à pu accroître ses activités, de telle sorte que l'Université McGill a pu progresser sous la direction de Greg Houston, administrateur, Numérisation et Nouveaux médias, Initiatives numériques (NI). La Division a rapidement détaché Octavian Sopt, technicien principal en documentation, pour contribuer à cet effort de numérisation. Les bibliothécaires Jennifer Garland et Ann Marie Holland ont travaillé de concert pour le travail de liaison.
Mais, dans un univers de salles de consultation fermées, d'immeubles verrouillés et du peu de présence sous forme numérique de ces œuvres en particulier, nous nous sommes retrouvés face à un défi intéressant. Une fois la production numérique accomplie, comment pouvions-nous simplifier la sélection et offrir des références efficaces à distance?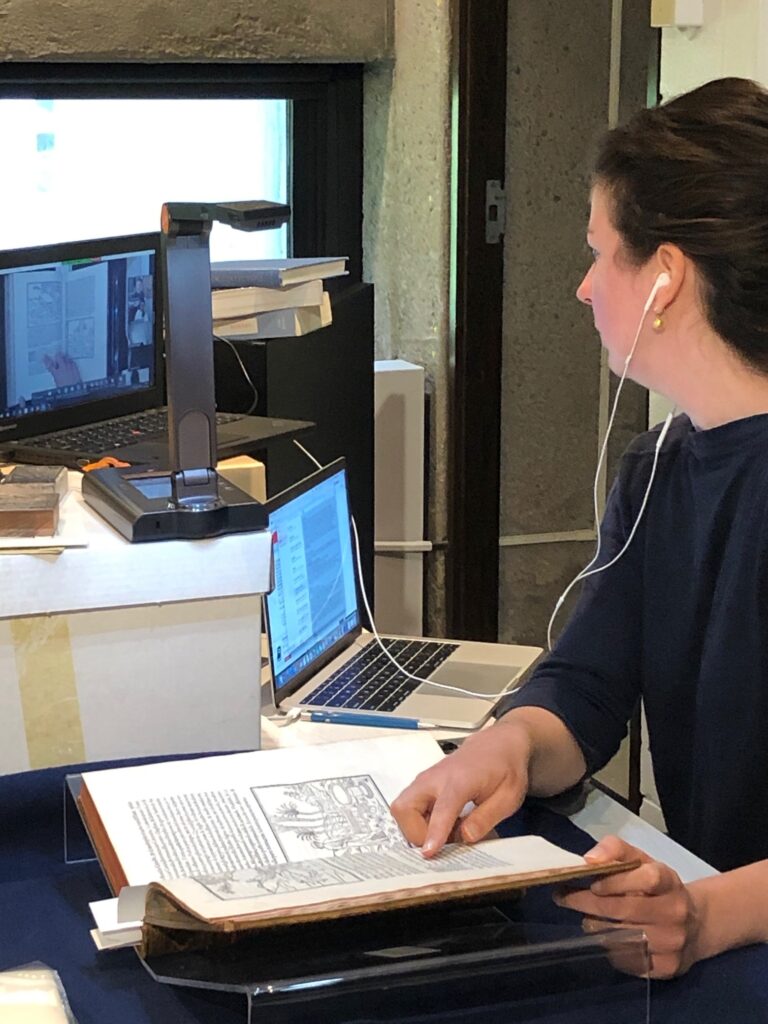 Nouveau modus operandi de la fonction de conservateur
Nous avons pu permettre aux conservateurs d'examiner les documents à distance grâce à un savant montage des appareils photo pour documents combiné à une séance Zoom en direct. Les bibliothécaires de la Division des livres rares et collections spécialisées tournaient littéralement les pages sur les lieux, de sorte qu'en quelques semaines, nous avons visualisé avec les quatre conservateurs plus de 50 articles sur Dante ou à son sujet. Puisque l'installation de caméras permettait de nous entretenir en temps réel et de prendre des décisions au sujet des pièces proposées, nous avons été en mesure de sélectionner ainsi 25 œuvres.
Les résultats de ces efforts combinés et la collaboration de trois bibliothèques remarquables d'Italie et de deux bibliothèques universitaires montréalaises sont proprement éblouissants.
Nous vous invitons à explorer ici même le succès de librairie de Dante serti dans une typographie spectaculaire et accompagné d'une animation captivante: Amor Mi Mosse, La Divine Comédie de Dante 700 ans plus tard.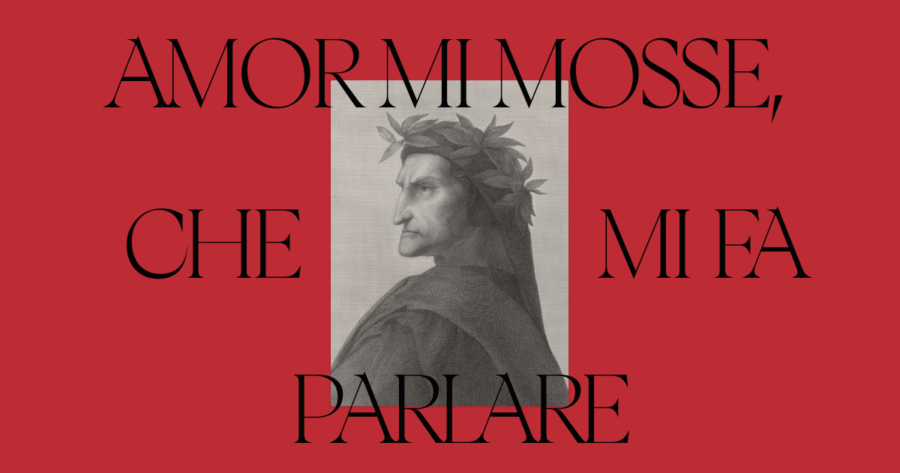 ---
[1]Les livres produits au cours des cinquante premières années qui ont suivi l'invention de l'impression en Occident (vers 1450) étaient dotés de pièces métalliques mobiles.
---