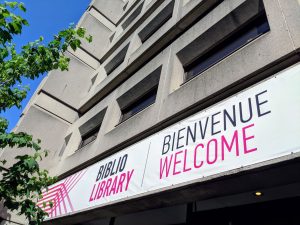 2019 Homecoming (September 26-28) is shaping up to be one of the biggest events of the year! McGill is making an historic announcement to reveal initiatives that will shape the future of our University as it enters its third century. One of these initiatives is the Library's Fiat Lux Building Project – a bold vision to transform the Library into a cutting-edge nexus for teaching, learning and research in the digital age.
While you are on campus, we invite you to explore the many offerings the Library has on tap. Take a guided tour of public art, drop-in to interact with unique treasures in our rare and special collections or time travel with the words and images featuring Beatty lecturers from the past who have inspired and shaped the world that we live in.
---
Exhibition | "With the world to choose from": Celebrating 65 Years of the Beatty Lecture
Date & time: Runs September 15 to October 30, 2019, during McLennan-Redpath Complex opening hours
Location: Rare Books and Special Collections, McLennan Library Building, 4th Floor Lobby, 3459 McTavish, Montreal, Quebec, H3A 0C9.
Description: Celebrating the visit of Jane Goodall to McGill University to deliver the 2019 Beatty Lecture, we invite you to discover the fascinating story of the Beatty Lecture through a surprising exhibition experience.
Using correspondence, photographs and other unique visual material held in the McGill Archives, the exhibition goes behind the scenes of the Beatty Lecture, from the success of the inaugural lecture delivered by India's first Vice President, to standout lectures delivered by royalty, world leaders, Nobel Prize winners, best-selling authors and even a Wimbledon champion.
From Julian Huxley's lecture on the "Possibilities of Life", to Francis Crick's lecture on "How Do We See Things?", to Queen Noor of Jordan's "Creating a Culture of Peace", time travel with the words of inspiring past lecturers who shaped the world that we live in. Find out more here.
Free.
---
Guided Tour | McGill's Visual Arts Collection
Date & time: Friday, September 27, 11:00 AM to noon
Location: Meet at Service Point
Description: Join us for a 45-minute tour of some highlights from the McGill Visual Arts Collection, including our Visible Storage Gallery. See works by renowned Canadian and international artists from our permanent collection.
Free. Registration required. Click here.
---
Drop-In Session | A Visit Back in Time
Date & time: Saturday, September 28, 11 AM to 2 PM
Location: Rare Books and Special Collections, McLennan Library Building, 4th Floor
Description: Step back in time by viewing a stunning collection of treasures from the McGill Library's rare and special collections. They'll be 6,000 years of books, archives, and artefacts on display. Items will be drawn from the amazing collections of the Osler Library of the History of Medicine, the McGill University Archives, and Rare Books and Special Collections. Landmarks in the arts and sciences, like Audubon's Birds of America, Copernicus' 1543 book on the solar system and Leonard Cohen's award-winning undergraduate poem will be joined by 6,000 year old babylonian tablets, medieval manuscripts, and obliging corpses. Stunning McGilliana will illuminate the past 200 years of McGill history.
Free. Drop in. No registration required.
---
New!
McGill student research legacy project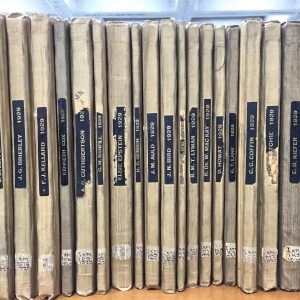 Calling McGill alumni – share your student research projects with the world, preserve it for posterity and for future generations to discover!
Did you know McGill has over 5000 student projects and papers within its collection? These projects live in print form in the McGill Library. To celebrate McGill's bicentennial, we want to share this student research with the world via McGill's institutional repository eScholarship. These papers were often course projects for masters programs in diverse programs such as social work, nursing, architecture, and management among others. Curious? Check to see if your paper is in the Library! For more information, click here.
---
Library services for alumni

Alumni can sign up for a FREE McGill Library Borrowing Card*. Register now to borrow books and other print materials from the McGill Library.
Access special e-resources through a searchable catalogue dedicated specifically to alumni. Start exploring McGill Alumni E-Resources* now!
Learn more about other exciting events and initiatives for alumni here.
*restrictions may apply
---
Nostalgic offerings online
Can't make it to Homecoming in-person? No worries. We've got tons of electronic resources to help you stroll down memory lane from wherever you are!
Old McGill Yearbooks: A rich resource for family researchers and historians alike, this slice of McGill's history provides a unique view of student life, learning and research. Browse through the years (1898 – 2000) or enter a name. Explore Old McGill memories and stories told through photographs, drawings, letters, poetry, song, and so much more. Access them at http://yearbooks.mcgill.ca/.
Highlights from the McGill Library these and dissertation collection: Did you know that 135 years of McGill graduate scholarship is available to be viewed online? Explore highlights from our theses and dissertation collection at www.mcgill.ca/library-theses to read work by notable McGill graduates. Do you know someone who wrote a thesis at McGill? More than 41,902 theses are now available for viewing at escholarship.mcgill.ca. We invite you to go search and lose yourself down the rabbit hole. Found something cool? Connect with us to share and you might just find it featured on the website!
Student Publications: With 140 years of student-produced content, covered in 9,868 issues in eighteen unique papers, the student publications at McGill has a rich history. Student publications include widely disseminated student newspapers written and published by students on both the downtown and Macdonald campuses, covering the events, daily life, and opinions of students. From lofty intellectualism of nineteenth century McGill publications to the anti-war resistance of the 1960s The McGill Daily issues, the student papers at McGill shifted greatly in content and scope. However, what these publications do share is the virtue of revealing not only the lives of McGill students, but also that of young residents of Montreal, Canada, and the larger world. All issues are available to search and download through the Internet Archive https://archive.org/details/mcgilluniversitystudentpublications. You may also want to access this great blog post written by guest contributor and student Annelise Dowd for a brief history of student publications.