By Elsa Hetletvedt, Museum Database Assistant, McGill Visual Arts Collection
The Bust of Ellen Ballon by Sir Jacob Epstein remains one of McGill's Visual Arts Collection's most captivating sculptures. Instead of smooth marble skin and soft drapery that is typical of portrait busts from antiquity, Ballon's likeness is rendered in uneven bronze. This surface clearly shows the hand of the artist working and reworking his materials. Epstein first rendered this sculpture in malleable clay, and then cast it in bronze. But most surprising and startling, this portrait bust includes a full set of arms, outstretched as though playing a piano. The inclusion of Ballon's arms is in-keeping with Epstein's realist style. It portrays, not only what she looked like, but who she was as an artist herself.
Ellen Ballon's (1898-1969) success as a pianist began very early on. She was considered a prodigy by the age of 6, and at age 12 she debuted for the New York Symphony. She studied music at McGill under Clara Lichtenstein, and eventually traveled to Europe where she studied under Josef Hofmann and later Wilhelm Backhaus. She returned to New York a "fully developed concert pianist"[1] to play in the Philharmonic under Josef Stransky. Her various high profile performances were well received; "Those who heard Ellen Ballon perform recall the excitement, energy, and perfect balance she achieved. Her lively and sensitive interpretations were noted and praised by admirers and critics alike."[2] Her natural ability to marry technical musical knowledge and creative expression established Ballon as a true master.
Jacob Epstein (1880-1959) was born and raised in New York City. He began his career as a sculptor after working at a bronze foundry in the city.[3] His longing for Paris, however, could not be suppressed. In 1902, Epstein began studying at École des Beaux Arts in Paris, a prestigious art school that upheld classical ideals of the antiquities. His experience there quickly soured as he felt limited and unwelcomed. He found more creative freedom at Académie Julian, another Paris art school that was considered more radical. It was here that Epstein explored alternative approaches to study and practice his craft.
Epstein made a name for himself in 1907, when he was commissioned to create an 18-piece series of sculptures for The Strand in London. All stylized depictions of nude allegorical figures, Epstein's sculptures sparked controversy across Britain.[4] Despite the criticism, Epstein's distinct artistry and craft was born. He is now considered a pioneer of modern British sculpture and his artworks can be found in major international art museums.[5]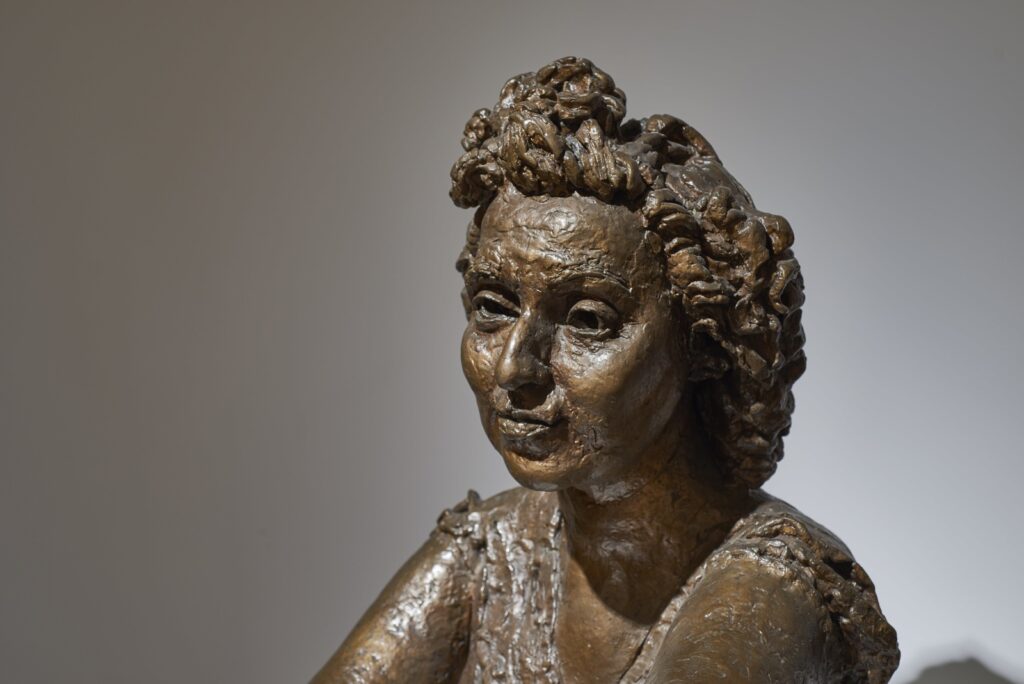 What can this work, which is equal parts expressive and realistic, tell us about the subject and the artist? It seems that what these two creatives have in common is what brought them together. Both were dedicated and talented individuals that pushed the boundaries of creativity within the rigors of music and sculpture. In 1938, despite a packed performance schedule, Ballon sat for Epstein in his London studio multiple times.[6] This decision to have her likeness sculpted by an avant garde artist demonstrates Ballon's appreciation and knowledge of modern art.
This was not the first time Ballon supported the visual arts. In 1913, Gertrude Vanderbilt Whitney, made a sculpture for a new hotel that was to be built in Washington D.C. However, the project was never completed, leaving the massive marble sculpture with no place to go. Ballon, who had become friends with the artist, ingeniously asked Whitney to donate the artwork to McGill as an act of good faith from the US to Canada, which Whitney accepted and the sculpture, the now famous Friendship Fountain, better known as "The Three Bares" was installed on the University's campus in 1932. Ballon was very loyal to McGill; She created a scholarship under her name and taught at the School of Music.
These two individuals lived rich and impactful lives, and they are brought together here by this wonderfully eccentric artwork. Bust of Ellen Ballon by Sir Jacob Epstein, which has been on display in the foyer of McGill's Pollack Concert Hall in the Strathcona Music Building since 1979, is a testament to dedicating oneself to an artistic vision.
---
[1] Eric Mclean, "Ellen Ballon," The Canadian Encyclopedia, Last modified December 15, 2013, https://www.thecanadianencyclopedia.ca/en/article/ellen-ballon-emc
[2] "A Life in Perfect Balance: E. Ballon Collection" Vessels of Light: A Guide to Special Collections in the Killam Library Dalhousie University Libraries, ed. Nancy Minard (Halifax, Nova Scotia: Dalhousie University Libraries, 1996), 49.
[3] "Jacob Epstein," The Oxford Dictionary of American Art and Artists, Accessed 9 Nov. 2020, https://www.oxfordreference.com/view/10.1093/oi/authority.20110803095755434.
[4] "Jacob Epstein: Sculptor in Revolt: Scandal on the Strand," The Courtauld Institute of Art: Art and Architecture, Accessed 9 Nov. 2020. http://www.artandarchitecture.org.uk/insight/brockington_epstein/brockington_epstein02.html
[5] In 2016, McGill's sculpture was temporarily loaned to Canada's National Gallery of Art for the Sobey Art Award Exhibition. https://www.williamrobinson.ca/4479173-sobey-art-award-exhibition-at-ngc
[6] "Newspaper article on Sir Jacob Epstein's bust of Ellen Ballon," Ellen Ballon fonds, MS-5-2, Box 3, Folder 20, Dalhousie University Archives, Halifax, Nova Scotia, Canada.