Guest Post by Anna Winterbottom
Women, Environment and Networks of Empire: Elizabeth Gwillim and Mary Symonds in Madras (MQUP, 2023) is now available. Order your copy here. You can celebrate the launch of this publication with authors and editors on October 25th at the McGill Library's Rare and Special Collections. See here for details and to RSVP: https://mcgill.ca/x/UhW
Elizabeth Gwillim (1763-1807) and her sister Mary Symonds (1772-1854) lived in Madras (now Chennai) between 1801 and 1807. Despite this relatively short stay, their paintings and letters provide a unique insight into the natural and social environments of the city. Elizabeth Gwillim is best known for her large-scale bird paintings, kept in the Blacker-Wood library at McGill (https://www.mcgill.ca/historicalcollections/library-archival/blacker-wood). She and Mary Symonds also painted landscapes and people, 78 of which remain at the South Asia Museum in Norwich (https://thesouthasiacollection.co.uk/research/the-gwillim-project/). Their descriptive letters to their mother in Hereford and sister in London fill four large volumes in the British Library.
The wealth of information left by Gwillim and Symonds allowed researchers to reconstruct their lives in some detail, revealing a unique portrait of the lives of two female naturalists in the early nineteenth century. Book chapters explore the methods they used in their ornithological, ichthyographical, and botanical works, revealing their interactions with Indian experts, including scholars, physicians, artists, and bird catchers. Other contributions explore their lives, including the rising tensions created as Henry Gwillim, a high court judge and Elizabeth Gwillim's husband, clashed with the East India Company over their despotic rule of the city. Elizabeth Gwillim and Mary Symonds also participated in exchanges of textiles, foods, plants, and information with a range of correspondents in Britain and India. Like other female writers of the period, the sisters left detailed descriptions of the people they encountered, from the female relatives of the nawabs of Arcot to their gardeners and translators, to the temple dancers they encountered during a festival. They relayed first-hand narratives of the uprising in Vellore in 1806, the most significant uprising of Indian soldiers against British rule before 1857. Taken together, these materials provide a vivid picture of the city of Madras at a critical moment in its history.
The book is the result of the Gwillim project, a SSHRC-funded project based in the Rare Books and Special Collections library at McGill and led by Professor Victoria Dickenson. The project brought together an international group of scholars, practitioners, and students from backgrounds including art history, architecture, ornithology and ichthyology, botany, museum studies, and the history of environment, textiles, and food.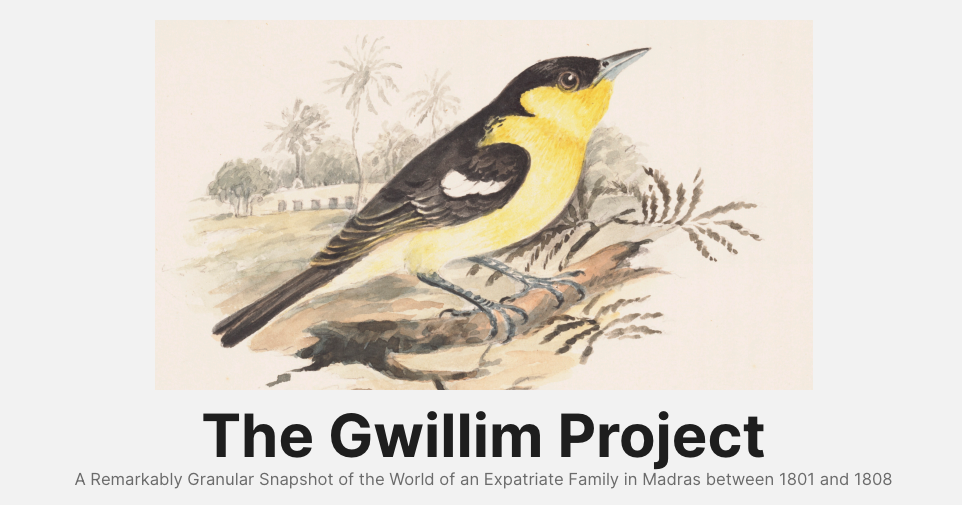 Read more about the project on the Gwillim project website (https://thegwillimproject.com/) and hear about how South Asian scholars have used and interpreted the Gwillim archive on the Missing Voices website (https://exhibits.library.mcgill.ca/voix_manquantes-missing_voices).

You can also watch some of the original presentations that formed the basis for the book on our YouTube channel (https://www.youtube.com/channel/UCpOChk_PyUWcmdYGgXkpVmA).