The finding aid for the William Feindel fonds is now available on McGill Library's Archival Collections Catalogue. The McGill University Archives (MUA) acquired the Canadian neurosurgeon's archival collection in 2005 and several archivists have worked on the collection since its acquisition. In 2021, we were fortunate to receive funding from Young Canada Works to hire Rachel Black to complete the archival processing of the fonds.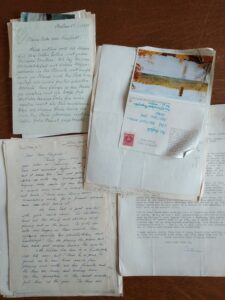 This work was no easy task; the collection is immense and sorting through years of archival work was a tremendous undertaking. For those of you less acquainted with archival processing, this is a brief, simplified summary of what processing a collection entails:
Step 1 Understand the context. Not simply the context of the archival creator (William Feindel) but also of the collection itself. Archivists consider where these materials were before they arrived and what has been done to them since.
Step 2 Survey. Archivists attempt to map the relationships between activities represented by the materials in a collection. To construct this map, we understand the collection as an aggregate before we break it down into parts.
Step 3 Arrangement. Once we have an idea of the activities represented in the collection, we create categories based on these activities. We use these categories, which we call series, to organize the 'stuff.'
Step 4 Description. Lastly, we describe the categories mentioned in step three and decide whether to create more granular descriptions, including, for instance, box or file descriptions.
At the start of the project, Rachel was met with over 200 boxes of materials. Among the materials were textual documents, photographs, objects, audiovisual materials, you name it. Moreover, Rachel took the time to understand what previous archivists had learned about the collection from their work. So much of what we do concerns identifying contexts. We were lucky to have Rachel work on this collection. Not only because of her skills as an archivist but also because of her experience processing the collection of Wilder Penfield (Feindel's mentor and colleague). Moreover, Rachel had a good historical understanding of the Montreal Neurological Institute (MNI), where Feindel worked, and physicians who worked at the MNI during Feindel's time.
Relationships
One of this project's challenges was to sort materials Feindel collected and kept on the work of his colleagues. Feindel collaborated with many people and worked for several institutions. Some of the records of his places of work wound up in his collection, which is not unique to the Feindel fonds. Moreover, Feindel had a keen interest in medical history, so he kept materials he thought would be valuable for historical research. However, Feindel's passion for collecting meant that he kept materials that belonged to other physicians. Particularly, Feindel collected many materials that belonged to his mentor and friend, Wilder Penfield.
Feindel received his medical degree from McGill University in 1945 and practised at the MNI (among other places), eventually becoming its director. While at McGill and the MNI, Feindel studied under and practised with Penfield. Feindel and Penfield stayed close friends until Penfield died in 1976, after which Feindel became one of Penfield's literary executors. Moreover, Feindel was the Curator of the Wilder Penfield Archive, wrote on Penfield, and in 1978 petitioned to change McGregor Street to Doctor Penfield Avenue. Unsurprisingly, the Feindel fonds documents Feindel's devotion to Penfield's legacy. In the finding aid for the Feindel fonds, you will notice an entire series dedicated to Feindel's work as the Curator of the Wilder Penfield Archive.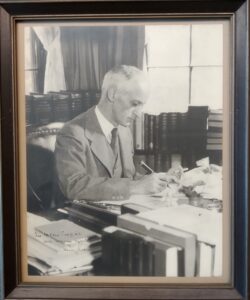 As Feindel's interest in Penfield's legacy grew, so did his collecting of Penfield's materials. When Penfield's archive found a home at the Osler Library of the History of Medicine, Feindel hung on to some of Penfield's things for his research. These materials ended up in Feindel's collection for Rachel to find years later. In many ways, the presence of so many of Penfield's artefacts in the Feindel fonds demonstrates Feindel's contribution to promoting Penfield's legacy. However, while in the Feindel fonds these materials provide context for Feindel's activities; without them, the Penfield fonds lacks context and information. After all, these are Penfield's things. Interestingly, some of Feindel's materials also ended up in the Penfield fonds. Again, this was likely due to Feindel's work as the Curator of the Wilder Penfield Archive.
Ultimately, we decided to return the Penfield materials to the Penfield fonds and the Feindel materials to the Feindel fonds. One of the beautiful aspects of archival work is witnessing the material reality of connections between people and how this physically manifests in very different ways. The Feindel fonds documents Feindel's career as a neurosurgeon, researcher, and teacher, but it contains countless other narratives, including the story of Feindel's admiration for Penfield's work and his dedication to his memory.
Are you interested in learning more about the William Feindel fonds or have questions about how to access these materials? Check out the finding aid in McGill's Archival Collections Catalogue or reach out to us via email.