The McGill Library has one of the best institutional libraries in Canada for medieval artefacts.  This medieval scroll  representing  a genealogy of the Kings of England up to 1461,  is one of four medieval-era artefacts that went on loan to the Canadian Museum of History for the travelling exhibition Medieval Europe – Power and Legacy. The latter exhibition was developed by the British Museum and includes 240 objects spanning the period AD 400 to 1500.  This venue allowed a prime opportunity for McGill University to showcase a few of its treasures to a wide North American audience, in particular a scroll, which had not been viewed in its full length in recent years. We collaborated with Curator Bianca Gendreau of the Canadian Museum of History in Gatineau for the loan of this exceptional item. It is all the more special since the number of scrolls held in the Rare Books and Special Collections amount to less than a dozen.
Despite the fact that the scroll can be held in the palm of one's hand, once unrolled, it measures an impressive 2.5 meters in length (2454 mm x 116 mm) or approximately 8ft. In fact, there are four membranes  to the scroll, and each are carefully sewn to each other by a cord contemporary to the date of manufacture of the scroll. For display purposes, we decided that the full view be made possible by careful conservation and framing, all of which is reversible. We are very grateful to the Conservators of the Canadian Museum of History who worked hard to mount the scroll.
Written by hand on parchment, this scroll traces the family history of Egbert, the first Anglo-Saxon king of a united England 802-869  to Henry VI, King of England from 1422 to 1461 and 1470 to 1471. We note the late  15th-century cursive writing in Latin, marked by the pointed character of the letters.  The main body of the text is in light brown ink. There are also numerous red ink two‑line initials; and all of the proper names are in red ink.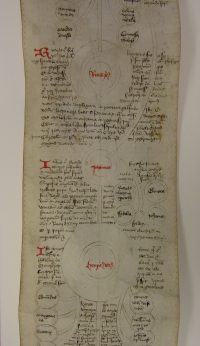 Like many of its illuminated medieval manuscripts, the McGill Library acquired this scroll in the 1920s, on April 1st, 1925 from Dobell (Cat. 42, 1925, no. 16). It was purchased for teaching purposes as  an exemplar of book history.  Eminent bibliographer, Seymour De Ricci (1881-1942) recorded this item in his Census of medieval and renaissance manuscripts in the United States and Canada  published in New York by  H.W. Wilson from 1935-40. The scroll is just one of well over one hundred items listed under McGill University in volume two as of 1940. Today, we have  doubled that count to more than 225 medieval manuscripts.
Once up on display, the outstretched scroll in a handsome black frame is imposing, and is one of the highlights of the show. Now our thoughts turn to how we will choose to store this piece upon its return from loan in February 2019 – as a scroll, or as text?   We welcome your feedback at rarebooks.library@mcgill.ca.