By Madeline Holton, Indigenous Studies and Community Engagement Initiative (ISCEI) Research Assistant
Rita Letendre's expressive, abstract painting hangs in the Visible Storage Gallery on McLennan's fourth floor, accompanied by the work of a number of other Indigenous artists including Benjamin Chee Chee (1944 – 1977), Leo Yerxa (1947 -), Norval Morrisseau (1932 – 2007), and Tony Hunt Sr (1942-2017). These artists' works share similarities in their use of color and balance, but Letendre's work is the only entirely non-figurative image among them. Letendre was working at a time in which it was not only controversial for an Indigenous artist to be working in any style that was not considered "traditional," but it was controversial for any artist to be working in a non-figurative style.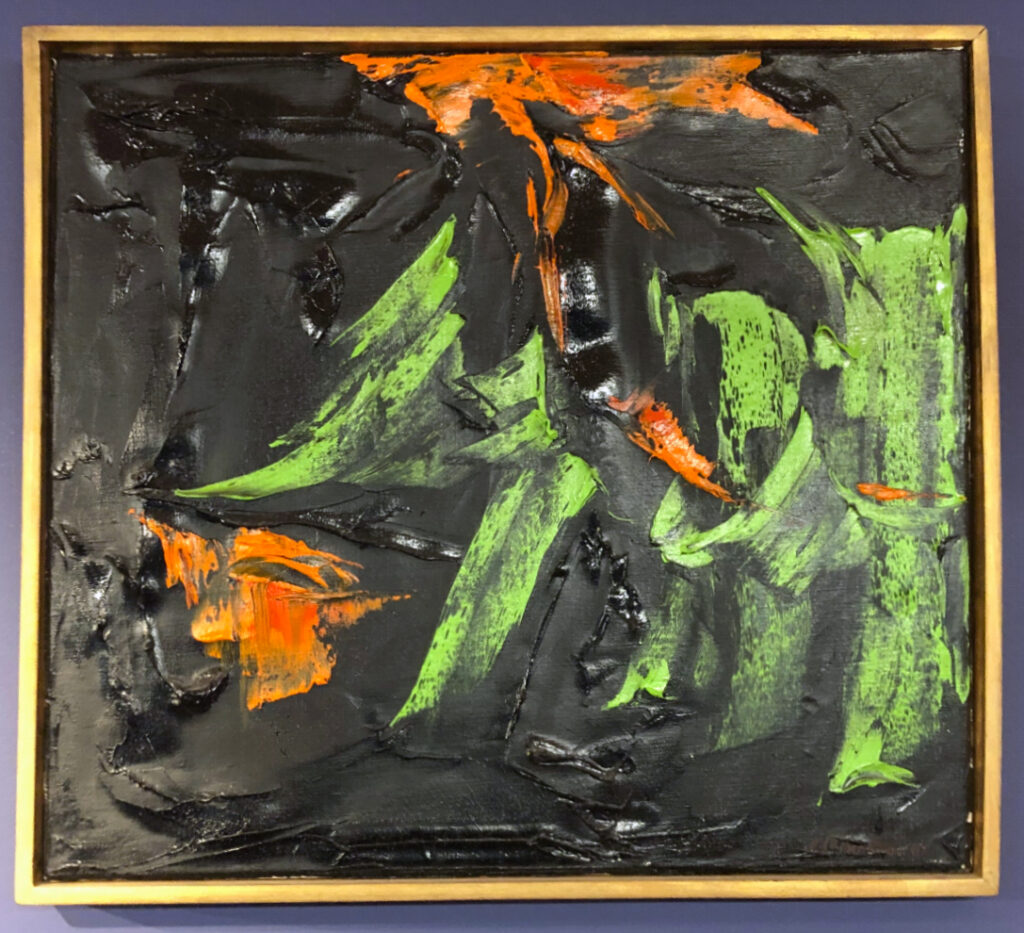 In the painting, the artist created dynamic visual interest with the use of only three colours. The bright orange and green on a stark black background creates a contrast of elements, while the texture in the thick black paint creates an overall feeling of movement in the composition. This movement is furthered as the orange paint draws the eye down the canvas, and the green elements lead the eye back across horizontally. Within the composition you can see Letendre's dual artistic concerns from this era, spontaneity in form and thoughtful colour use.
Rita Letendre (1918 -) was born in Drummondville, Quebec, the eldest of eight children. Her father, who was a First Nations Abenaki, supported the family as a mechanic, but most years were spent in need. When she was 3, Letendre was injured and was sent to recover on the farm of her maternal grandparents. It was here she first found joy in solitude, spending time in the open fields. She recalls these years as some of the most significant of her young life.[1]
In 1941 the family moved to Montreal, where both parents found factory work. Letendre was working at a restaurant as a cashier when a customer saw her sketching on a receipt and insisted she enroll at the École des Beaux Arts. Letendre interviewed and was accepted, and began attending the École des Beaux Arts at 19 years old. While she was in school Letendre was introduced to Paul-Emile Borduas, the originator of the Automatist movement by a classmate, and it had a profound impact on her work. By 1950 she had dropped "all anecdote and recognisable images" from her paintings.[2] She began to work in the fluid, painterly style that can be seen in the VAC's painting, inspired by tension that could be created between colours.
Letendre first exhibited with the Automatists in 1954 with a number of other young artists in the exhibition "La Matiere Chante" at Montreal's Galerie Antoine. This group of artists created through spontaneous movement, and sought associative meaning, rather than a literal narrative. Letendre said of the group: "Nobody bought our work. People thought we were out of our minds to paint colours and forms that were non-figurative. Some even thought we were communists, which gave us a little notoriety at least."[3] In 1955 Letendre had her first solo exhibition at L'Echourie, a gallery-café run by a group of young creatives.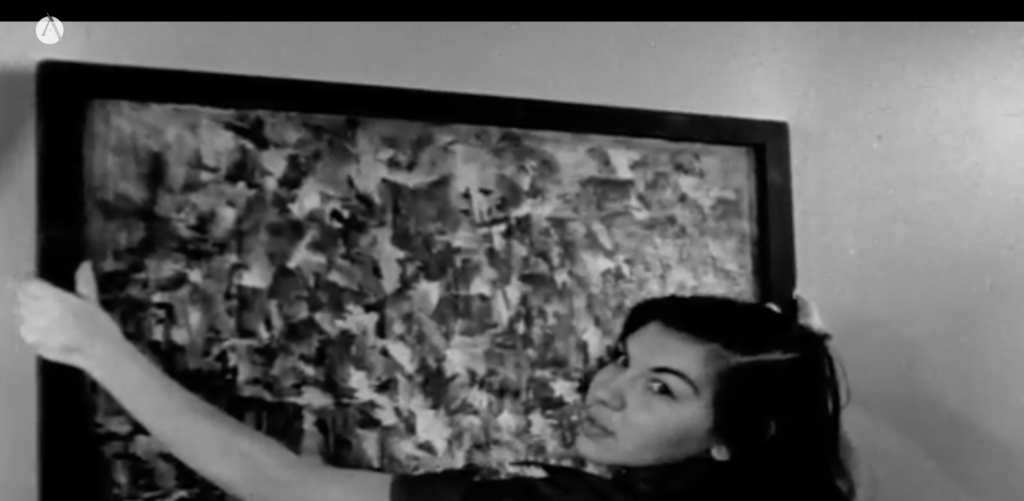 In the 1954 documentary Artist in Montreal, L'Echourie is featured as the meeting place for many artists of the Automatist group.[4] In one scene the interviewer asks the artists to explain what the Automatist movement means to them, apparently to increase understanding of their work among viewers. The small gallery room that the interviewer addresses is filled entirely with white male artists in smart suits and 50s mustaches, save for Rita Letendre. She holds her work to the camera and shows no anxiety about being evidently outnumbered. The scene is a powerful visual of what the Canadian art world looked like when Letendre was working, and her unfailing confidence in her work and herself as an artist.
As Letendre's work gained attention critics often referenced her gender or race to undermine her work, asserting that her work "betrayed the Indian blood in her veins" or that "it was difficult to believe that a woman could have painted these canvasses."[5] Letendre showed no shame for either her race or her gender throughout her career, but also did not evidence a desire to justify either of these qualities. Letendre denied the demands to account for her Indigeneity or her femininity within the realm of modern art, thereby tasking viewers to reconcile these attributes themselves, and to discard the notion that an Indigenous artist is not a modern artist. In an interview with CBC in 1969 the interviewer poses a question to Letendre about her Indigenous heritage and the exchange is revealing of Letendre's relationship to her Indigeneity:
Interviewer: I wonder if you had ever felt the inclination to paint in a kind of folk tradition. You know, draw upon your Indian roots.

Letendre: I don't think it's even a question of Indian, I think it's a question of being. I mean an individual has a certain temperament and I don't think it's because he was born there or there. In certain cases, like for example, if you were born in India or in America or in France, you are going to be influenced by your surroundings, up to a point. But the basic you remains, this is I think unchangeable.[6]
At 91 years old Letendre is now retired from creating art but her work continues to be shown and admired widely. Her 2017 retrospective at the Art Gallery of Ontario, Rita Letendre: Fire & Light, was well received and her work has a continued presence at many prominent institutions.
Madeline Holton is a rising U3 student in the Faculty of Arts studying Art History, with a minor in Anthropology. Previously, she was a database assistant intern and an ARIA intern at McGill's Visual Arts Collection. This summer she has collaborated on projects with the VAC while working as a Research Assistant for the Mellon-funded Indigenous Studies and Community Engagement Initiative (ISCEI).  
---
[1] Gunda Lambton, Stealing the Show: Seven Women Artists in Canadian Public Art, (Montreal: McGill-Queen's University Press, 1994), 51.
[2] Lambton, Stealing the Show, 52.
[3] Lambton, Stealing the Show, 53.
[4] Jean Palardy, Artist in Montreal (1954; Montreal: National Film Board of Canada), short film.
[5] Lambton, Stealing the Show, 53.
[6] Barry Callaghan, Rita Letendre, Television, December 28, 1969. CBC Archive. https://www.cbc.ca/archives/entry/painter-rita-letendre-on-her-work-in-1969.