Student employment in the McGill Library benefits the entire McGill community. At 100+ strong this academic year, McGill Library student workers gain valuable work experience while engaging in academic pursuits. Student navigators, curatorial interns, special project assistants and student researchers bring an immeasurable amount to the life and culture of the Library. Over the next few weeks, Library Matters will share testimonials from library student workers, many of whom come to us through programs like McGill's Work Study Program and are supported by students societies and associations like the SSMU Library Improvement Fund (LIF), the Arts Undergraduate Society (AUS), the McGill Music Undergraduate Student Association (MUSA) and Post Graduate Students' Society (PGSS). Thank you to all our student workers – your hard work and dedication mean the world to the Library and McGill!
---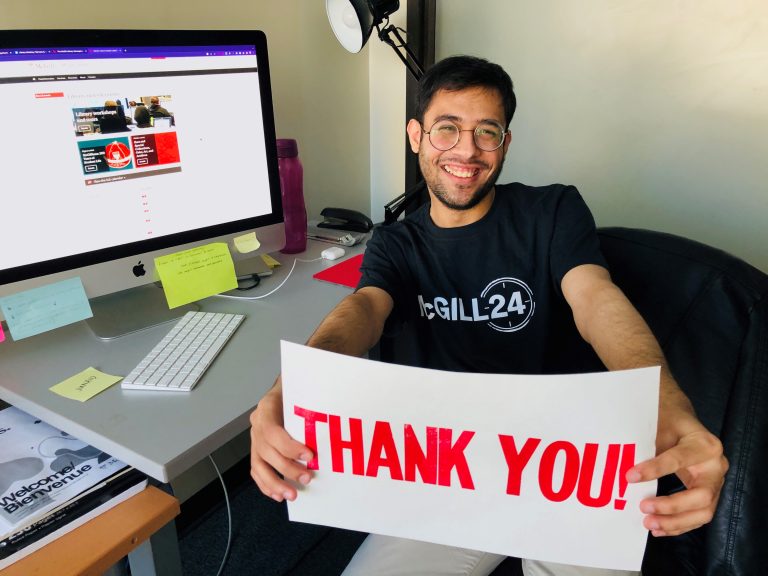 Mohammad Junaid Arif is in his 3rd year of study with a major in Computer Engineering, and a minor in Applied Artificial Intelligence and is the Marketing Project Student Assistant in the Library's Dean's Office.
Library Matters (LM): What made you want to apply to work for the library?
Mohammad Junaid Arif (MJ): It's no surprise that I wanted to work for the Library, given I have spent more time at the McLennan Library Building than anywhere else in all of Montreal! It's funny, but the McLennan-Redpath Complex has become my second home. I even have a favourite spot at McLennan (don't tell anyone, but it's the orange section on the third floor by the windows). So when I heard that the Library was hiring, I jumped for joy (well, maybe not literally, since I was probably already sitting down in my favourite spot). This was the perfect opportunity to get more involved across campus and positively impact the community.
LM: What kind of work have you been doing? Has it been virtual / onsite / hybrid?
MJ: I remember when I told my mom I started working at the Library, and she thought my job was shelving books. However, to her surprise, most of my work at the library has been a mix of technical and creative tasks, and it's been a hybrid of both onsite and virtual work. One of my biggest accomplishments was creating a user-friendly interface for an internal SharePoint site that centralizes a wide variety of media content items across all library branches. From surveys and beta testing to documentation, I oversaw the project from start to finish, which was a great learning experience.
I'm also involved in improving the McGill Library and Fiat Lux websites, which includes making them more modern, engaging, and consistent with McGill's Design System, which is great because it also aligns with my field of study. And sometimes, when I'm not busy entering stats and data for the millions of questions you all ask at the HSSL circulation desk, I get to flex my creative muscles by designing fun social media campaigns using Canva (although I have to admit, I'm not the best at it).
But one of my favorite parts of the job is being able to give back to the community by refilling the Little Free Libraries or volunteering to organize fun library events like the Ice Cream Social. And perhaps most importantly, as the student voice in the communications department, I bring a student perspective to the table and work with the team to constantly improve the library's services for our students.
LM: What do you like about working at the Library?
MJ: The TEA. No, not the drink (although we have some pretty good tea in the kitchen), but the tea on upcoming projects and events! Working with the Communications team means I get a sneak peek at all the exciting things we have in the works before they're announced. It's pretty cool to be in the know and sit in on the planning meetings, especially when working with the Orientation Planning Committee or brainstorming ideas for fun events.
But what I love most about working at the Library are the people. Everyone here is so welcoming and appreciative of my work, and they're genuinely interested in hearing my perspective as a student. It's been great to make new friends and feel part of a community working toward the greater good. I'll always cherish my time working at this incredible library, and I'm grateful for the opportunity to be a part of it.
LM: What surprised you the most about working at the Library?
MJ: What surprised me the most about working at the Library was just how enormous it is. As a student, I never really thought about all the work that goes on behind the scenes to maintain the library and serve our needs. But working in the Dean's Office, I've had the chance to witness all the amazing services that the library provides, from 3D printing and the one-button studio, to the VR system (which is seriously cool, by the way).
But what's been truly eye-opening is getting to work behind the scenes and seeing how tirelessly everyone in the different departments works to improve our library experience every day. It has given me a greater appreciation for the community as a whole.
LM: Any "Aha!" moments or takeaways from the experience?
MJ: My biggest "Aha!" moment was realizing that I'm capable of juggling more responsibilities than a circus performer – all while being a full-time student! Okay, maybe that's a slight exaggeration, but it's been an eye-opening experience.
Through working with different teams and departments, I've gained a newfound sense of responsibility and ownership over my work. Whether I'm collaborating with Lauren to develop social media campaigns, discussing website improvement strategies with Merika, or partnering with Giovanna to conduct surveys, I've seen firsthand how my contributions impact the Library and the McGill community.
And let's not forget about the personal growth. Working at the Library has taught me how to manage my time more efficiently, communicate more effectively, and work collaboratively with others – skills that I will carry with me for the rest of my life. Who knows what other "Aha!" moments the Library has in store for me – but I can't wait to find out!
LM: Coolest, oddest, most interesting things you have come across/experienced?
MJ: Out of all the cool and exciting experiences I have had while working at the McGill Library, being part of the McGill24 digital fundraising campaign was definitely the highlight. Along with some of my fellow student library coworkers, we took fun pictures to promote the campaign and raise awareness – and we looked pretty good, if I do say so myself!
But beyond the glamour of the photoshoot, it was just really fun to work with my fellow student coworkers and contribute to a good cause. And, of course, there's the added bonus of being able to brag to my siblings about how I'm now one of the faces of one of the largest libraries in the world. (Take that, Neha and Uzair)!