by Michelle Macleod, Assistant Curator, McGill Visual Arts Collection
Architecture has been important at McGill right from its beginnings. Notable buildings graced the campus from its start and the University's world-class Peter Guo-hua Fu School of Architecture School (founded in 1896) has produced some of Canada's most renowned architects.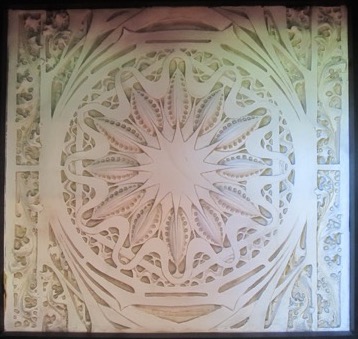 An object in the Visual Arts Collection links McGill and Louis Sullivan, a famous founder of modern architecture. Inspired by a bursting seedpod, this piece of plaster, which is approximately 74 x 70 cm in size, is a reproduction made directly from one part of a continuous pattern that once adorned the Garrick Theater in Chicago.
After the Great Fire of 1871 destroyed much of Chicago's urban center, it was re-developed using new steel construction. Many of these skyscrapers were designed by a group of architects known as the "Chicago School". Their output is commonly referred to as "Commercial Style". Generally, these tall straight buildings were clad with masonry with large windows and restrained ornamentation.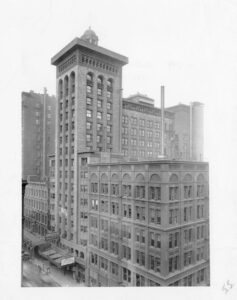 Louis Sullivan (1856-1924) was a member of the Chicago School, but became known for his propensity towards ornamentation.[1] The Garrick Theater building (formerly Schiller Theatre) was a shining example of Sullivan's love of decoration. Sullivan designed it with his business partner Dankmar Adler (1844-1900). Constructed in 1891 in Chicago's busy Loop district, this building had a soaring 14 floor tower and a cavernous theatre space on the ground floor. It was also laden with Art Nouveau details. Inside and out, every inch of this substantial building had intricate filigrees, scroll work, and organic repeating patterns incorporated into its structure. Sadly, in 1961 the building was razed and the location was destined to become a parking garage.[2]
Richard Nickel (1928-1972) was at the helm of the worthy, but unsuccessful, attempts to preserve the Garrick Theatre. When the building's fate was sealed, he was granted rights to salvage much of the architecture. Fortunately, Nickel was a photographer and meticulously documented the building, before and during the demolition. Nickel's archive is held at The Art Institute of Chicago and features many priceless photographs of Sullivan's beautiful designs.
Among these photographs, are images of Nickel himself and other preservationists carefully de-installing the fragile plaster work. The VAC's Starpod is made from one of these panels rescued from the curved arcade of the theatre's stage.
This plaster piece was originally owned by Peter Dobush (1908-1980), a prominent Canadian architect and an avid art collector. McGill alumni, David Bourke (B. Arch '54, 1931-2003) worked with Dobush in the late 60s and 70s – their firm designed McGill's McLennan Library Building. Bourke would eventually come to own Starpod and in 1994 donated it to McGill's Visual Arts Collection, where it is safely cared for.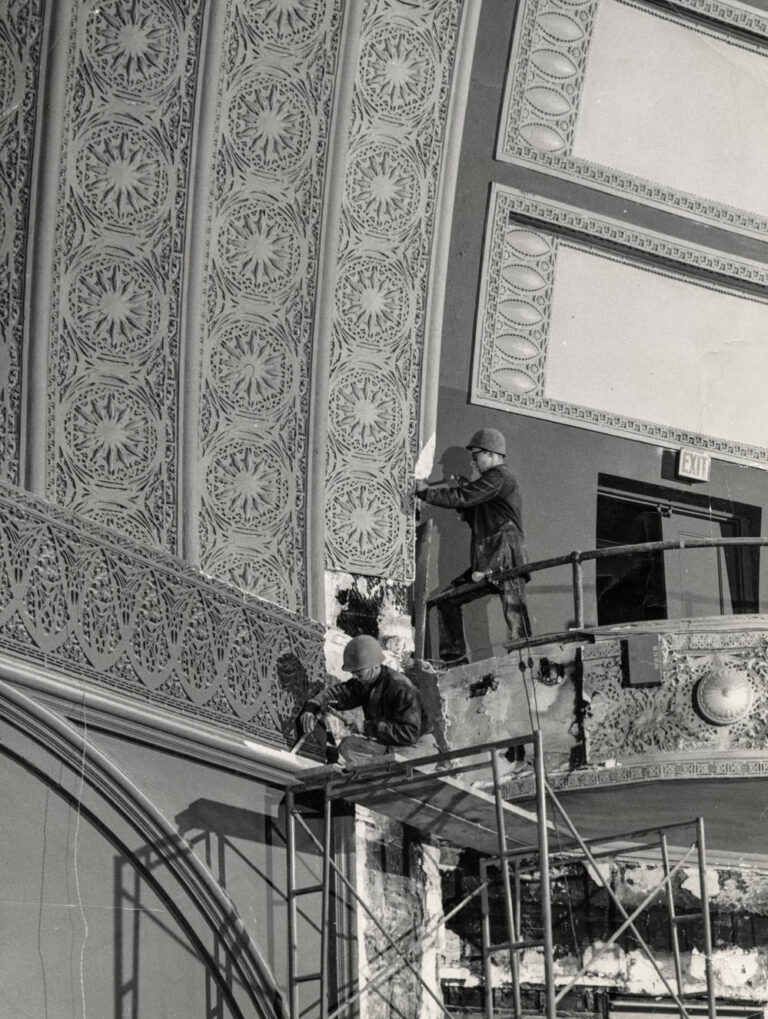 ---
[1] Louis Sullivan, "A System of Architectural Ornament According with a Philosophy of Man's Powers" Draft, holograph manuscript, Ryerson and Burnham Archives, Sullivanian Collection, 1931.1.
[2] The Art Institute of Chicago, "Richard Nickel and the Garrick Theater Building" Looking After Louis Sullivan: Photographs, Drawings, and Fragments, 2013. https://archive.artic.edu/louissullivan/garricktheater/