by Daisy Charles, McGill Visual Arts Collection 
On Tuesday, May 9th 2016 the Friends of the Library welcomed author Anny Scoones to read from her recently published memoir Last Dance in Shediac: Memories of Mum, Molly Lamb Bobak. This was particularly exciting for the McGill Visual Arts Collection, because we have a number of artworks by Molly Bobak and her husband Bruno Bobak. Like her mother Molly, Anny has divided her life between the East and West coasts of Canada, and the book recounts the lives of both women as they travel back and forth, inspired by their love of the country's coastlines, wildlife and culinary delights.
Anny's descriptions made me want to jump in a car and drive across Canada – not caring if I go East or West – and her words are perfectly accompanied by reproductions of her mother's paintings of the same beaches, flowers and urban scenes. We are fortunate to have some of Molly's paintings at McGill in our libraries, residences and offices, to remind students and staff of the landscapes beyond our campus. Her works are extremely popular, both at McGill and in the Canadian art world more generally, in part because they are so unique and do not adhere to a canonized twentieth-century style. In her talk, Anny recalled Molly saying that Bruno could have been "really famous" if he had "only kept to one style." But I think the variety and unexpectedness in the work of both artists is what makes it so continually rewarding to behold.
We are proud to showcase the work of Molly and Bruno Bobak at McGill and hope it continues to inspire future artists and writers.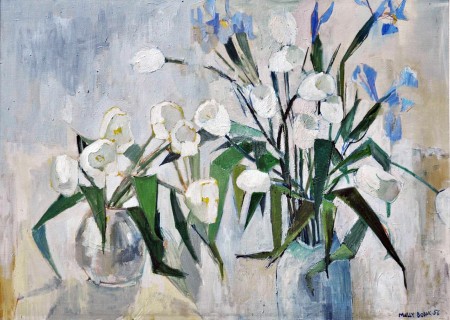 White Tulips by Molly Bobak (1956)
Skiers by Molly Bobak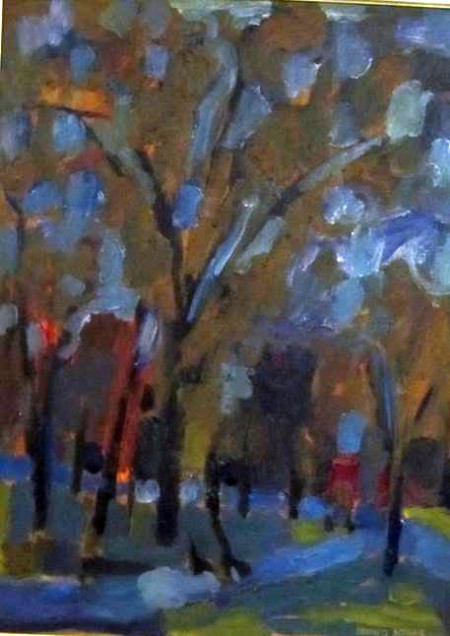 Campus Elms by Bruno Bobak
Fredriction by Bruno Bobak
Bruno and Molly Lamb Bobak
(photo courtesy of TouchWood Editions)