By April Colosimo, Liaison Librarian, McGill Library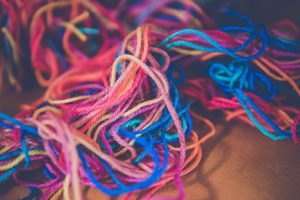 A community of crafters has been forming at McGill Library over the past year, sparked by requests from members of the McGill Community for Lifelong Learning (MCLL) to start a knitting club. As liaison librarian to MCLL, and an enthusiastic knitter myself, I was more than happy to get the ball rolling.
I often think of myself as a process knitter, rather than a product knitter, more interested in the challenge of completing a project than the finished object, but there are many reasons why people craft. These include mental stimulation, but also that it makes us happy, provides an avenue for connecting with others, is a creative outlet for self-expression, and is wrapped up in our identities (Brooks, Ta, Townsend, & Backman, 2019). Knitters in one study also reported how the psychological and social benefits of their leisure activity contributed to their wellbeing through the reduction of stress, with increased feelings of calm and relaxation (Riley, Corkhill, & Morris, 2013).
This fall, our group will continue to come together for the love of crafts, but we would like to extend an invitation for people of all ages, across the University, to join us. Everyone is welcome, and it is not a requirement to be an experienced knitter, crocheter, or needleworker. 'Crafternoons' will take place in the McLennan Library Building, every other Thursday from 4-6 pm.
If you are interested, we are also planning a knitalong (also known as a KAL). Some of us will be knitting the same pattern, the Odyssey Shawl, by Joji Locatelli. It is free on Ravelry, the knitters and crocheter's database. We also have plans to knit up some accessories to help keep students warm during the winter months.
Whether you come for the company, the knitting, or the snacks, I hope to see you one Thursday crafternoon at McGill Library.
Happy crafting! And click here for more health and wellness resources at the Library!
References
Brooks, L., Ta, K.-H. N., Townsend, A. F., & Backman, C. L. (2019). "I just love it": Avid knitters describe health and well-being through occupation. Canadian Journal of Occupational Therapy, 86(2), 114-124. doi:10.1177/0008417419831401
Riley, J., Corkhill, B., & Morris, C. (2013). The Benefits of Knitting for Personal and Social Wellbeing in Adulthood: Findings from an International Survey. British Journal of Occupational Therapy, 76(2), 50-57. doi:10.4276/030802213×13603244419077