Alexis Janssen, McGill Visual Arts Collection Museum Database Assistant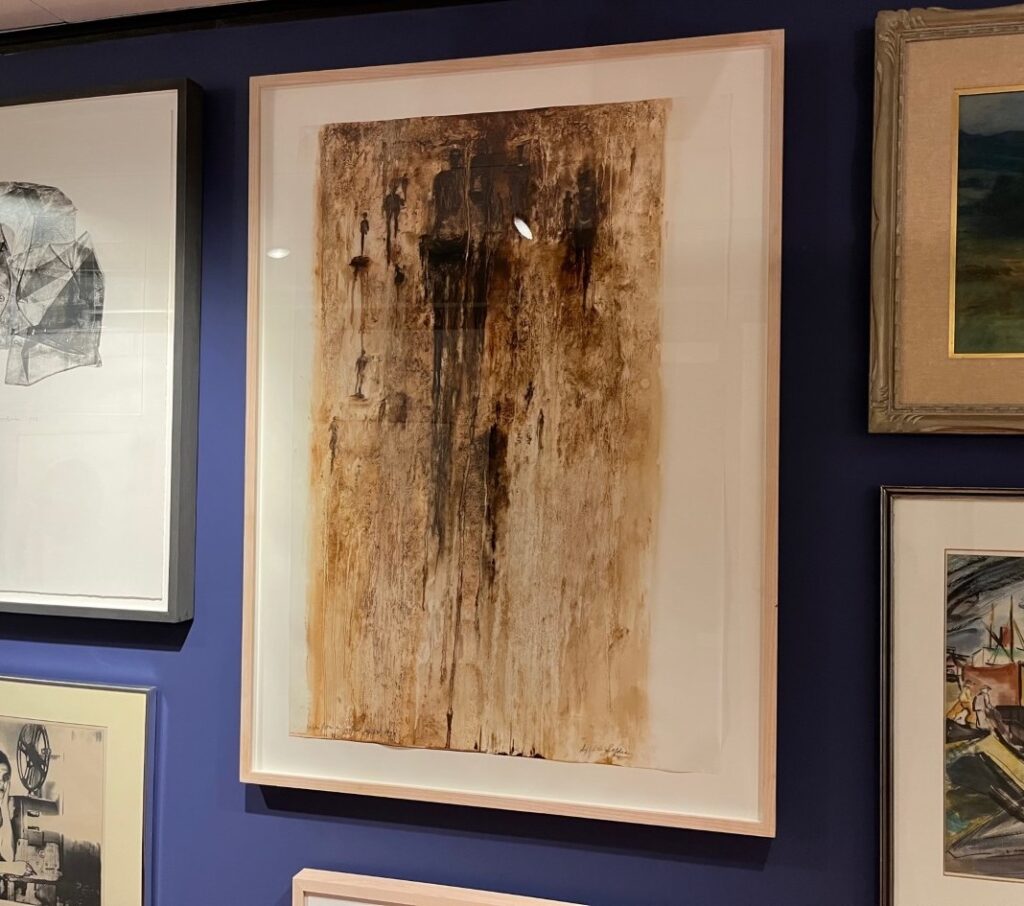 This work, which is on view in the Visible Storage Gallery of the McLennan Library, is part of a series created by Montreal-based artist Sylvia Safdie that uses natural elements from the ground. Safdie was born in Lebanon and raised in Israel. She moved to Montreal in 1953 and later obtained her Bachelor of Fine Arts from Concordia University. Although her recent work focuses on digital productions to create video art, she is known for her use of found natural materials including sand, earth, and dust to create her paintings, works on paper, and sculptures. Safdie has collected hundreds of soil samples from around the world which she uses in her artistic production. In Notes From My Journal, Pg. 511, one senses the originality of this ground-breaking medium. A "groundwork" of a different kind—literally working with materials from the ground—this tableau plays on the subtle colour variations that earth has to offer. The international variety of samples leads to a blend of brown, red, and gray tones which, through the application of the material on the thin mylar paper, creates a muddy and grainy texture to the work.
The artist's œuvre is deeply rooted in her experiences growing up in Israel and her travels around the world. Notes From My Journal, Pg. 511 is part of a larger series fittingly titled Earth Marks, and the work's title reveals the intimate nature of Safdie's artistic practice. Someone's journal is a very intimate thing, not least an artist's journal, which often contains ideas, sketches, and notes. By sharing "pages" from her journal, Safdie is allowing the viewer to engage with her in a personal way. This intimacy is further emphasized by the inclusion of figures in her works. The presence of these figures—made of earth samples—links the human being to the Earth we all walk on, share, and must protect. This association is especially relevant given the signing of the Kyoto Protocol, an international climate agreement to reduce greenhouse gases, one year before Safdie made Notes From My Journal, Pg. 511. Despite its imposing size, these intimate aspects encourage the viewer to take the time to observe the artwork and appreciate its poetic nature.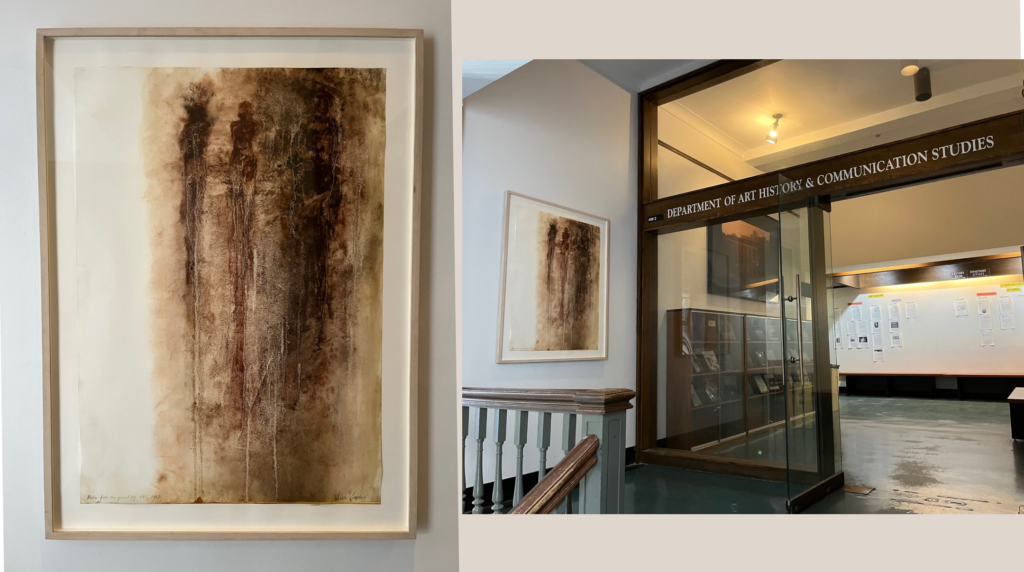 The Visual Arts Collection has more works by Safdie. A drawing titled Scenes from a Train, Series 3, #1, is also on view in the Visible Storage Gallery. And, another artwork from her Earth Marks series was recently installed in the Art History and Communications Studies Department. Sylvia Safdie's work in present in the collections of the Musée d'art contemporain de Montréal, the Montreal Museum of Fine Arts, the Musée National des beaux-arts du Québec, and private and public collections around the world. She has exhibited in Canada, the United States, Europe, and China.
---
Un terreau d'une nature particulière
Alexis Janssen, assistant à la base de données de la Collection d'arts visuels de l'Université McGill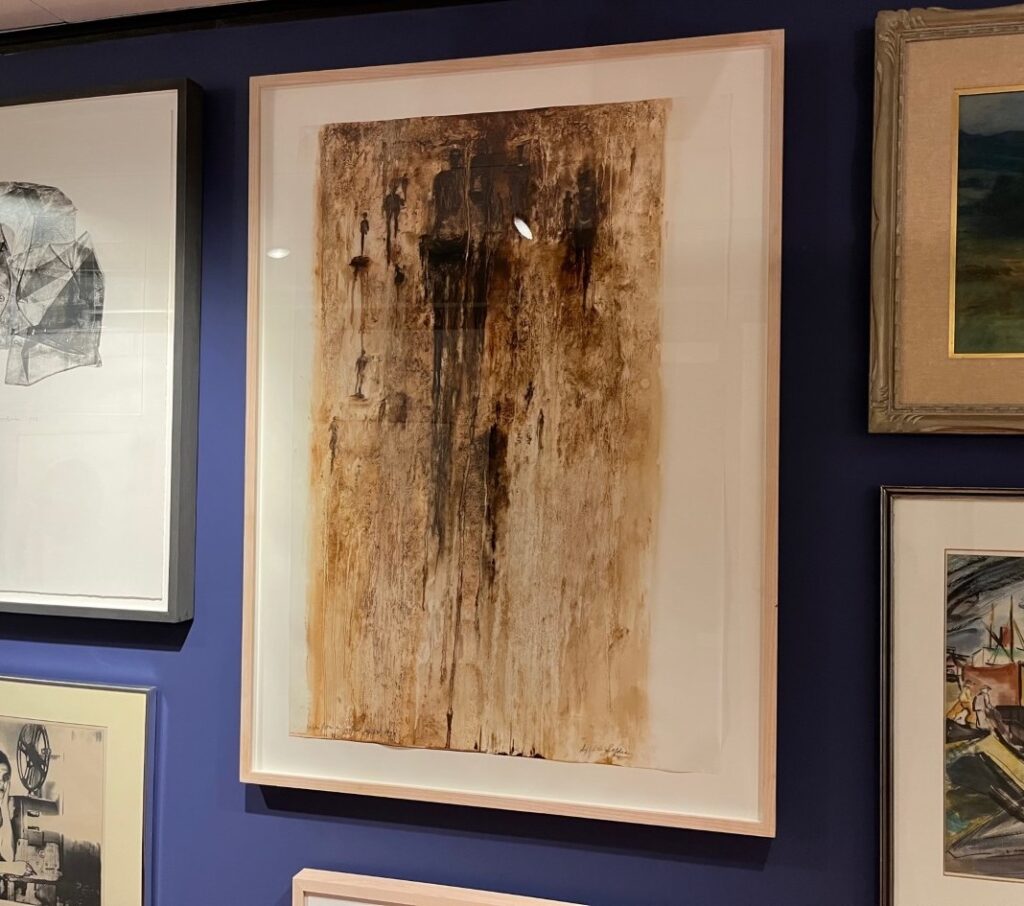 Cette œuvre, exposée dans la Réserve visible de la bibliothèque McLennan, appartient à une série qu'a créée l'artiste Sylvia Safdie, montréalaise d'adoption, qui fait appel à des éléments naturels extraits du sol. Native du Liban, l'artiste grandit en Israël. En 1953, elle déménage à Montréal où elle obtient plus tard un baccalauréat en beaux-arts de l'Université Concordia. Si ses œuvres récentes se concentrent sur des productions numériques pour déboucher sur des vidéos artistiques, elle est reconnue pour son utilisation de matériaux issus de la nature, dont du sable, de la terre et de la poussière, pour créer tableaux, œuvres sur papier et sculptures. Safdie a collectionné des centaines d'échantillons de sol autour du monde qu'elle utilise dans sa production artistique. Dans Notes From My Journal, Pg. 511, l'originalité de ce médium qui explore des terres nouvelles ressort. « Terreau » unique—constitué littéralement de matériaux tirés du sol—ce tableau joue sur les subtilités des variations de couleur qu'offre la terre. La diversité internationale des échantillons débouche sur un amalgame de tons bruns, rouges et gris qui, par l'application de matière sur du papier mylar mince, crée une texture boueuse et granulée.
L'œuvre est profondément enracinée dans sa vie en Israël et ses voyages autour du monde. Notes From My Journal, Pg. 511 fait partie d'une série plus vaste baptisée à juste titre Earth Marks (marques terrestres), et ce titre révèle la nature intime de la pratique de l'artiste. Par définition, le journal personnel est tout ce qu'il y a de plus intime, et à plus forte raison celui d'un artiste qui recèle des idées, des esquisses et des notes. De par son partage de « pages » extraites de ce journal, Safdie permet à l'observateur d'entrer dans une relation personnelle avec elle. Et cette intimité est renforcée par la présence de figures dans ses œuvres qui—créées à partir d'échantillons de terre—jettent un pont entre l'être humain et la Terre sur laquelle nous nous déplaçons, que nous partageons et que nous devons protéger. Cette association est particulièrement pertinente à la lumière de la signature du Protocole de Kyoto, accord international conclu en vue de réduire les gaz à effet de serre un an avant que l'artiste crée Notes From My Journal, Pg. 511. Malgré sa taille imposante, ses volets intimes encouragent le spectateur à observer l'œuvre artistique et à en apprécier la nature poétique.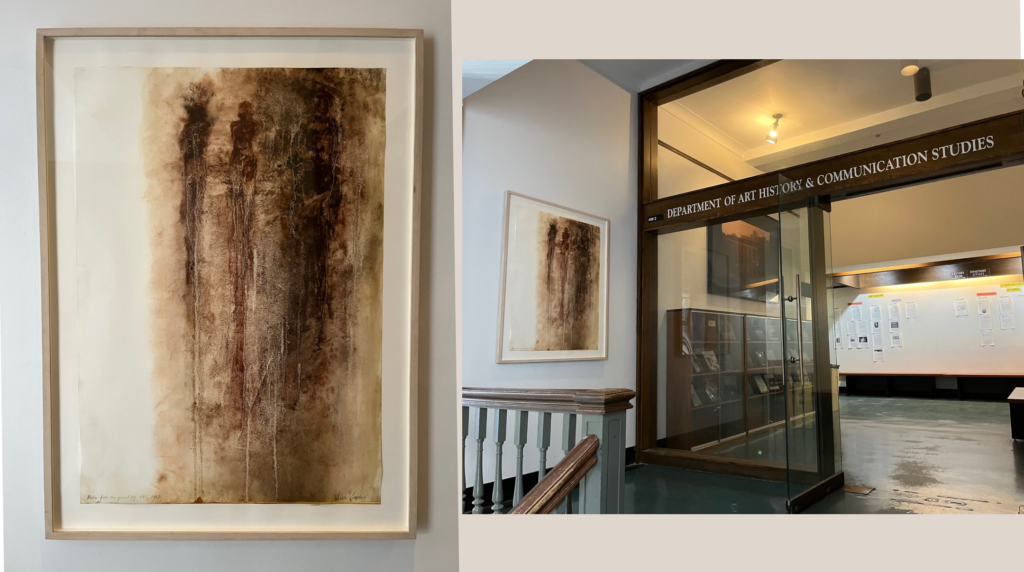 La Collection d'arts visuels possède d'autres œuvres de Safdie. Un dessin intitulé Scenes from a Train, Series 3, #1 (Scènes vues d'un train, Série 3, no 1), est également exposé dans la Réserve visible. Et, une autre œuvre de sa série Earth Marks a été installée récemment au Département d'histoire de l'art et d'études en communication. L'œuvre de Sylvia Safdie est présente au Musée d'art contemporain de Montréal, au Musée des beaux-arts de Montréal, au Musée national des beaux-arts du Québec et dans des collections privées et publiques dans le monde entier. Elle a exposé au Canada, aux États-Unis, en Europe et en Chine.