Congratulations go out to Clara Turp and Mutugi Gathuri, recipients of the 2023 Library Excellence Awards!
This year Clara Turp, Systems Librarian, and Mutugi Gathuri, Software Developer, were awarded the Librarian Excellence Award and Staff Excellence Award respectively. Both Clara and Mutugi are part of the Digital Initiatives unit. The awards honour the extraordinary service, important efforts, and achievements of librarian and administrative & support staff members at the McGill Library. Thank you to all staff members who took the time to nominate a colleague for the Staff or Librarian Excellence Award.
Clara Turp, 2023 Librarian Excellence Award Recipient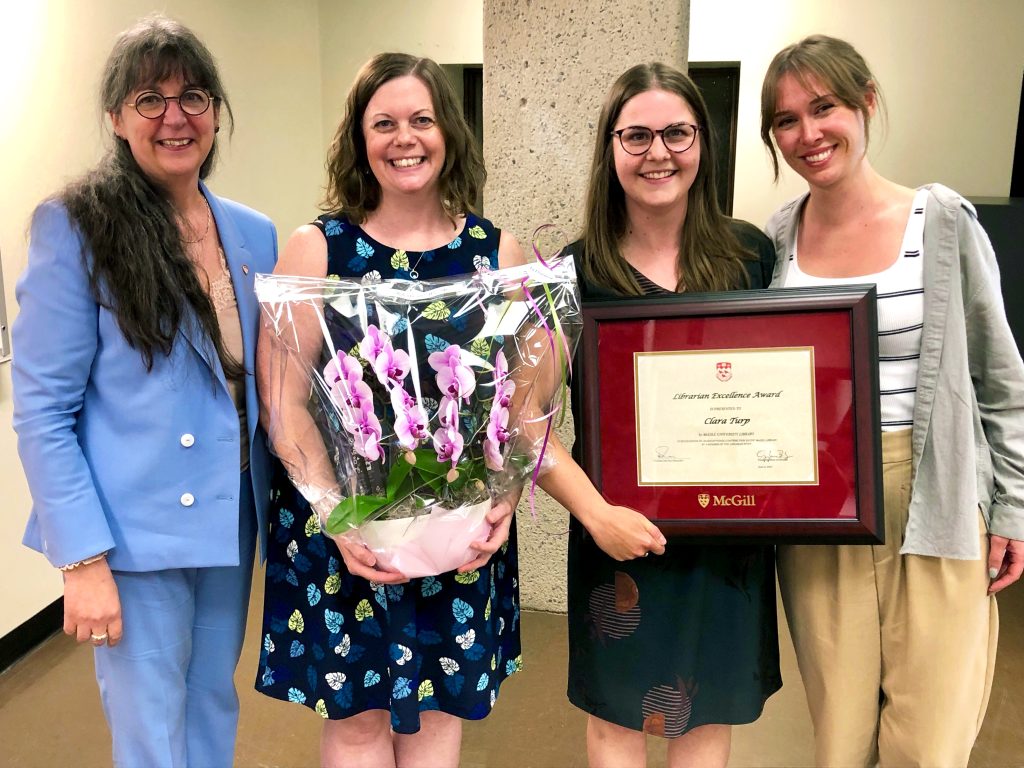 As the Systems Librarian in the Digital Initiatives unit, Clara Turp has played a central role in every major catalogue system update or migration since her term at McGill began in 2018. One of Clara's major accomplishments was her work on the Network Loan project, which required an unprecedented level of collaboration with college & university libraries across Quebec. Clara liaised with consortia representatives and managed the alignment of McGill Library's catalogue system within the larger framework. Throughout the process, she was dedicated to building documentation and maintaining seamless communication for staff and students, ensuring optimum service.
Clara has also been pivotal in the development of countless library interfaces and tools that the McGill community uses every day, including the new Inter-Library Loans system. More recently, her work has focused on system integrations for McGill's new Collections Centre. These large-scale, impactful projects are managed more efficiently because of Clara's diligence and ability to find creative solutions along with her gift of leading people from various units with utmost care.
Clara Turp's engagement extends beyond McGill Library's system work. She is an active member of several university, national, and international committees including Code4Lib, an association for people who work in technology-based roles in libraries, archives, and museums. Clara founded the Montreal chapter and recently co-developed a new program called "BiblioTECH." It offers library school students the chance to learn about careers in library technology. Clara's dedication to helping a new generation of librarians is inspirational.
Clara's colleagues describe her as, "someone who always makes time for her colleagues. She takes it upon herself to make new employees feel welcome. She organizes library branch tours and re-launched the Library mentorship program. Clara's empathy and cheerful personality are contagious. She leaves a mark on any group of which she is a part."
---
Mutugi Gathuri, 2023 Staff Excellence Award Recipient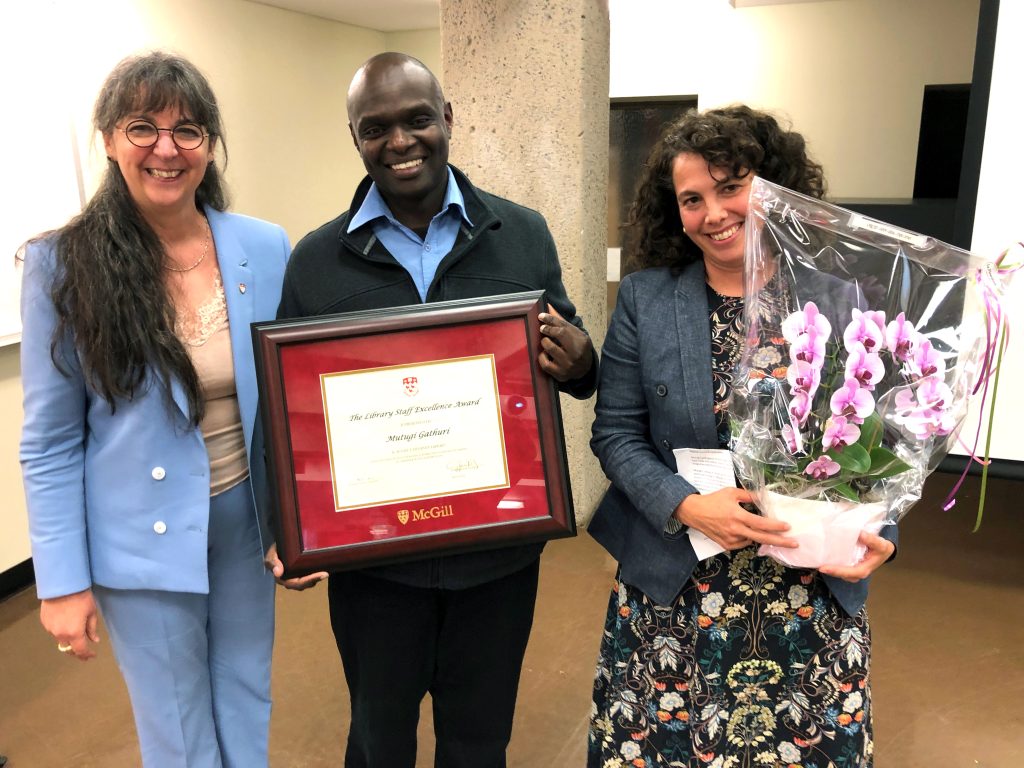 For seventeen years, Mutugi Gathuri has been working behind the scenes as a software developer. He has demonstrated exceptional initiative, resourcefulness, and innovation in his work. These qualities, along with his dedication, imagination, and intellectual curiosity have contributed significantly to the success of several recent projects like the customization of Spotlight, an open-source exhibition software, for a grant-funded project, Missing Voices: South Asian Perspectives on the Gwillim Archives. This project presented significant technical and logistical challenges and Mutugi played a critical role in ensuring its success. One of the main features that the curators of the project wanted to use was an interactive image viewer; however, the existing software that provided this functionality did not meet the funder's accessibility requirements. Mutugi invested an enormous amount of time and effort in researching and testing other options and was able to find a compromise solution that met both the curators' and the funder's requirements.
Mutugi's user-centered approach and outstanding communication skills exemplify service excellence. He can evaluate what non-technical Library stakeholders require and translate this into a technically robust process or product. Mutugi can also explain technical issues in a way that makes sense to non-programmers so that they can meaningfully engage in and assess the technical implementation of their requests. He is well-known for analyzing user needs and working to make the technical infrastructure meet those needs, instead of trying to bend the desires of his stakeholders to fit within existing technical constraints.
Mutugi's willingness to learn new technologies and eagerness to take on new challenges have made him indispensable in projects such McGill Collections Centre Dematic-OCLC integration and the eScholarship migration.
Mutugi's colleagues at the Library and beyond appreciate his positivity and kindness. To quote one colleague, "Mutugi has always been an absolute pleasure to work with – his smile is infectious and his positive attitude towards problem-solving makes him a joy to work with. He always handles issues promptly, courteously, and with a strong set of critical thinking skills. He is proactive and engaged in his work and the library is lucky to have someone with such depth of experience and a service-oriented attitude."