On Monday, November 19th, 2018, Library and security staff asked individuals entering Library spaces to scan their McGill ID cards. Those without a McGill ID card were asked to choose their status on a paper form, e.g., undergraduate student, member of the general public, etc.
The objective was to collect information about who uses McGill Library branches during a 24-hour period for the purpose of helping to inform decisions about improvements to Library services and spaces.
Census Day began at the start of Library services on Monday, November 19th, 2018 (8:00/9:00am depending on the branch) to the end of opening hours, which was the morning after for some branches (at 8:00/9:00am).
Individuals were asked to have their McGill ID cards scanned or complete a paper form at the entrances of the:
1) Birks Reading Room,
2) Humanities & Social Sciences Library (HSSL),
3) Islamic Studies Library,
4) Macdonald Campus Library,
5) Marvin Duchow Music Library,
6) Nahum Gelber Law Library, and
7) Schulich Library of Physical Sciences, Life Sciences, and Engineering.
90% of visitors had their McGill ID cards scanned and 10% completed paper forms.
---
Key Findings:
McGill Library received a total of 15,117 visits system-wide, of which approximately 67% of visits were from unique visitors.
There was a 3:1 ratio of total visits to available seats across all branches.

14,175 visits were from McGill students, which is 35% of the Fall 2018 student enrollment at McGill for all degrees.
McGill students were the predominant user group.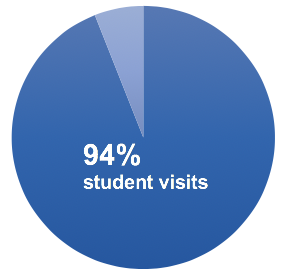 Visits by other user groups were from members of the external community (4%), McGill faculty & staff (1%), and unidentified individuals (1%).
Student library visits (including repeat visitors) surpassed 35% of enrollment for all degrees in six McGill faculties.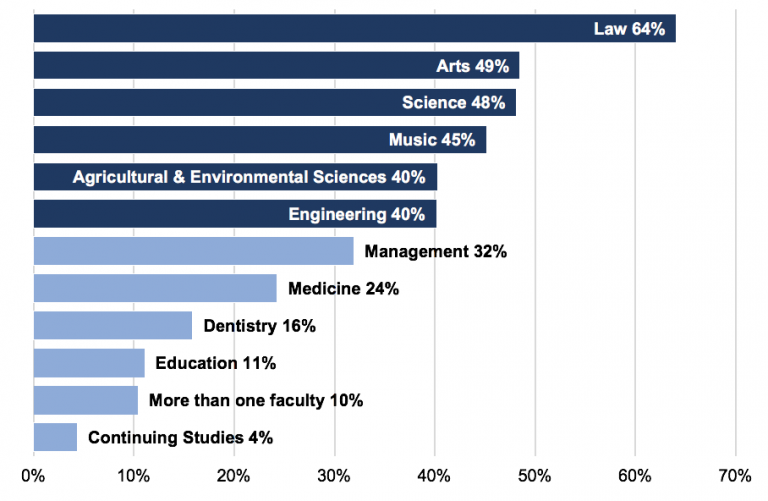 Students in each faculty visited different libraries, from 5-7 branches. In addition, each branch library was visited by students from five to all twelve faculties on that day.
Among repeat visitors on Census Day, 738 students visited 2 branches each. The top 5 combinations (listed alphabetically within each pair) were:
#1 HSSL – Schulich Library (491 students)
#2 HSSL – Law Library (65 students)
#3 HSSL – Islamic Studies Library (56 students)
#4 HSSL – Music Library (49 students)
#5 Music Library – Schulich Library (25 students)
The breakdown of received visits by branch is as follows: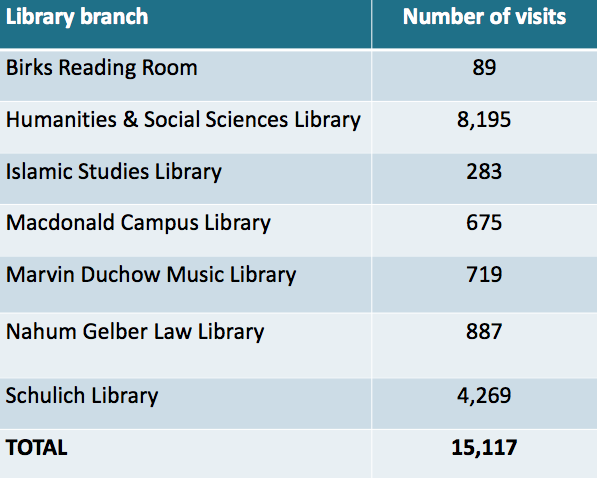 ---
Thank you to all those who participated in Census Day.
As the Assessment Librarian, I am constantly collecting information about the Library and am always interested in what others have to say about our services and spaces. Feel free to share with me your favourite study or working spot in the Library by voting below.

Loading ...