Since 2016, the National Museum of Women in the Arts in Washington, DC has asked this question on social media every March as part of Women's History Month. The WMWA's hashtag, #5womenartists, has gained a significant following, as art collections from all over the world have joined in the conversation. The power of social media has brought together artworks, names, and stories to help bring awareness to the disparity of women artists represented in art history, art institutions, and the art market.
For the second year in a row the McGill Visual Arts Collection is participating in the campaign by sharing 5 women artists from our collection. This year we asked each of our undergraduate student interns to showcase an artwork by a women artist – and our assistant curator joined in too!
Keep reading to learn about these impressive artists. Let's know their names and recognize their work to help close the gender inequality gap.
Ghitta Caiserman-Roth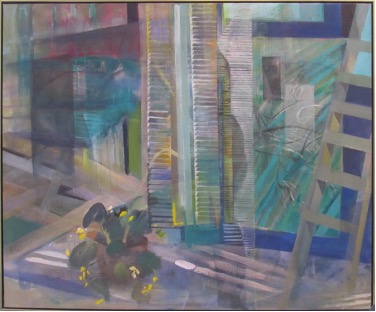 In Memory of Professor Dalbir Bindra (1982) by Ghitta Caiserman-Roth is a semi-abstract painting that employs multiple layers of suggested space to give a feeling of passing time. The painting was done to memorialize the passing of McGill Psychology professor Dalbir Bindra. Ghitta Caiserman-Roth (1923-2005) was born in Montreal and was based there for most of her career. She was also an instructor at both Concordia University and the Saidye Bronfman Centre, and her influence on younger Montreal artists can be seen in our collection and elsewhere. Caiserman-Roth's use of colour in this painting is particularly interesting to me, as the canvas previously belonged to the artist's friend and was "stained" purple and pink when she received it, and the artist skillfully embraced this colour palette while also harmonizing it with her own style and composition.
Madeline Holton, Museum Database Intern, McGill Visual Arts Collection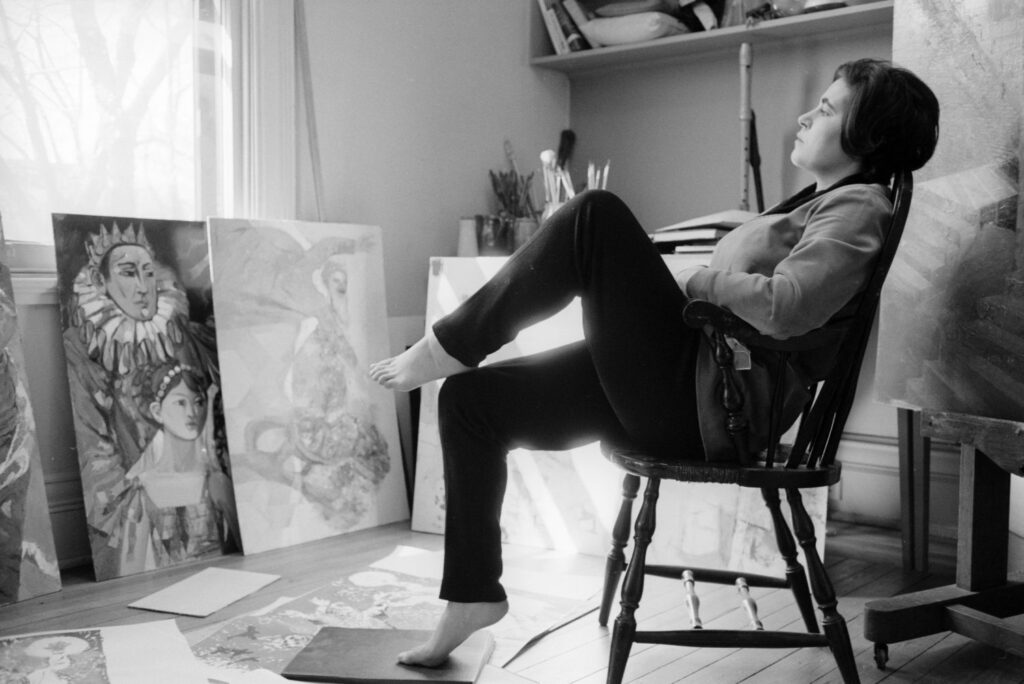 Jeanne Rhéaume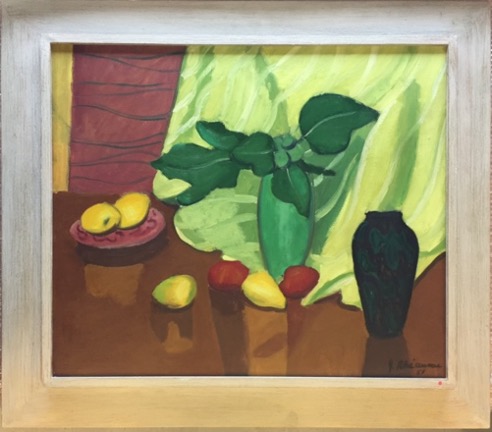 Les citrons (1951) by Jeanne Rhéaume depicts brightly coloured lemons and vases nestled amongst a springy textile, which is offset by a deep red wallpaper in the background. Modern artist Jeanne Rhéaume (1915-2000) studied at Ecole des beaux art de Montreal before going on to train with Quebec artists such as Goodridge Roberts and Gordon Webber. Rhéaume later became a signatory of Prisme d'Yeux, a group that sought to create contemporary art that was free of restrictive ideologies. Throughout her career Rhéaume expanded traditional artistic expression and her artworks are collected by a number of Canadian art institutions. The combination of soft, blended brushstrokes and bright colours in this work immediately brought to mind memories of wonderful moments of stillness on lazy summer afternoons.
Elsa Hetletvedt, Museum Database Intern, McGill Visual Arts Collection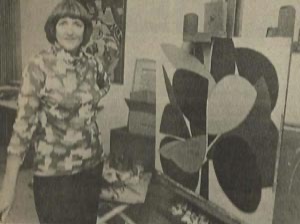 Lucy Qinnuayuak ᓗᓯ ᑭᓐᐅᐊᔪᐊ
Feathered Trio (1968) by Lucy Qinnuayuak's, ᓗᓯ ᑭᓐᐅᐊᔪᐊ, is a stone cut print depicting three birds huddled together with their wide, curious eyes and crown-like feathers poking out. I was first drawn to this particular piece by the bright colours and whimsical details, which convey an exquisite sense of playfulness among the trio. Lucy Qinnuayuak (1915-1982) was a prolific Inuit drawer and printmaker, having been part of the first generation of studio artists at Kinngait (Cape Dorset). She is well known for portraying fanciful arctic birds (her favourite subject matter) as well as Inuit women.
Leighetta Kim, Museum Database Intern, McGill Visual Arts Collection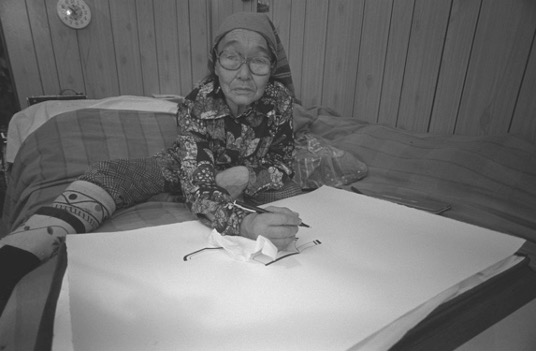 Toko Shinoda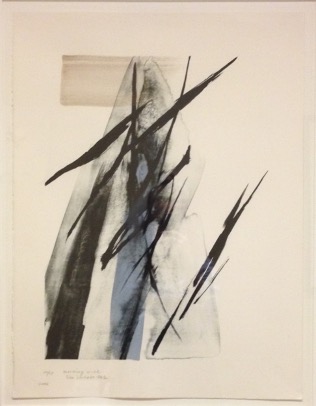 Morning Wind (2002) by Toko Shinoda is a lithographic print that shows an elegant composition of flowing brushstrokes with a high concentration of ink, which contrasts harmoniously with the white paper background. Lithography as the printing medium requires tremendous control during the printing process because every mark on the paper cannot be corrected or reversed. Using this technique as part of her artistic process, Shinoda often hand-paints each lithograph copy to leave behind her unique personal touch and signature mark. The graceful, yet strong individual brushstrokes in Morning Wind are carefully controlled and fuse the traditional craft of Japanese ink calligraphy and the freedom of modern abstract expressionism. To my eyes, Morning Wind is a form of visual poetry that captures the vivid yet ephemeral movements of nature.
Melody Hsu, Museum Database Intern, McGill Visual Arts Collection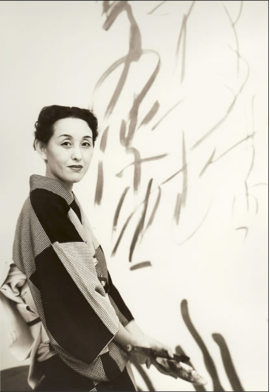 Betty Goodwin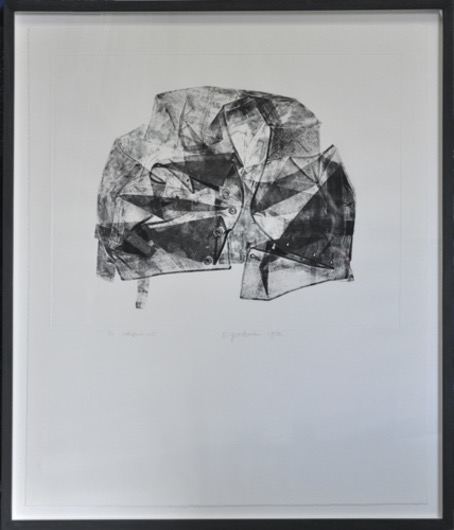 Collapsed Vest (1972) by Betty Goodwin shows a black ink impression of a crumbled garment suspended in the negative space of a large, white sheet of paper. The fabric, seams, stitching, and buttons of the vest have all been articulated by placing the garment directly on a copperplate. Montreal artist, Betty Goodwin (1923-2008), created a compelling oeuvre of artworks that address themes of social realism, remembrance, and loss. The indexical nature of this print is especially striking to me – The vest's trace reminds me of shedding off an outward-facing identity that is so often wrapped up in what we wear.
Michelle Macleod, Assistant Curator, McGill Visual Arts Collection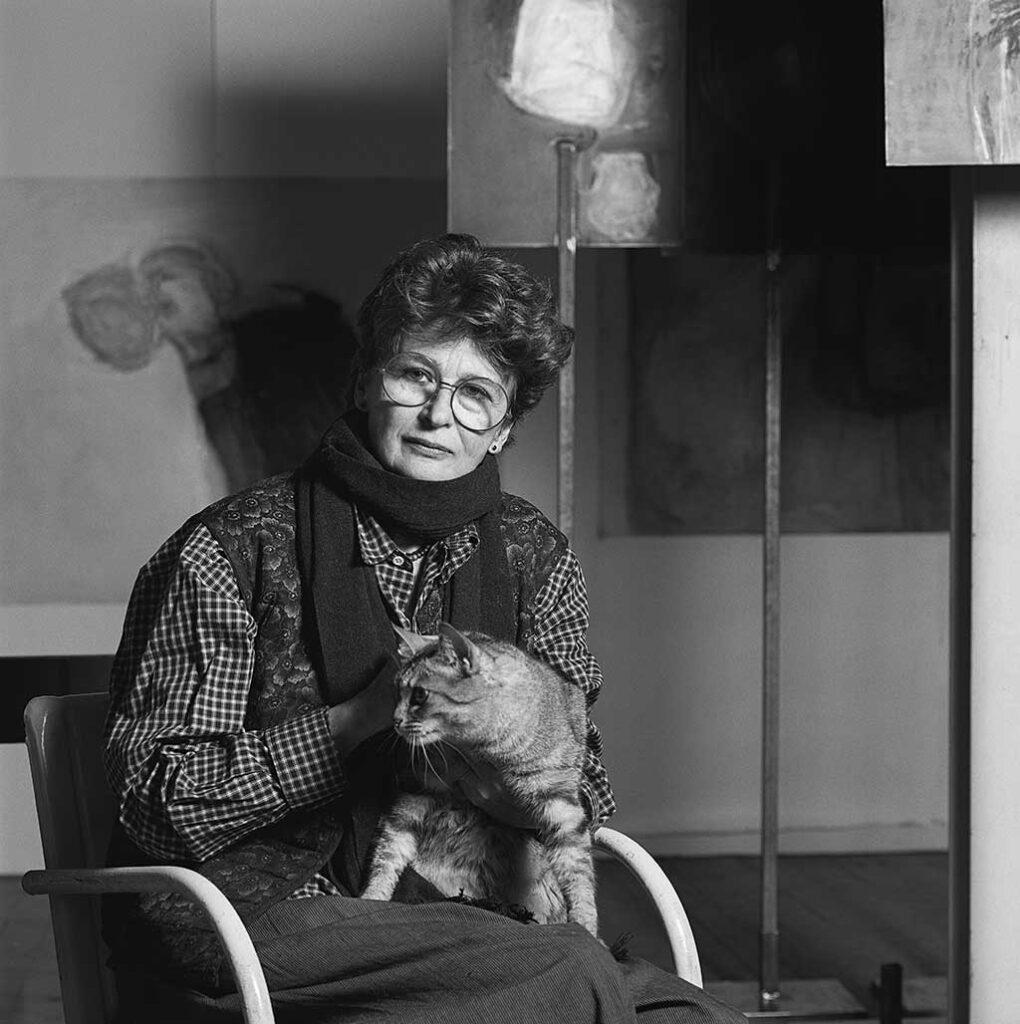 See more artists here: #5womenartists !