By Kristen Howard
This Pi(e) Day I had the great pleasure of participating in the Great Library Pie Bake-Off (GLPBO) using materials from McGill's extensive Cookbook Collection. The GLPBO is an annual event coordinated by the Folger Shakespeare that invites librarians, archivists, and historians to reach into their physical and digital stacks in search of a historic pie recipe. I am not an experienced pie baker (I don't even own a pie plate) so this was truly an adventure!
The Source
I selected the 1915 Farine Five Roses Cook Book digitized by McGill, and specifically the Mock Cherry Pie recipe, which substitutes cranberries for cherries. Whereas Cherry Pie is a summer pie, with the cherry season peaking in May and June, Mock Cherry Pie is a winter dish with the longer cranberry season running from mid-September to mid-November. As part of the GLPBO's new Team Veg, a group baking plant-based pies to make Pie Day more inclusive for vegans, vegetarians, and flexitarians, I was interested in using a recipe already premised on substitutions. The cookbook has several other "mock" or substitute pie recipes: Mock Lemon (using eggs, buttermilk, and lemon extract), two types of Mock Mince Pie (one with crackers replacing the meat, and the second with green tomatoes), and an Eggless Pumpkin Pie.
The Recipes
First, I gathered my supplies for baking, including Five Roses flour, of course. I began by making the crust. Veganizing here was simple, substituting vegan butter for lard. The greater challenge was conflicting directions: the crust recipe itself says to grease the pie plate, whereas the cookbook's introduction to pies states "never grease a pie tin" and "it's a poor crust that will not grease its own plates!" Assuming I would make a poor crust, I opted to grease the plate.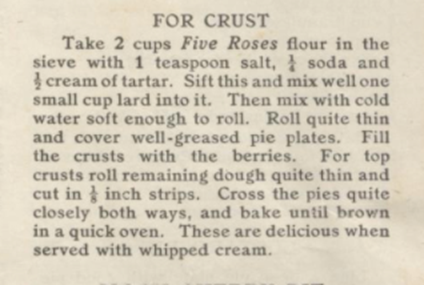 The filling was likewise easy to veganize, only requiring a replacement for the egg. I considered two primary options from the multitude of vegan egg substitutions: either a commercial powdered egg replacer or a more historical egg replacement recipe common during the World Wars (1/2 oz margarine + 2 tbs flour + 2 tbs liquid + 1/2 tsp baking powder). I decided to go the easy route and use the commercial egg replacer. The bigger issue faced here was the amount of liquid called for in the recipe, which led to a very liquidy pie.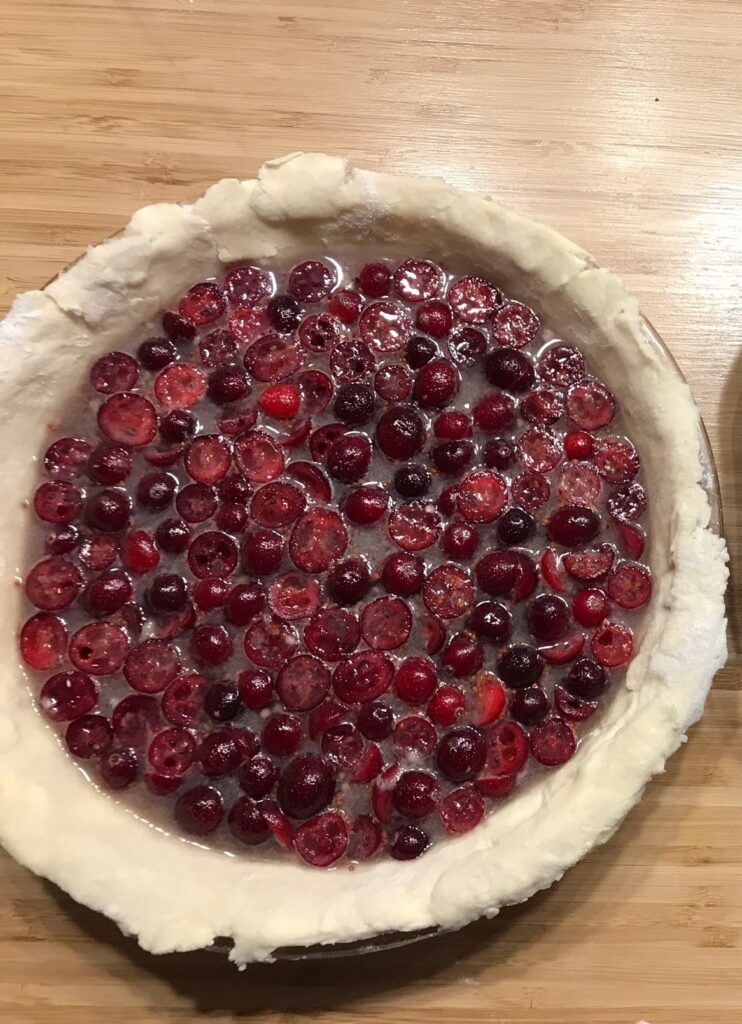 Baking
After completing the crust and filling, I was faced with a common challenge in vintage and historic recipes: a lack of specific directions as to baking temperature or time. The Mock Chery Pie recipe simply states to "bake." The crust recipe was not much more helpful: "bake until brown in a quick oven." Some searching indicates that "quick" refers both to temperature (quite hot, between 375 and 400F) as well as the amount of time something takes to bake through. The Farine Five Roses Cook Book states that "all pastry requires a quick oven at the start", but throws in a challenge when stating that "fruit pies should be allowed to cook slowly to avoid running over." I decided to heat my oven to 375F, set a timer for 50 minutes, and hope for the best.
When my 50-minute timer went off, I was pleasantly surprised at how nice the top of the pie looked! Golden and flakey. It looked like real pie, but how did it taste?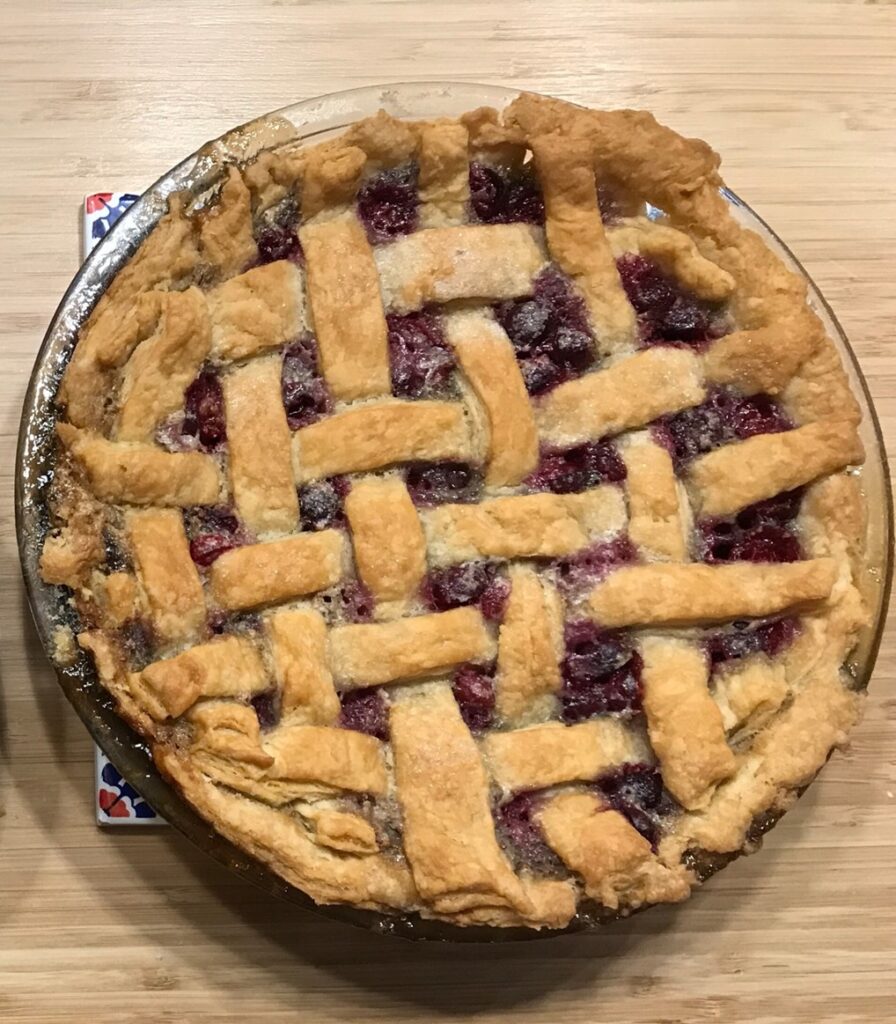 Although the pie sliced well, it suffered from the dreaded Soggy Bottom. The top crust was tasty, however, and the filling was tart (although nothing like a cherry pie). I can imagine a Mock Cherry Pie being a delightful addition to a holiday table with the tartness of the cranberries cutting other rich flavours.
Reflections
In reflecting on my experience of baking from a vintage recipe book, there are definitely a few lessons learned. First, apart from veganizing the ingredients, I was committed to historical accuracy and avoided deviating from the recipe. In retrospect, I would have had a better – and tastier! – pie if I had blind baked the crust (pre-baked the bottom crust to avoid the soggy bottom) and hadn't added the extra liquid called for in the fillings. Second, I was amazed at how easy it was to veganize the pie with the help of modern substitutes like vegan butter and commercial egg replacer. I'd love to try more pies from this cookbook – especially the Carrot Pie or the already plant-based Maple Syrup Pie no. 1. In the future, I'll take vintage recipes with a grain of salt, being sure to adapt directions to modern-day standards.
Be sure to check out the Five Roses Cook Book for all your bread and pastry baking needs! There are more than 200 more books from the extensive Cookbook Collection also available digitally.