ROAAr is delighted to welcome two new librarians to our team. Meet Elis Ing and Lauren Williams, our newest librarians in Rare Books & Special Collections. Elis is liaison librarian for manuscripts and archival collections, and Lauren is liaison librarian for the treasures of the Blacker-Wood Collection. We are happy to have them.
A bit of background on our newest librarians:
We have managed to convince Lauren Williams to leave the University of Toronto and the Thomas Fisher Rare Book Library to join us here at McGill.
My main area of responsibility at McGill is the Blacker-Wood Collection of Zoology and Ornithology, including natural history, and the history of science in general.
Lauren's research interests include the history of bookbinding, printing, and book illustration, along with the history of women in science and in the book arts.
Before coming to McGill, Elis worked for Canada's National History Society, an organization with close ties to Hudson's Bay Company Archives, primarily focusing on the creation of a new digital archive. As liaison librarian responsible for manuscripts and archival collections, Elis will be working with the amazingly varied collection of papers, manuscripts, and archives held in Rare Books & Special Collections. Her past work with the BBC archives and colleges and schools in the UK has given her a fresh perspective to bring to our collections.
Elis' research interests include: public history, environmental history, and critical librarianship.
From 10am until 6pm Monday to Friday you will likely find Elis and Lauren on the 4th floor of the McLennan Library Building, in Rare Books & Special Collections. Feel free to contact them (elis.ing@mcgill.ca and lauren.williams@mcgill.ca) to set up a meeting, with a reference question, or a request to see Casey Wood's stuffed falcon (which now has us all curious).
After hours, you may run into Lauren exploring the culinary delights of Little Italy, acclimatizing to our sweltering summer humidity, or checking out Montreal's salsa dancing spots. Elis might be harder to spot after hours, as she says herself: "there's a very high probability that I'm at a thrift store, in the woods looking for unusual fungi, or catching up on Coronation Street."
We welcome these two to our team and look forward to seeing the ways their curiosity and talents animate our collections.
Here are a few "favourite things" in our collections have caught our librarians' attention so far.
Lauren
The incredible amount (thousands of pieces!) of original artwork in the Blacker Wood collection that I can't wait to look through.  – Lauren
Elis
The Fur trade Papers and archives – yep – it's especially interesting that there's so much relating to the North-West Company since I was previously working for "the competition", Hudson's Bay Co. I'm also excited by the amount of correspondence in the collection because I'm really interested in exploring the history of everyday life – but also because I'm quite nosey and so reading old letters is really fun for me. – Elis
Ledger and records of Montreal-based company Dominion Salvage, documenting wrecks and disasters in the St. Lawrence Seaway in the 19th century. Elis hails from near New Bedford Massachusetts, the Whaling capital of the world, and has an eager interest in maritime labour history.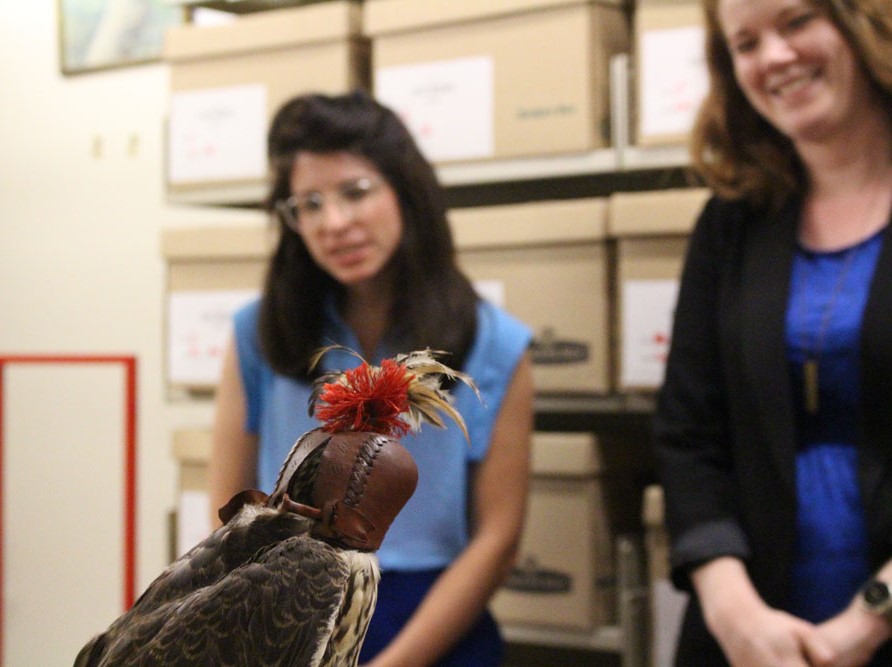 Admiring the Peregrine.