By: Merika Ramundo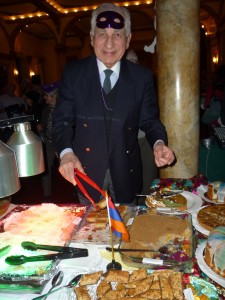 The McGill Library gets millions of visits a year but for many staff members, students, and faculty that work and study at the McLennan-Redpath Complex, one visitor has made his mark as the most generous bringer of gifts for the gourmand.
His name is Berjo Basmajian but you can call him Mr. Baklava. His mission is to pay it forward by visiting different areas of McGill campus, all the while offering his homemade baklava free to anyone with a second and a smile.
He visits offices and students spaces on campus hundreds of times per year. From the SSMU to the Faculty Club, McConnell Engineering to Facilities, Mr. Baklava makes the rounds and then some.  How extensive is his reach? The list of delivery destinations he provided me was two pages in length.
When asked about the reaction from the McGill community, Berjo tells me it has been nothing but positive. "I never saw people so happy with big smiles – ever. The weather may be lousy, stormy, raining but people still welcome me with big smiles and I guess all this fills my heart with joy…and we all know that joy provokes endorphins which in turn stimulates the immune system!"
It all started some ten years ago when Mr. Baklava met McGill students who invited him to mass one Sunday afternoon. Post-mass activities included getting together to indulge in some treats and good conversation. Soon Mr. Baklava was giving his time and goodies to numerous initiatives on campus including volunteering for the McGill Armenian Students Association (MASA), giving French lessons to international students and teaching/playing guitar in front of the Macdonald–Harrington Building. His love for McGill, its campus and people grew, and the rest, as they say, is history.
His love of the Library and its students runs deep. "I do a special free delivery of 100 baklava in front of the Library for students just before the exam period to encourage them and to make them feel ready, with energy, for their exams. I have seen how students work hard all day long on their computers, using their valuable eyes, but the years go by and they need to start taking care of their bodies now, while they are young. That is why every time I meet students at the library I try to introduce and explain the importance of the nutritional properties in food."
A retired massotherapist with over 30 years of experience, Mr. Baklava is passionate about natural medicine, food science, and nutrition. His baklava recipe is a secret but I can tell you that it is lengthy in steps and ingredients and free of preservatives. A batch of 48-50 pieces of Baklava takes about 5 hours to make. More often than not, Mr. Baklava usually makes batches in the morning from 5-10am. What is most important ingredient aside from butter? His answer is simple. "Love". McGill loves it right back.
One decade and 70,000 pieces of baklava later, does he have any favourite delivery spots on campus? Some of Mr. Baklava's preferred destinations include: the Brown Building, Principal's Office, Public Affairs, Bookstore, CAPS and of course, the Library. "The Library has always been one of my favorite departments ever since, Janine Schmidt, the former Dean, came out of her office and congratulated me on making the best baklava she ever tasted." The current Dean of Libraries Dr. Colleen Cook wholeheartedly agrees with that assessment.
After a decade of giving, why does he continue to do it? "I am very social. I enjoy and appreciate exchanging with people on different subjects and topics. Also being involved in events that are organized by the young keeps me young and it is a good feeling to help students that go to one of the best universities in the world."  No doubt the students he has touched will make him proud.
Try Berjo's baklava yourself. MASA's next bake sale will be held on March 29 in the McConnell corridor from 11:00 to 16:00.