By Michelle Macleod, Assistant Curator, McGill Visual Arts Collection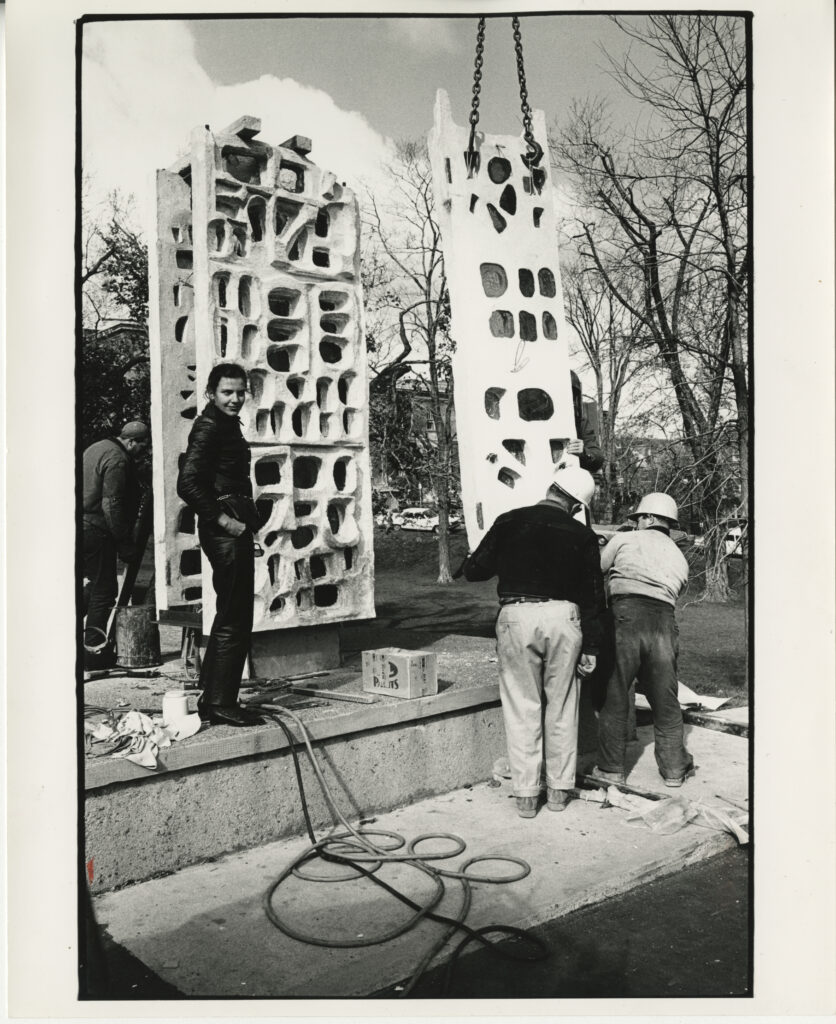 A large concrete slab dangles from a heavy chain that extends above the frame of the photograph. Three men in hard hats guide this piece to fit it with two others already set into place. A woman stands near this precarious activity. She is up on a ledge, right next to the structure that is being assembled. Wearing a black leather ensemble with a thin chain belt and a pair of stylish sunglasses held at her hip she gazes towards the camera. Her proximity to the action here suggests that she is not a passive on-looker. She is actively overseeing. She is the artist.
In this photograph from the McGill University Archives, artist Ernestine Tahedl (1940-) supervises the installation of her sculpture, Lantern, just East of the Redpath Museum's facade. This modernist sculpture was purchased by the University in 1970 and has been on display in this same location since it was first installed.
The tangle of wires that loop and twist in the foreground of the image lead our eyes to the feet of the artist, as she sees to the proper installation of her sculpture. These electrical wires allowed Lantern to fulfill its title. The sculpture originally lit up from within, allowing light to shine outwards through the thick stained-glass windows that punctuate the concrete pillar.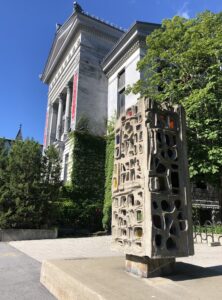 The irregular shapes of these insets are filled with yellow, red, green, orange, and blue glass. These intriguing little windows are referred to as 'dalle de verre'. Also known as 'slab glass', the 1" thick colored glass pieces are held together by a matrix of concrete. Typically, a stained-glass mural is held together by thin lead cames – an H- or U-shaped support that links an arrangement of smaller glass fragments together. This delicate style can be appreciated in the beautiful stained-glass windows of Morrice Hall and Redpath Hall nearby. Tahedl's approach, on the other hand, relies on thick poured concrete to hold chunky glass slabs in place.
By placing together four panels, Tahedl has created an architectural structure that mimics a mini tower lit up from the inside. While stained-glass windows are closely linked to religious iconography and architecture, this sculpture evokes a similar sense of reverence and wonder with a non-figurative, abstract design.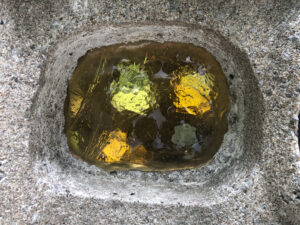 This seemingly incongruent marriage of cement and glass gives this mid-century sculpture its modern edge. Akin to the McLennan library building's brutalist architecture, Lantern celebrates both the structural and aesthetic qualities of raw concrete equally. The pebbles and stones visible in the concrete mixture are echoed in the air bubbles and irregularities in the glass. This artwork is an exploration and appreciation of materials.
Although she was 30 years old in the photograph of Lantern's installation on McGill campus, this was to be only one of the artist's significant achievements in her art career. Born in Vienna, Austria, she worked with her father, Heinrich Tahedl, who was a distinguished stained-glass artist responsible for several church windows in Vienna. After completing a Masters of Graphic Art from the Vienna Academy of Applied Arts in 1961, Tahedl exhibited her paintings and etchings internationally. In 1963 she immigrated to Edmonton, where she had her first one-woman exhibition of paintings and completed stained-glass commissions for multiple churches in the area, as well as decorative terrazzo mural on the exterior of the Edmonton Post Office. Today, Tahedl continues to paint abstract works inspired by music.

Three years prior to her visit to McGill campus, Tahedl had been commissioned to create a large stained-glass installation for Expo 67. This work was part of the Canadian pavilion complex. Tahedl would create over a thousand square feet of stained-glass that wrapped around the lower perimeter of a small, steep pyramid-shaped building referred to as 'The Sanctuary'. This smaller outbuilding in the shadow of the soaring inverted glass pyramid Katimavik structure, was described as "a simple place of mediation".[1] In the center of this non-dominational chapel-like space was a low square bronze sculpture by Canadian artist Elza Mayhew (1916-2004). Tahedl's glass work was created by collaging coloured glass of various geometric shapes together on a larger glass support. In this different technique than that used in Lantern, she achieved a warm orange, red, and purple glow that radiated upwards from the lower edge of the peaked building.
Mayhew's sculpture in the center of 'The Sanctuary' was titled Meditation and is now on public view along the Rideau Canal in Ottawa. Like Tahedl, this artist used the capabilities of her chosen materials, typically stone or bronze, to explore ancient and mysterious forms and designs. Mayhew's oeuvre, exhibited publicly and collected by Canadian and international institutions, consists of large, solid forms that have low-to-medium relief work on the surface. Perhaps the column form of Lantern was inspired by Tahedl's collaboration with this fellow female artist during the cultural heyday of Expo 67 in Montreal. In these photos from a Montreal exhibition in 1967 we see Tahedl was already experimenting with the 'dalle de verre' technique.

A contemporary stained-glass movement had begun to take shape in North America at this time – Another example of a modern glass installation can be seen on the McIntyre Medical Building Pine Avenue entrance. Tahedl has said that the changing light of glass sculptures and murals allows for a perception that is constantly in metamorphosis.[2] Since the interpretation of Lantern shifts as one moves around it and the changing light of the days and seasons set it aglow in new ways, it remains a perpetually captivating fixture on McGill's campus.
---
[1] Gary Richard Miedema, For Canada's Sake: Public Religion, Centennial Celebrations, and the Re-making of Canada in the 1960s (Montreal and Kingston: McGill-Queen's Press: 2005), 123.
[2] Cécile Brosseau, "Ernestine Tahedl: la fasincation des grands espaces," La Presse, 25 April 1980, D1.