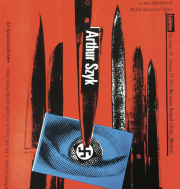 The Polish Institute of Arts and Sciences in Canada and the   McGill Library's Rare Books and Special Collections present Ink and Blood, an exhibition on the works of Polish-born graphic artist, book
illustrator, caricaturist and stage designer Arthur Szyk (1894-1951). The exhibition, in place at the Redpath Library Building since Nov. 26, runs until Jan. 31, 2013.
Seldom has art been asintrinsically intertwined into politics as in the works of Arthur Szyk. A self- described "soldier in art", Szyk was a committed activist-artist advocating religious tolerance and racial equality for minorities especially for Jews and black Americans. Throughout his career he created art in the service of human rights and civil liberties. The theme of freedom, central to his work, echoes throughout his oeuvres, a "one-man army," using art as a weapon to garner support for the social and political issues in which he believed. Szyk dedicated his work to democracy, freedom, and an end to political injustice and human suffering.
-"Words and pictures are bullets whose flight never ends. Their trajectory knows no down curve. They endure long after the guns are silenced." Arthur Szyk
Szyk lived in France, Poland and the United Kingdom before finally settling permanently in the United States in 1940. Best known for his World War II Anti-Nazi political cartoons, he was a master of miniature painting and calligraphy, bringing his unmistakable style to subjects as diverse as biblical stories, literary classics, and political caricature and cartoons. Szyk revived the medieval tradition of the art of illumination.
His anti-Axis cartoons appeared frequently in popular media such as Collier's, TIME and TheNew York Post and in two published compilations, The New Order (1941) and Ink & Blood(1946). He also illustrated numerous works, including a richly rendered, magnificently printedHaggadah (1940), reflecting his passion for his own Jewish heritage and concern for the Jewish people in the face of Nazi hostility.
Today, collectors around the globe prize Szyk's art for its vibrant imagery and messages, which remain as stunning and timely as ever.
The materials in this exhibition come from the collection formed by the McGill graduate and Library benefactor Norman H. Friedman (1900-1981). The collection was acquired by the Library in 1976 and is held in Rare Books and Special Collections. The exhibition was launched on Nov. 26 with a day-long conference on Szyk and his work. Learn more about that eventhere and about the ongoing exhibition here.