Feeling the exam studying blues? Struggling under a deluge of term papers?
The Library is a great, quiet space full of resources to help you finish off your term on a high note as you cram for your exams or put the polish off your final assignments. But it's important to take an occasional break from the books to give your mind and body a chance to de-stress from all that pressure. The Library has a bunch of fun and relaxing activities that will help you recharge and unwind after a long study session!
---
Puzzles and Board Games
Switch off your academic mind and don a strategy cap instead with a variety of puzzles and board games at the Schulich Library. Everybody is welcome to participate!
Wednesday, December 2 from 12:00 to 2:30 p.m. in Schulich Library
---
Blue Ribbon Therapy Dogs
Sometimes our support comes in the form of furry friends! Pet therapy has been shown to reduce stress and anxiety, lower blood pressure and lift moods–just what we all need during this hectic time of year!
Friday, December 4 from 1:00 to 3:00 p.m. in Schulich Library (main floor study area)
Monday, December 7 from 1:00 to 3:00 p.m. in Redpath Library (main floor group study).
---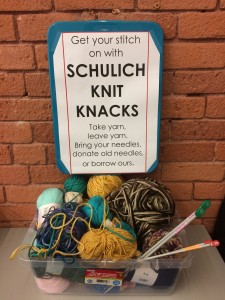 Get Your Knit on at Schulich
Feeling stressed? Now you can stitch away your cares at Schulich Library!
The Schulich Knit Knacks bin of knitting supplies is located by the Wendy Patrick Collection on the main floor. Take yarn, leave yarn. Bring your own needles, donate old needles or borrow ours.
Happy knitting!
---
Relaxation Mobile Apps
APPpropos, the Library's Mobile Apps Blog, is a great resource for tips to help you throughout the year, from great apps to workshops on using your mobile devices for academic success. The team has put up a blog post this week with five great iOS apps that will help you relax during this stressful period, offering everything from an adult colouring book to populating your own pond with fish and lily pads.
Check them out and keep an eye on the blog for more great tips throughout the academic year!