Guest post by Chris Buddle, Associate Provost (Teaching and Academic Planning), originally published on Nature's Reverie.
Learn more about the process behind Associate Provost (Teaching and Academic Planning) Chris Buddle's recent hands-on visit to McGill's Book Arts Lab where spinning mixed art inspired by a most memorable storybook character was more than child's play.
Notes on the process: I am grateful to work at a University with such an amazing library, including a phenomenal division of Rare Books and Special Collections. In that division, there are also printing presses (the Book Arts lab) and they have a print-shop for special projects. Back in the late summer, the former Trenholme Dean of Libraries suggested I undertake a collaboration and create some spider-themed art and haiku and see about getting prints done. This came to fruition last week, and the end product is above. I did the art as a simple black and white line-drawing of a barn spider, and the Haiku was inspired by Charlotte's Web (see below) – my colleagues in the library generously got a plate made of the spider drawing, and helped typeset the Haiku, and I was able to work with them to print off a dozen or so prints. We selected sepia as the ink colour – but so many options were available! A few photos of the process are below. What fun! And I am so thankful to the team who helped me with this (especially Lauren).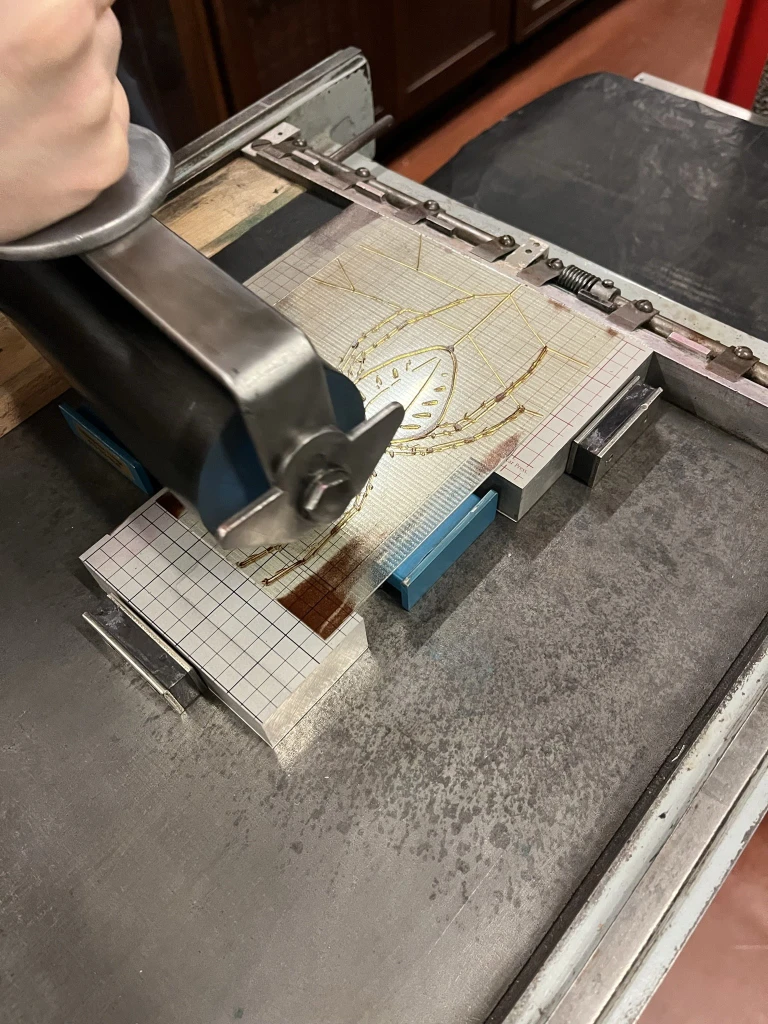 Notes on the art: Charlotte's Web is a very well known children's story by EB White. Arachnophiles (like me) like to dig deeper into the story and see whether or not EB White was accurate in the depiction of Charlotte, the spider who saves the day. You might recall that the full name of the spider is Charlotte A. Cavatica – and is modelled after the 'barn spider'. The scientific name of that species is Araneus cavaticus. So, well done, EB White! My illustration above does hopefully have a likeness to the barn spider. EB White got her basic biology and life cycle correct too (Charlotte doesn't live that long, and lays eggs in late summer, the egg sac overwinters, etc). Very impressive. Charlotte wrote a lot of words in her web, including Humble. The Haiku is therefore trying to capture elements of Charlotte's Web, and capture elements of her natural history.
Notes on next steps: What shall I do with the prints? The plate is now housed at the Library and there will be opportunities in the future to do more prints – I can select other font types or sizes, other ink colours, or even options to use multiple ink colours! What fun! Please let me know your ideas for next steps with this printing press project. I feel that it's just the beginning.
---
Charlotte A Cavatica
Blogueur invité : Chris Buddle, vice-principal exécutif adjoint (Enseignement et programmes d'études), texte publié à l'origine dans Nature's Reverie.
Apprenez-en plus sur le processus qui a débouché sur la visite récente de Chris Buddle, vice-principal exécutif adjoint (Enseignement et programmes d'études) au Laboratoire des arts du livre de McGill, où un tourbillon d'arts mixtes s'inspire d'un personnage fictif particulièrement mémorable qui n'avait certes pas l'allure d'un jeu d'enfants.
Notes sur le processus : Je suis reconnaissant de travailler dans une université dotée d'une bibliothèque si remarquable, notamment la Division des livres rares et collections spécialisées, qui est phénoménale. On y trouve des presses, telles que le Laboratoire des livres d'art, et un atelier d'imprimerie dédié aux projets spéciaux. L'été dernier, l'ex-doyenne Trenholme des bibliothèques m'a suggéré de collaborer avec elle pour créer quelques productions artistiques sur le thème des araignées, ainsi que des haïkus, en vue de leur impression. Le produit final de ce travail, qui a abouti la semaine dernière, est reproduit ci-dessus. J'ai dessiné une araignée de grange d'un trait noir simple, et le haïku s'inspire de La Toile de Charlotte (ci-dessous). Mes collègues de la Bibliothèque ont généreusement reproduit ce dessin sur une plaque et ont contribué à la composition du haïku, de sorte que j'ai pu travailler avec eux à la production d'environ une douzaine d'imprimés. Nous avons choisi la teinte sépia pour l'encre parmi une foule d'options ! Vous pouvez voir quelques photos du processus ci-dessous. Quel plaisir ! Je suis tellement reconnaissant à l'endroit de l'équipe qui m'a aidé dans cette réalisation (un merci particulier à Lauren)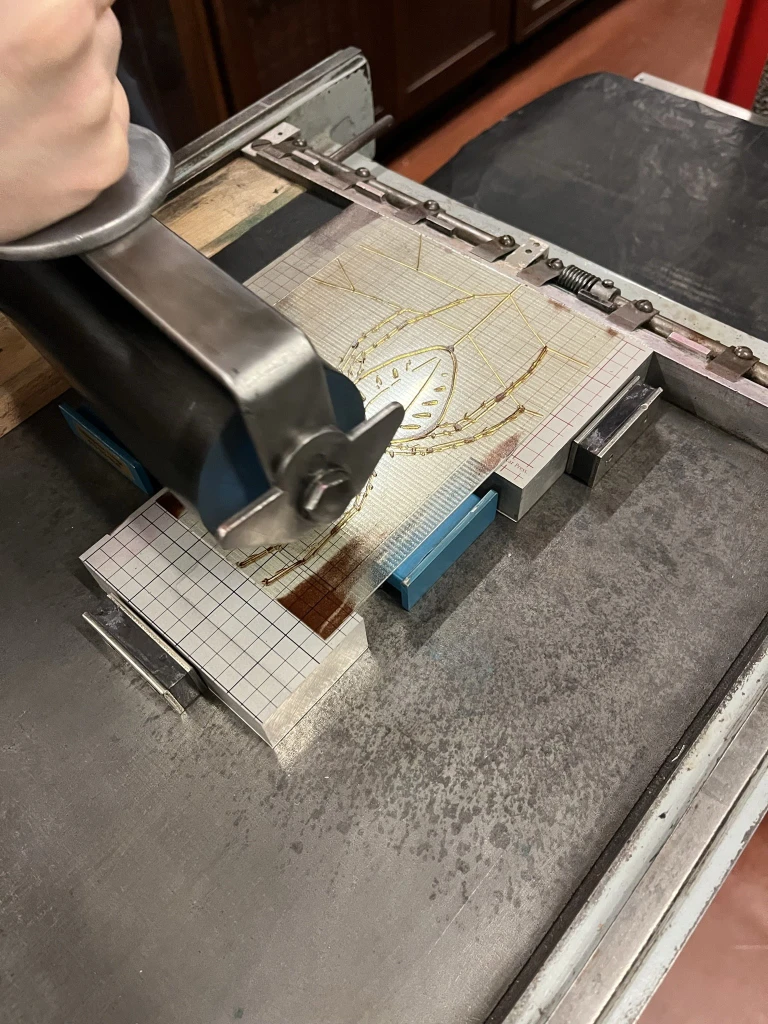 Notes sur l'œuvre : La Toile de Charlotte est un conte pour enfants très connu d'EB White. Les amateurs d'araignées (tout comme moi) aiment plonger davantage dans le récit pour voir si EB White dépeignait avec exactitude Charlotte, l'araignée qui sauve la mise. On se souvient peut-être que le nom complet de cette araignée est Charlotte A. Cavatica – inspiré de l'« araignée des granges ». Cette espèce est l'Araneus cavaticus. Bravo donc à EB White! J'espère que mon illustration ci-dessus ressemble à l'araignée des granges. EB White a également déployé des notions de biologie et de cycle de vie conformes (Charlotte ne vit pas très longtemps, elle pond ses œufs à la fin de l'été, il est question du sac d'œufs hivernal, etc.). C'est très impressionnant. Charlotte a écrit nombre de mots dans sa toile dont « Humble ». C'est pourquoi le haïku tente de capturer des éléments de La Toile de Charlotte et de son histoire naturelle.
Notes sur les étapes suivantes : Que dois-je faire des tirages? La plaque se trouve désormais à la Bibliothèque et l'avenir recèle des occasions d'impressions supplémentaires – Je peux sélectionner d'autres polices et tailles de caractères, d'autres couleurs d'encre ou même plusieurs d'entre elles! Du pur plaisir! Je vous invite à me transmettre vos idées d'étapes supplémentaires de ce projet d'impression. J'ai le sentiment que nous n'en sommes qu'au tout début.